This email was sent to all students registered for fall quarter.
---
Oct. 24, 2022
Quick Notes for the Week of Oct. 24
---
Highlights
This Thursday: Diwali Celebration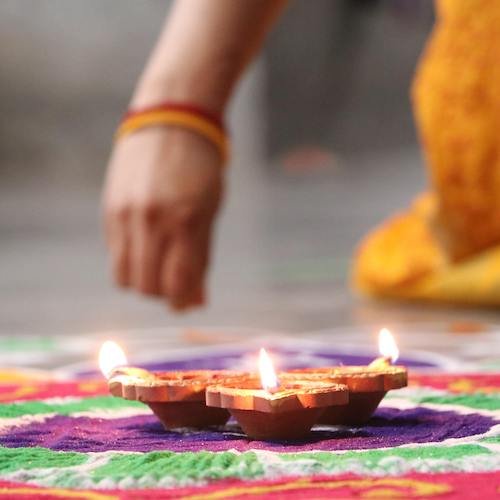 Students, classified professionals, faculty members and administrators are invited to celebrate Diwali at De Anza! Join the celebration this Thursday, Oct. 27, from 2 to 5 p.m. in the Sunken Garden to experience the warmth of community with activities, performances and snacks. Diwali is the annual festival of lights celebrated in South Asia and around the world. It represents the spiritual victory of light over darkness, knowledge over ignorance and good over evil. Learn more and RSVP to attend at deanza.edu/apasa/diwali.
This Friday: Enrollment Services Closed
Enrollment Services departments – including the Admissions and Records Office, Assessment Center, Cashier's Office, International Student Programs, Outreach Office and Veteran Services – will be closed this Friday, Oct. 28. See the How to Reach Student Services page for their usual hours for Monday through Thursday.
Your Input Wanted: Renaming Psychological Services
De Anza's Psychological Services office is considering changing its name, and they'd like to get your input. They're hoping to choose a name that minimizes any stigma that is sometimes associated with mental health care, while also making sure that students know what services are available to them. You can help by completing their short survey no later than this Friday, Oct. 28. All responses are anonymous.
---
De Anza Votes!
Today, Monday, Oct. 24, is the last day to register in order to vote in the Nov. 8 election. Visit deanza.edu/vote for information on how to register or check that you're registered. See below for upcoming events for civic engagement.
---
De Anza Photo Shoot: Open Call for Student Models
The De Anza Communications Office is looking for student models to participate in upcoming campus photo sessions on Wednesday and Thursday, Nov. 16 and 17. Any and all De Anza students are welcome. This is a great opportunity to have fun, meet other students and show off what's special about De Anza. If selected, your picture may be used in a variety of marketing or informational materials for the college. Visit the Student Photo Shoot webpage for more information on how to participate.
---
CAN/DID Inclusion Series Highlighted by RP Group
CAN/DID Personal Stories from members of De Anza's LGBTQ+ community were recently featured in a video compilation project by The RP Group.
The video, produced in celebration of National Coming Out Day, highlighted stories of California community college students, staff, faculty members and administrators. Watch the personal stories from our De Anza community in full at deanza.edu/candid.
---
Upcoming Events
Check the Events Calendar for additional details and more events.
This Week
Next Week
Tell us about your event! Use the online form at deanza.edu/communications/tell-us.
---
Dates and Deadlines
Veterans Day holiday, no classes; offices closed – Nov. 11
Last day to drop classes with a W – Nov. 18
Thanksgiving holiday, no classes; offices closed – Nov. 24-27
Visit the Academic Calendar page to see more important dates and deadlines by quarter.
---
Governance Meetings
Find more information about college governance at deanza.edu/gov.
---
COVID-19 Vax and Booster Required
To protect everyone's health, you must provide proof of vaccination AND a booster before coming to campus. Face masks are strongly recommended on campus, and may be required in some offices or by individual instructors in their classrooms. For more information, see deanza.edu/vax.
Free PCR Testing on Campus for Students and Employees
Free PCR testing is available three days a week during fall quarter, outside the Campus Center near the Student Health Services entrance on the lower level. No appointment is needed but one-time preregistration is required.
Mondays and Wednesdays from 1 p.m. to 3 p.m.
Visit the Health Services COVID-19 information page for additional details.
---
Tell Us!
Quick Notes is an email digest of timely information for De Anza students, faculty and staff. Watch for it in your inbox regularly.
Use the online form at deanza.edu/communications/tell-us to let us know about an upcoming activity or other news that you want to share with the rest of the college community. That's the best way to get your item on our radar for the website Events Calendar, newsletter and social media planning.