Anti-Asian Racism:
Beyond Acts of Hate
April 6, 2021
Today's CAN/DID Inclusion Series video examines the historical context of anti-Asian racism and racialized scapegoating during the COVID-19 pandemic.
This is the second installment in a three-part series on anti-Asian racism during the pandemic. Part three, which will focus on taking action, is coming soon.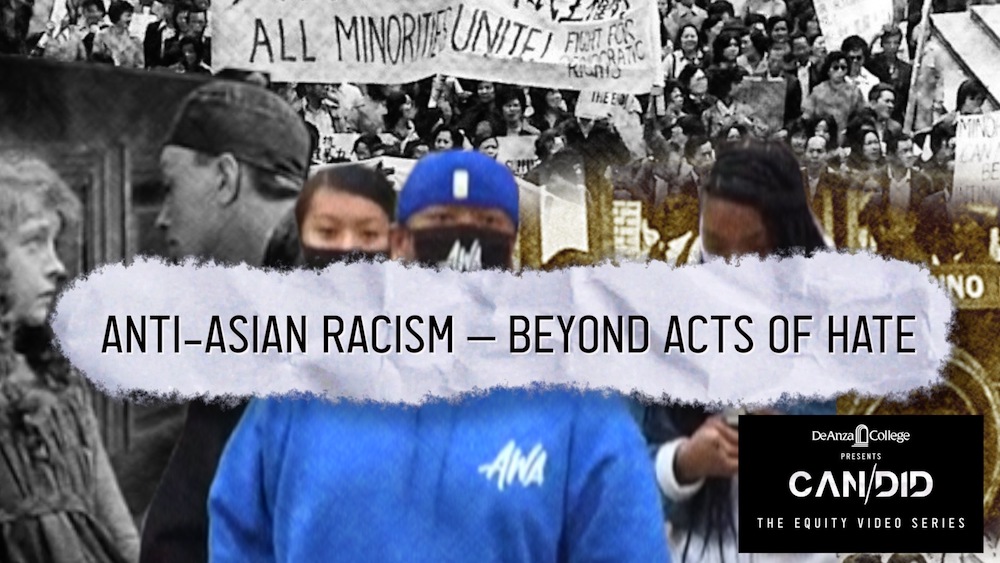 In this video, Mae Lee, chair of the Asian American and Asian Studies Department, provides tools for understanding and confronting anti-Asian racism by using an Asian Americanist analysis that goes beyond simply labeling these attacks "acts of hate."
"An Asian Americanist analysis is interventionist thinking," says Lee. "It intervenes in our otherwise normalized outlook on what's happening."
Lee discusses the history of racialized scapegoating in the United States, noting that such scapegoating "of immigrants, particularly poor immigrants, has long been a go-to habit."
There will be an opportunity to explore this topic further at an event later today.
College Panel Discussion Today
Join the Office of Equity, Asian American and Asian Studies Department and Asian Pacific American Staff Association today, Tuesday, April 6, at 4 p.m. for Then and Now – A Conversation On the History of Anti-Asian Racism in the U.S. The discussion will be moderated by Chesa Caparas, faculty coordinator for the Jean Miller Resource Room. The panelists include Mae Lee, chair, Asian American and Asian Studies, and participant in the CAN/DID Inclusion series; and Jim Nguyen, instructor, Political Science; and Jodi Wong, student and former editor of La Voz News. Robert Handa, De Anza alum, NBC Bay Area reporter and host of Asian Pacific America, will also be on the panel.
Community Events
Assemblymember Evan Low and Congressman Ro Khanna will moderate a Stop AAPI Hate Forum tomorrow, Wednesday, April 7, at 5:30 p.m. The discussion will address the federal, state and local response to the recent rise in hate crimes and violence targeting the AAPI community. The event is free and open to the public. Advance registration is required.
There is also a "Stop Asian Hate" rally planned for this Saturday, April 10, at Cupertino City Hall. President Lloyd Holmes will speak at the event.
About CAN/DID
CAN/DID is a multimedia series that examines equity and social justice issues by drawing on the knowledge and experiences of our own community members.
Future installments of CAN/DID will address additional aspects of the Black Lives Matter movement and more issues that affect all of us at the college.
You can find all the videos and social media posts, along with resources for support and further exploration at deanza.edu/candid. For resources and information on addressing racism, visit the Standing Against Racism webpage. We'll also highlight future installments through this email newsletter.
CAN/DID is produced by the multimedia team and others in the Office of Communications, in consultation with the Office of Equity, Social Justice and Multicultural Education.
Your feedback on the series is welcome at communications@deanza.edu.