Find the Right Course for You!
Get Your Assessment for English/ESL and Math

New Students: Check MyPortal First
Log in to MyPortal > Open the apps section > Select the Student Registration app > Look under My Records and select View My Placement Results > Follow these steps
Want to learn English at De Anza? Use our ESL assessment process, designed to assist students who are learning English as a Second Language.
---
How to Request an Online Assessment or Exam – Or Submit a Question
Use our online contact form to request access to an online English, ESL or Math assessments, or science exam. (We no longer offer in-person assessments or exams.)
You can also use this form to ask questions about the process.
Confused? Call 408.864.8717.
---
How to Visit Us – For Questions Only
We're available at the Enrollment Services counter, across from the Bookstore, on the first floor of the RSS Building (park in Lot A).
Monday-Thursday: 9 a.m. to 5 p.m.
Friday: 9 a.m. to 1 p.m.
Please remember that you must follow the rules for coming to campus.
This is for questions only. In-person assessments/exam services have been retired.
All assessments/exams are accessible online.
Use the online request form to request access.
---

Get Started by Checking Your Placement Results in MyPortal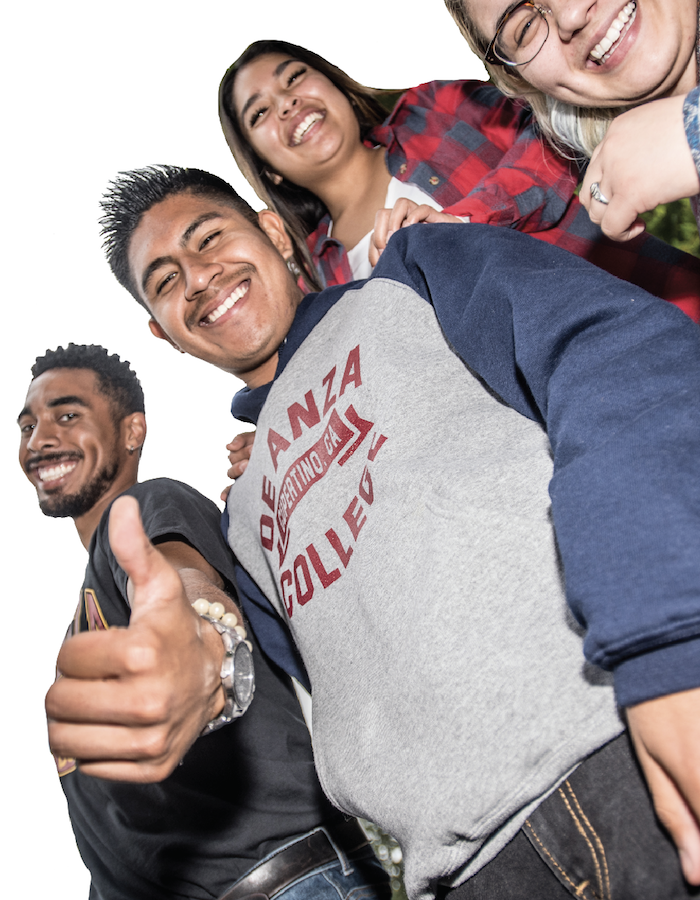 De Anza no longer uses placement tests. Most students can now be assessed on the basis of their U.S. high school transcripts and grade point average (GPA).
No Transcript? No Problem!
If you don't have a recent transcript from a U.S. high school, we'll use other methods to help you find the best placement for you.
If you're attending on an F-1 visa, you should review orientation materials offered by International Student Programs office before completing assessment.
Learn Your Options!
Use our
Online Explainer
to learn more about how your placement is determined and what options you'll want to consider. Afterward, be sure to talk with
your counselor
about choosing the right courses for your goals.

Our assessment process for English, English as a Second Language (ESL) and Math is designed to help you find the courses that are right for you – based on your circumstances and goals. It's an essential step for any student interested in taking these courses at De Anza. It's also required for getting priority enrollment!
Check out the latest in our Video Help Series, then click or scroll down to read about

Course Sequences for English, ESL and Math
English
English as a Second Language
Mathematics
View or download the Mathematics (MATH) sequence
Check out our Tips on Registering for Math Courses
Important notes:

Students who received a placement over the summer for Precalculus I should register for MATH 31
Students who received a placement over the summer for Precalculus II should register for MATH 32
If you received a Math placement before this summer, you should meet with your counselor for assistance in selecting the right course for your goals

Want More Support?
English and Math can be challenging. If you've had difficulty with these subjects before – or if you don't feel ready to take college-level courses in these areas – don't worry!
You may also want to check out the Math Performance Success program, which offers tutoring and in-class support.
If English is not your first language, we have an assessment process to help you find the right courses in English as a Second Language
Talk with your counselor about the best options for you.

Did You Take a Placement Test in the Past?
De Anza ended placement testing in 2018. If you took a placement test previously with us, we recommend that you check your updated placement results in MyPortal > Apps > Student Registration App > View My Placement Results.

Why Have Assessment?
Under state law, community colleges must do their best to help you complete transfer-level Math and English within a year – unless your high school records indicate that remedial courses would give you a better chance to succeed at the college level.
Like most community colleges, De Anza previously used placement testing to assess new students. But the latest research shows your high school performance is a better indicator than placement tests, when it comes to predicting your ability to succeed.
---

FAQs: What If ...