Welcome to the MSTRC
We offer peer tutoring and workshops to help you succeed in your math, science and engineering courses. Scroll down to learn more about our programs and services.
Celebrating Arab American Heritage
and Math & Stats Awareness Month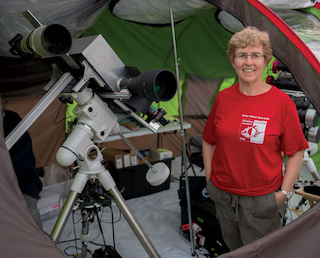 Shadia Rifa'i Habbal (Arabic: شادية رفاعي حبال) is a
Syrian
-American astronomer and physicist specialized in Space physics. She is the Faculty Chair of Solar Physics at the University of Hawai'i Mānoa, her research is centered on Solar wind and Solar eclipse. She specializes in the study of the origin and evolution of the solar wind, the stream of protons, electrons, alpha particles, and traces of ionized heavier elements that flows outward from the Sun.
Services Update
While you won't be able to visit us in person during the 2021 spring quarter, the Student Success Center is offering peer tutoring and workshops via Zoom and other online tools.
Join Us Online!

We've made it even easier to access our peer tutoring services and workshops on Zoom. Just click the yellow button to "Join Tutoring or Workshops" – there's no need to register in advance. Follow the prompts on your screen to sign in and select from a list of available services.
Spring Service Hours
Mon-Thu 9am-6pm
Fri 9am-12:30pm
Sat & Sun CLOSED

Our Programs and Services
Tutoring Subjects
Math
Physics
Chemistry
Biology
Engineering
Services Offered
Learn More About
Math Course Sequence – Recommended for Success!
---
Become a Tutor!
You can improve your own skills in communication and your favorite academic subjects by helping other students learn. We provide training – and it's fun!
---
Questions? Contact Us!
Helen Nguyen, Instructional Support Technician
408.864.8980, nguyenhelen@deanza.edu
Derek Mitchler, Instructional Support Technician
mitchlerderek@deanza.edu
Alejandra Rueda, Instructional Support Technician
408.864.5310, ruedaguerreroalejandra@deanza.edu
Melissa Aguilar, Student Success Center Co-Director
408.864.5422, aguilarmelissa@deanza.edu
Diana Alves de Lima, Student Success Center Co-Director
408.864.8485, alvesdelimadiana@deanza.edu