Welcome to the MSTRC
We offer peer tutoring and workshops to help you succeed in your math, science and engineering courses. Scroll down to learn more about our programs and services.
Celebrating LBGTQAA2S+ Pride Month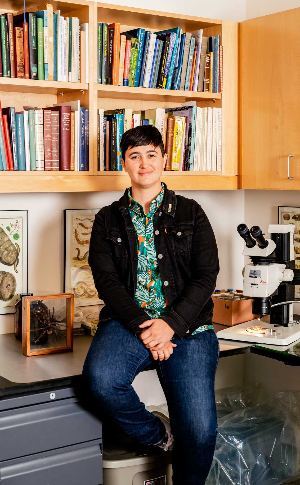 Dr. Lauren Esposito aka "The Scorpion Queen"

Dr. Lauren Esposito is the Assistant Curator and Schlinger Chair of Arachnology at the California Academy of Sciences. She is also the co-founder/director of a science, education, and conservation non-profit called Islands & Seas. Lauren's current research investigates the patterns and processes of evolution in spiders, scorpions, and their venoms. Previously, as a National Science Foundation postdoctoral fellow through the University of California at Berkeley, Lauren travelled extensively in the Caribbean region studying the biogeography of arachnids in one of the greatest biodiversity hotspots in the world. She got her start in the world of science research while an undergraduate at the University of Texas at El Paso, and went on to complete her MS and PhD at the American Museum of Natural History in collaboration with the City University of New York, focusing on the medically important North American scorpion genus Centruroides. She is the co-founder of 500 Queer Scientists, a visibility movement and professional network that boosts the recognition and awareness of LGBTQ+ people working in STEM fields.
Services Update
The Student Success Center is offering peer tutoring and workshops via Zoom and other online tools.
Join Us Online!

We've made it even easier to access our peer tutoring services and workshops on Zoom. Just click the yellow button to "Join Tutoring or Workshops" – there's no need to register in advance. Follow the prompts on your screen to sign in and select from a list of available services.
Summer 2022 Schedule
Tutoring at the MSTRC is available June 27. We will be closed for the holiday, July 4.
Please Note: During summer, tutorial center only offers drop-in tutoring.
| | | |
| --- | --- | --- |
| Mon-Thu: | | 9am - 5pm |
| Fri: | | CLOSED |
| Sat-Sun: | | CLOSED |
Our Programs and Services
Tutoring Subjects
Math
Physics
Chemistry
Biology
Engineering
Services Offered
Learn More About
Math Course Sequence – Recommended for Success!
---
Become a Tutor!
You can improve your own skills in communication and your favorite academic subjects by helping other students learn. We provide training – and it's fun!
---
Questions? Contact Us!
Helen Nguyen, Instructional Support Coordinator
408.864.8980, nguyenhelen@deanza.edu
Derek Mitchler, Instructional Support Coordinator
mitchlerderek@deanza.edu
Alejandra Rueda, Instructional Support Coordinator
408.864.5310, ruedaguerreroalejandra@deanza.edu
Melissa Aguilar, Student Success Center Co-Director
408.864.5422, aguilarmelissa@deanza.edu
Diana Alves de Lima, Student Success Center Co-Director
408.864.8485, alvesdelimadiana@deanza.edu