This email was sent to students who have not declared a major or whose majors align with more than one Village
---
Aug. 28, 2023
Discover Your Village!
Dear Student,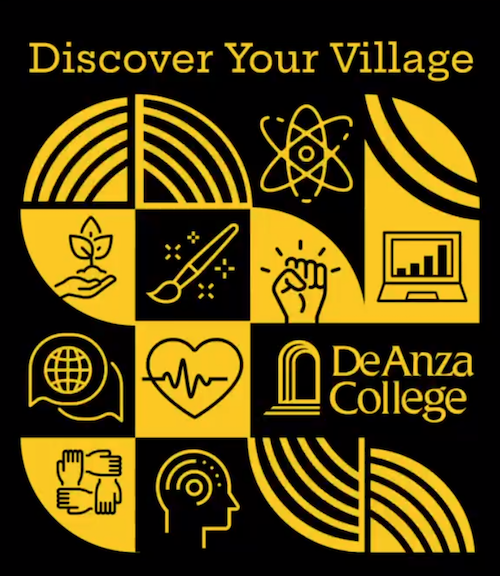 You're invited to join us on campus for Welcome Day event on Friday, Sept. 22, from 10 a.m. to noon. It's a great opportunity to meet instructors, make new friends and learn about the academic communities known as Villages at De Anza.
Each of the six Villages is a supportive network of students, faculty and staff members who share related academic interests. In the coming year, the Villages will offer a variety of events and fun activities that you won't want to miss!
Most students join the Village that aligns with their major. If you haven't declared a major (it's a requirement for getting priority registration) – or if you have a major such as Liberal Arts that covers more than one subject – you can choose a Village that interests you!
You can find a list of majors and subjects for each Village on the Welcome Day webpage. (And don't worry: You're free to change your major, and your Village, at any time.)
Welcome Day is also a great opportunity to check out other programs, services and activities that are part of the whole college experience at De Anza. Plus, you'll be able to
Take a campus tour and find your classrooms
Get answers to questions about registration and financial aid
Pick up a free T-shirt and enter a drawing to win one of several great prizes!
Be sure to stop by the Village tents on the Main Quad during Welcome Day. We'll be posting a schedule of Welcome Day activities soon at deanza.edu/welcomeday, where you can sign up now to attend this event!
Best wishes,
De Anza College