This email was sent to students who earned enough credits by the start of spring 2022 to be potentially eligible to graduate.
---
June 13, 2022
Meet Our Student Grad Speaker!
Dear Student,
We're excited to announce that Marissa McGuire will be this year's student Grad Speaker for the collegewide commencement ceremony on Friday, June 24. You can read all about Marissa below, and here are a few important reminders if you are graduating this year:
Graduation Tips and Deadlines
Order your Grad Pack and other regalia from the Bookstore by tomorrow (Tuesday, June 14), if you want it shipped to you, or by Tuesday, June 21, if you select in-store pickup.
File for your degree – by this Friday, June 17, if you want to have your name listed in the printed commencement program
Submit a message and photo – by Wednesday, June 22, to be included in a special Graduation Slideshow that will be published online next week.
Plan to arrive a little early for the commencement ceremony so you can check out the Red Carpet Photo Op in Parking Lot C, with fun backdrops and cutouts for taking selfies and pics with your family or friends. Face masks are strongly recommended for everyone attending the grad ceremony.
Marissa McGuire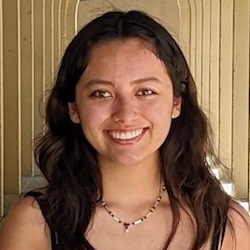 This year's student grad speaker will be Marissa McGuire, winner of the Karl S. Pister Leadership Award, which provides a major scholarship each year to a De Anza student who transfers to the University of California, Santa Cruz.
McGuire, a first-generation college student, says she found a sense of community at De Anza through programs like LEAD (Latinx Empowerment at De Anza) and Guided Pathways.
She is graduating with an associate degree for transfer in Psychology and wants to pursue a career in psychology or a related field.
We'll be profiling three more winners of major graduation awards this week. You'll find all the stories, photos and more details about this year's celebration at deanza.edu/graduation.
Congratulations to all our graduates!
Best wishes,
De Anza College