Guided Pathways –
An "Exemplary Program"
De Anza's Guided Pathways initiatives have been recognized with an Exemplary Program Award from the Board of Governors of the California Community Colleges.
The honor is given to two colleges each year for programs that address equity issues, demonstrate a response to student needs, contribute to faculty engagement and can be used as models for other colleges, among other criteria.
The award, presented on Jan. 24, 2022, also comes with a $4,000 prize, which will be used for supporting student-related initiatives.
Volunteer in Your Village Center and Earn PGA while serving students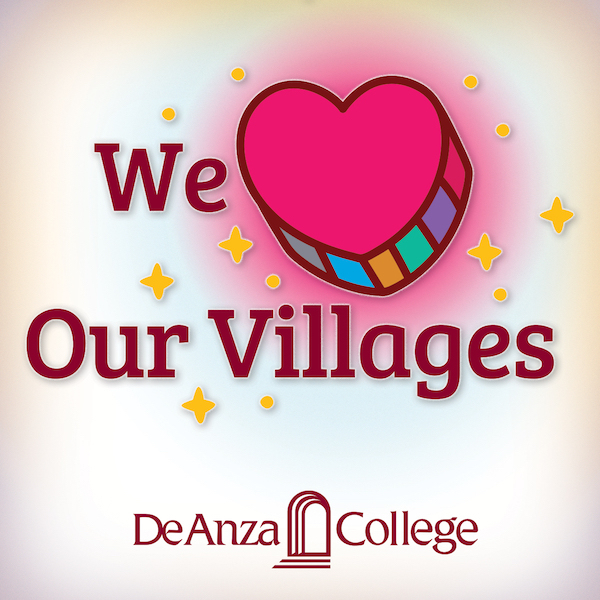 Want to interact with students, faculty and classified professionals who share an interest in your subject area? Faculty members can earn PGA credit by volunteering to spend time in the new Guided Pathways Village Centers on campus.
By joining their Village Center Support Team, faculty members who are eligible for step or column advancement may earn up to one unit of PGA each quarter. As a separate opportunity, faculty members can earn an additional 0.5 units of PGA each quarter by serving as a Village Center Scheduler, keeping track of support team schedules and serving as point person for questions about their Village Center. Use the online sign-up form to volunteer for either role. For more information, contact our GP Village Centers Launch Lead, Anne-Marie Waldsmith at waldsmithannemarie@deanza.edu.
Sign Up to Earn PGA in your Village Center
Faculty members can also earn PGA credit joining the Village Program Planning (VPP) Team and volunteering to help create and staff Village events. Faculty who volunteer will commit to 18 hours per quarter to earn one unit of PGA. Hours are relatively flexible and will depend on the needs of each project. Full-time and part-time faculty who are eligible for step or column advancement may earn up to one (1) "quarter unit" of PGA each quarter through this initiative. Team members are required to participate in some onboarding training, which may be done simultaneously. For more information, contact one of our GP co-coordinators, Patty Guitron at guitronpatty@deanza.edu or Kim Palmore at palmorekim@deanza.edu.
---
Villages and Community
Inspired by the well-known aphorism – "It takes a village" to support a student – the Villages initiative invites students to actively participate in a Village that corresponds to their Guided Pathways meta-major.
The six meta-majors were developed as part of the collegewide Guided Pathways project, which is led by an interdisciplinary core team with participation and input from a broad range of college constituencies. They were reviewed and approved through the shared governance process.
Drawing on De Anza's success with Learning Communities, the six Villages are designed to provide focused academic engagement, student services and social support for students.
For the 2021-22 academic year, the Villages' primary focus was on welcoming students, orienting them to their meta-majors and to the college, and building a sense of community through shared activities.
In future quarters, the Villages will integrate additional campus resources, including student services, clubs and organizations, and designated physical spaces for each Village.
Welcome Day: Discover Your Village
Students were introduced to the Villages concept during the fall Welcome Day event held on Sept. 17, 2021, which encouraged them to participate in the coming year.
The Office of Communications surveyed students, instructors and classified professionals to get their feedback on the event, which drew nearly 1,000 students on the Friday before fall classes began.
Most students said they found useful information about their Village and about departments, services or clubs
Students said they enjoyed meeting instructors and other students
While most students (nearly 80%) said they had enough time to accomplish what they wanted on Welcome Day, some said they wished they could have attended more sessions that were scheduled at overlapping times.
View More Survey Results:
Learn More About Villages
Please visit the Villages FAQs webpage for more information and a complete list of Launch Team members.
If you have questions or would like to get involved, please click this yellow button to open the online Villages Contact Form.
Meet the Core Team
Want to know more about how
Guided Pathways
was developed at De Anza? Visit the Core Team webpage for a list of
team members
and links to
meeting agendas.