This email was sent to all registered students.
---
June 7, 2022
Quick Notes for the Week of June 6
---
Highlights
Panel Event Tomorrow: Israel and Palestine – Progressive Jewish Perspectives
The De Anza Progressive Students Union invites the college community to join them for an online panel discussion about Israel and Palestine, and progressive Jewish perspectives. The panelists for the event are:
Wendy Greenfield, founder, Jewish Voice for Peace-South Bay Chapter; lifelong peace and justice activist
Joel Beinin, Donald J. McLachlan Professor of History and professor of Middle East History, emeritus, Stanford University
Ariel Koren, anti-Zionist Jewish Google worker and co-founder, Jewish Diaspora in Tech
View the calendar listing for more details, including the information on how to attend via Zoom.
This Friday: Psychological Services Career Panel
Psychological Services is teaming up with the De Anza Psychology Club to present an online panel discussion this Friday, June 10, 2:30-3:30 p.m. The event will feature individuals who will share their experiences and journeys into a psychology or psychology-related field. Q&A will be held after the panelists speak. View the calendar listing for details on how to attend.
---
LGBTQ+ Pride Month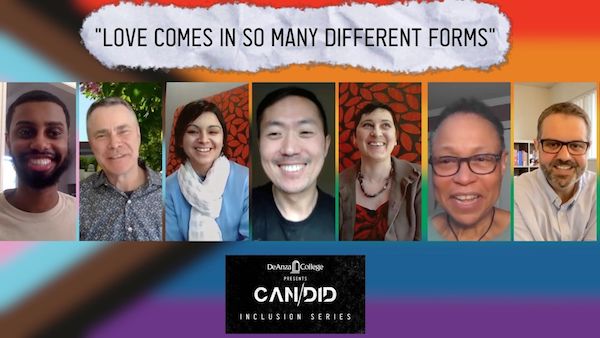 In celebration of Pride Month, we've released the first of two videos in a series featuring members of De Anza's LGBTQ+ community. Watch the video, stay tuned for part two and look forward to more Personal Stories throughout the month at deanza.edu/candid.
Lavender Graduation is also coming up next Tuesday, June 14. The event honors the resilience and accomplishments of our LGBTQ+ graduates. Visit the Women, Gender and Sexuality Center homepage for more information about the event.
Date: Tuesday, June 14, 6-7:30 p.m.
Location: VPAC outdoor patio
Keynote speaker: Alysa Cisneros, De Anza alum and Sunnyvale vice mayor
---
Graduation Information
Grads: Mark your calendars for Friday, June 24 at 6 p.m. – we're planning a traditional graduation ceremony on campus. Arrive a little early, so you can check out the Red Carpet Graduation Photo Op in Parking Lot C near the soccer field, with fun backdrops and cutouts for taking selfies and pics with your family or friends.
Visit deanza.edu/graduation for details and updates on how you can participate in all the festivities, including important deadlines and how to
Order your cap, gown and other regalia – by June 10
Apply for your degree – by June 17
Submit your message and photo for the Graduation Slideshow – by June 22
Send digital Congrats Cards to your favorite grad, or the entire Class of 2022
Join the celebration on the big day!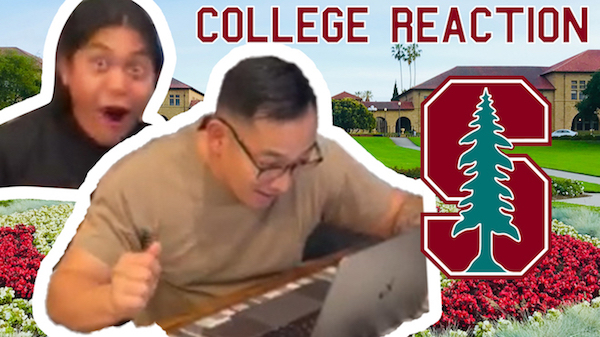 In other graduation news, check out this priceless college acceptance reaction from De Anza student and U.S. Army veteran Ray Ostil. Ostil was accepted to Stanford University. We look forward to celebrating the achievements of all our graduates during End-of-Year Celebrations and at the commencement ceremony.
---

Upcoming Events
Check the Events Calendar for additional details and more events.
Tell us about your event! Use the online form at deanza.edu/communications/tell-us.
---

Dates and Deadlines
No classes, offices closed for Juneteenth Holiday – June 20
Final exams – June 21-24
Graduation – June 24
First day of summer session – June 27
Visit the Academic Calendar page to see more important dates and deadlines by quarter.
---

Governance Meetings
Find more information about college governance at deanza.edu/gov.
---
COVID-19 Vax, Booster and Face Masks Required
If you are planning to come to campus this spring, you are required to separately provide proof of your COVID-19 vaccination AND booster, if you are eligible for one. See instructions at deanza.edu/vax.
The mask requirement remains in effect. You must wear a face mask PROPERLY while indoors – that means covering your mouth AND nose at all times.
Free PCR Testing on Campus
You can get a free PCR test for COVID-19 on campus. Testing is conducted outside the Campus Center near the Student Health Services entrance on the lower level. (Drive-thru testing in Lot A is no longer offered) There's no appointment needed but one-time preregistration is required.
Mondays from 1 p.m. to 3 p.m.
Wednesdays from 12:30 p.m. to 4:30 p.m.
Visit the Health Services COVID-19 information page for additional details.
---
Tell Us!
Quick Notes is an email digest of timely information for De Anza students, faculty and staff. Watch for it in your inbox regularly.
Use the online form at deanza.edu/communications/tell-us to let us know about an upcoming activity or other news that you want to share with the rest of the college community. That's the best way to get your item on our radar for the website Events Calendar, newsletter and social media planning.