This email was sent to all registered students.
---
May 11, 2022
Are You Registered to Vote?
California will hold a statewide primary election on Tuesday, June 7. As recent elections have shown, every vote is important. It's important for college students to register and vote, too!
You'll find more information about the upcoming election by visiting the De Anza Votes webpage at deanza.edu/vote.
The deadline to register for this election is May 23.
Ballots are being mailed to all registered voters, beginning this week.
You can vote by mail as soon as you receive your ballot.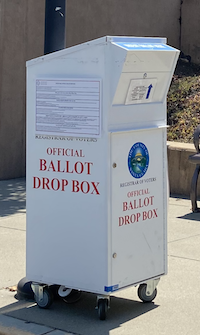 You can see if you're already registered to vote by checking the Secretary of State's website. Once you're registered, you'll have three ways to vote.
Mail in your ballot as soon as you fill it out — but no later than Election Day. Postage is free!
Drop off your ballot at an official Ballot Drop Box. ballot drop box. If you're registered to vote in Santa Clara County, you can use the Drop Box on campus. You'll find it on on the sidewalk outside the RSS Building, near the entrance that faces Staff/Student Lot A. Or you can find a drop box near you by checking the county elections website.
Bring your ballot to any county Vote Center. These will be open May 28-June 7. Find one near you by checking the county elections website.
Voting procedures may vary in different counties. Check with your local election office for information about your county.
You can also visit the California Secretary of State's election information website at sos.ca.gov/elections and learn about the California Students Vote Project at sos.ca.gov/elections/castudentsvote.
De Anza College is complying with California's Student Civic and Voter Empowerment Act by providing this information about how to exercise your rights.
Visit nationalvoterregistrationday.org for information about National Voter Registration Day, which is Sept. 20 this year.