Welcome!
De Anza's Computer Information Systems (CIS) department has been a leading educational institution in Silicon Valley since the college was founded. Over the years it has developed a rich and diverse series of courses in many areas. Our courses meet the needs of both the transfer student and the industry professional. Students who take courses and earn degrees in the CIS department often go on to transfer to four-year universities in majors such as Computer Science, Engineering, Data Science and many other majors that required CIS courses.
---
Department News
Attention! Some Courses have Changed Number
The good news is that each of these classes with new numbers are now transferable to UCs:
New Number & Name
Formerly
CIS 37 Java for Mobile Development
CIS 53
CIS 38 iOS Development
CIS 55
CIS 43 Systems Design
CIS 63
CIS 44A Database Management Systems
CIS 64A
CIS 44F Introduction to Big Data and Analytics
CIS 64F
CIS 44H R Programming
CIS 64H
CIS 45A Internet Concepts and TCP/IP Protocols
CIS 75A
CIS 46 Digital Security
CIS 56
Network Security
Free Noncredit Classes!
De Anza now offers free, noncredit CIS courses in programming, office software, personal computer security and more! These courses do not count toward an academic degree or certificate, but they offer a new way to gain valuable skills and explore career options, without worrying about grades or tuition.
---
---
Strong Showing by Programming Club
De Anza's Competitive Programming Club made an impressive showing in the Pacific Northwest Regional session of the 2022 International Competitive Programming Contest. De Anza was the only two-year college in the competition!
---
Testimony from De Anza students transferred to UC Davis
---
Getting Started
CIS Transfer Pathways
Prerequisites are enforced!
Certificates & Degrees
Tentative Scheduling of Classes
---
Our Facilities
For classes requiring students to work on a computer, CIS maintains a computer lab in the Advanced Technology Center, AT 203.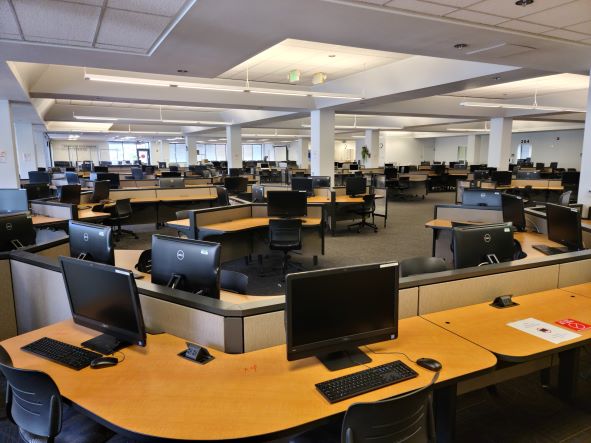 Learn more about the computer lab and other classroom facilities available to our CIS students.
---
Our Faculty & TAs
Numerous CIS faculty come to us from lndustry and teach a variety of courses related to their expertise.