This email was sent to students who registered for certain Language Arts and ESL courses in spring quarter
---
April 12, 2023
Your EPS Counselor Can Assist You!
Dear Student,
Did you know that meeting with an academic counselor can increase your chances of transferring to a four-year school? Working with a counselor can improve your transfer prospects by as much as 60%.
The English Performance Success (EPS) program has counselors available to you, because you are taking an eligible Language Arts or English as a Second Language course at De Anza.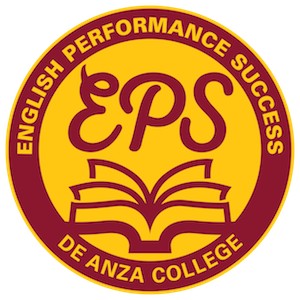 Our counselors can assist you with
Choosing an academic goal, such as earning a degree or certificate or transferring to a university
Creating an educational plan and deciding which courses you need to reach your goals
Finding help with classes, such as tutoring or other academic assistance
Exploring possible careers
Plus: You can continue to see your EPS counselor throughout your time at De Anza, even after you finish your Language Arts or ESL courses.
You can make an appointment to speak with your EPS counselor by clicking the yellow button above. You can also learn more about the EPS program and counselors by visiting deanza.edu/languagearts/eps-counselors.
Best wishes,
De Anza College