This email was sent to all students registered for fall quarter.
---
Oct. 3, 2022
Quick Notes for the Week of Oct. 3
---
Reminder: You CAN Mix Online and On-Campus Classes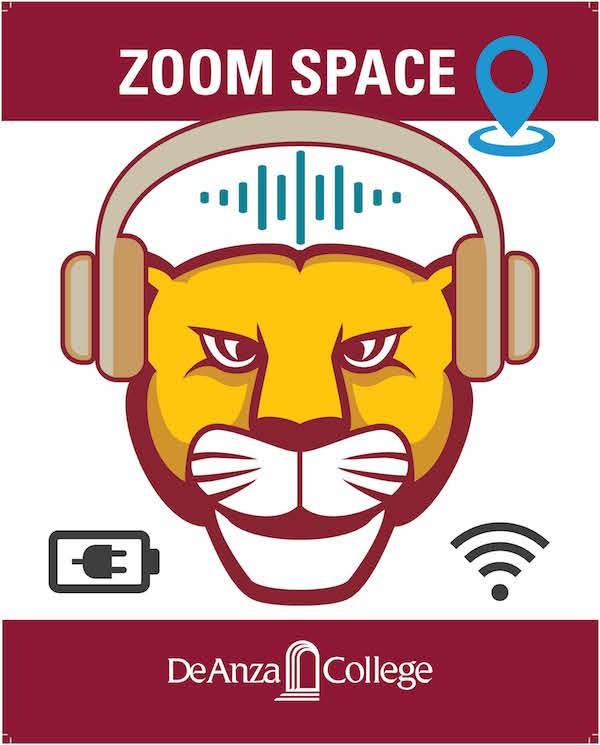 If you're taking a mix of online and on-campus classes – or thinking about adding another class for fall – you can count on having a place to Zoom on campus.
Check the Zoom Spaces map to find designated spaces with power outlets and a good Wi-Fi signal.
Add classes through Oct. 8, with an add code from the instructor.
---
Highlights
Introducing the De Anza Pride Center
De Anza's new Pride Center is a supportive and welcoming space for students across the gender and sexuality spectrum to build community, find resources and connect with the support needed to thrive in their college experience. Take this short survey to share what you'd like to see at the new Pride Center. Learn more about the Pride Center at deanza.edu/pride.
Speak With a Mental Health Professional – Online, Any Time, for Free
TimelyCare provides free mental health care and other resources for De Anza students. If you're registered for classes at De Anza, you can use TimelyCare for services including TalkNow (speak right away with a mental health professional, available 24/7), scheduled counseling and group sessions. Learn more on the TimelyCare webpage and see additional resources available to students through De Anza Psychological Services.
Share Your Thoughts on Memorial Park
The City of Cupertino has started a project to develop a new design for Memorial Park, located across the street from De Anza College. Share your feedback on what future recreation, community gathering, event, education, and natural habitat or green space ideas you have for Memorial Park. Learn more and take the survey on the Memorial Park Specific Plan website. The survey is open through Oct. 9.
---
CAN/DID Inclusion Series: Personal Stories
This month, the CAN/DID Inclusion Series will release more content uplifting the experiences and perspectives of our De Anza community in honor of Latinx Heritage Month (Sept. 15-Oct. 15), LGBTQ+ History Month and Filipinx History Month. Visit deanza.edu/candid to watch these CAN/DID Personal Stories and all videos from the CAN/DID Inclusion Series.
---
Upcoming Events
Check the Events Calendar for additional details and more events.
Tell us about your event! Use the online form at deanza.edu/communications/tell-us.
---
Dates and Deadlines
Last day to add classes with an add code – Oct. 8
Last day to drop classes without a W – Oct. 9
Veterans Day holiday, no classes; offices closed – Nov. 11
Last day to drop classes with a W – Nov. 18
Thanksgiving holiday, no classes; offices closed – Nov. 24-27
Visit the Academic Calendar page to see more important dates and deadlines by quarter.
---
Governance Meetings
Find more information about college governance at deanza.edu/gov.
---
COVID-19 Vax and Booster Required
To protect everyone's health, you must provide proof of vaccination AND a booster before coming to campus. Face masks are strongly recommended on campus, and may be required in some offices or by individual instructors in their classrooms. For more information, see deanza.edu/vax.
Free PCR Testing on Campus for Students and Employees
Free PCR testing is available three days a week during fall quarter, outside the Campus Center near the Student Health Services entrance on the lower level. No appointment is needed but one-time preregistration is required.
Mondays and Wednesdays from 1 p.m. to 3 p.m.
Fridays from 10 a.m. to noon
Visit the Health Services COVID-19 information page for additional details.
---
Tell Us!
Quick Notes is an email digest of timely information for De Anza students, faculty and staff. Watch for it in your inbox regularly.
Use the online form at deanza.edu/communications/tell-us to let us know about an upcoming activity or other news that you want to share with the rest of the college community. That's the best way to get your item on our radar for the website Events Calendar, newsletter and social media planning.