This email was sent to all students who were registered for fall or applied for winter quarter.
---
Nov. 24, 2021
Register Now for Winter Quarter!
Registration for winter is now open, and there are lots of great classes available. Check out the schedule – and register now through MyPortal!
Remember: You must upload proof of COVID-19 vaccination BEFORE you can register for any winter classes that meet on campus.
Submit proof of your final vaccination at least three days before you plan to register for an on-campus class, to allow time for verification.
If you already submitted your vaccination record for fall quarter, you don't need to submit again for winter.
Scroll down to find more registration tips and important updates in this email.
Winter Quarter Classes Begin Jan. 3
See the online searchable schedule for course information, newly added classes and cancellations.
Many winter classes will be online, while some will be held on campus. Be sure to check the class schedule and click the title of each course you're considering, to read the footnotes for details on how the class will be taught, including whether online classes will have
Regular meetings on scheduled days and times, as noted in the listing
Some scheduled meetings, along with some independent work
No scheduled meetings, with students completing assignments on their own time, within set deadlines
You can view open and newly added classes by using the
Open Classes Finder
in
MyPortal
. Go to the Apps section and click on the
Student Registration
tile. Remember to check for prerequisites.
Guide to Winter Quarter: Student Services and More!
For student services hours and contact information, plus important updates and online learning tips, visit deanza.edu/quarter-guide.
Bookstore Update
You can purchase all your books and materials for winter quarter through the Bookstore's new online store at deanzastore.com.
The Bookstore also plans to begin offering limited in-person services (online order pickup and textbook buyback) beginning Dec. 6. Please watch for updated store hours at deanzastore.com. For more information, visit the Bookstore FAQs webpage.
New Names for Ethnic Studies Courses
Many courses that were previously labeled as "Intercultural Studies" are now offered through new departments. In addition to classes with the prefix ICS (Intercultural Studies), be sure to look for classes with these prefixes
AFAM: African American Studies
ASAM: Asian American and Asian Studies
CETH: Comparative Ethnic Studies
CHLX: Chicanx and Latinx Studies
NAIS: Native American and Indigenous Studies
All courses offered through these departments will satisfy De Anza's ICS course requirement for an associate degree.

Find resources and referrals for food, housing and transportation at deanza.edu/resources
---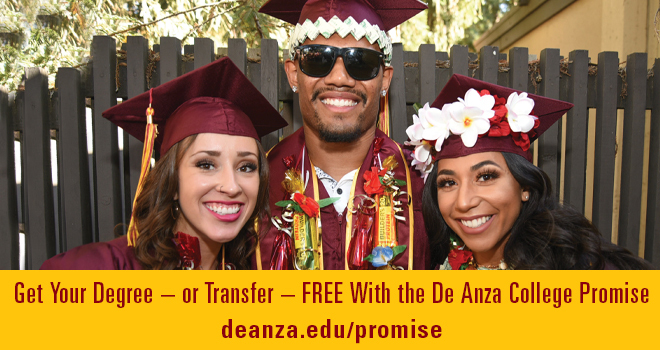 Get your degree – or transfer – FREE with the De Anza College Promise