How to Request an Exemption
The Board of Trustees for the Foothill-De Anza Community College District voted on April 3, 2023, to rescind the district's COVID-19 vaccination requirement, as of July 3, 2023, which means
Proof of vaccination and booster (if eligible) is still required before coming to campus during the 2023 spring quarter
Proof of vaccination will NOT be required for summer or fall quarter of 2023
As a result, exemptions will not be needed after July 2, 2023.
---
For spring quarter 2023, you may request an exemption from the COVID-19 vaccination requirement on the basis of verified medical reasons or sincerely held religious beliefs. There is a separate form and process for each type of request. Requests for exemption take at least three days to evaluate and process.

Requesting a Medical Exemption
Download the Medical Exemption Request Form
Download the form
Complete the first section of the form on your computer, print it out and sign it.
Ask your medical provider to complete and sign the second section.
Scan the completed form to create a PDF.
Upload this form through the PyraMED health portal. Here's how:
Have your completed form ready
You can scan or take a photo of your exemption request form.
Save the digital photo or file to the computer or device that you will use to log in to the PyraMED health portal.
Log in to the PyraMED health portal
Open the Apps section of MyPortal and click on the tile for PyraMED Health Services.
As an alternative, you can go to deanza.studenthealthportal.com
If you are prompted to sign in, use your eight-digit CWID (your student ID number, also known as a Campuswide ID) and MyPortal password.
(Students must be registered in at least one class to access the PyraMED portal.)
Sign the "Consent for Treatment"
If you haven't already signed the Informed Consent for Treatment form, you'll need to do this before uploading your vaccination record or exemption request. When the PyraMED home screen appears
Click on My Forms (in the red horizontal bar across the top of your screen).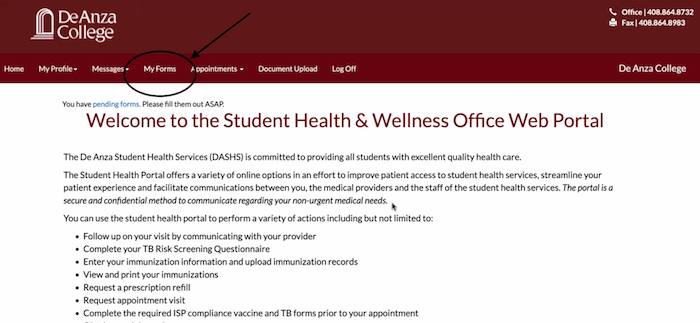 Next, look under Pending Forms and select the Informed Consent for Treatment form.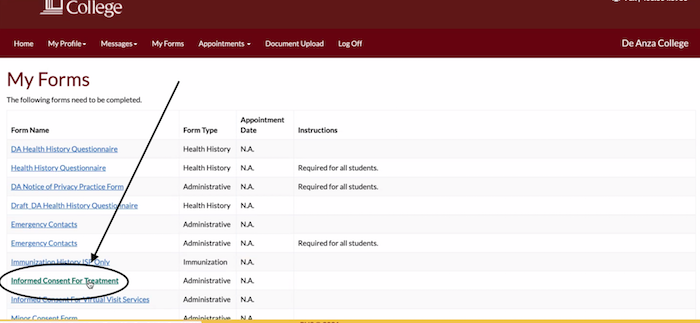 Open this form, read it and follow the instructions to sign it online.
Remember to click the Submit button when you are finished.
Follow the on-screen instructions to upload your request
After you've signed the Consent for Treatment form, you can upload the exemption request form. (Keep the PyraMED screen open to do this.)
Click on Document Upload (in the red horizontal bar across the top of your screen). This should open a screen like the one shown here.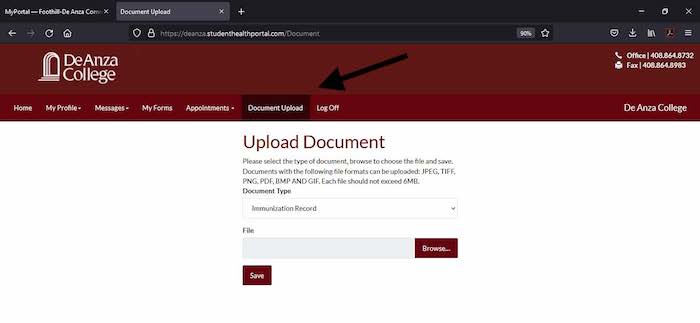 Next, select COVID-19 Request Medical Exemption Form – De Anza as the document type.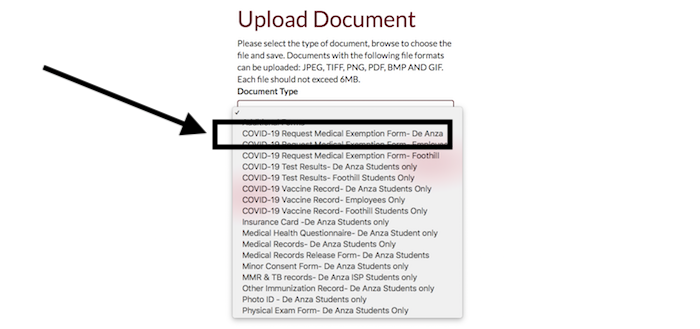 Click the Browse button to find the document file on your computer or device.
(Your document file must be in one of the formats listed, such as .jpeg or .pdf)
Click the Save button to upload the document.
You will not receive an immediate confirmation. The Health Services office will contact you if they have any questions.
Remember these important points
You may not come to campus until your request has been approved.
We strongly recommend that you submit your request at least three days before your first visit to campus.
---

Requesting a Religious Exemption
Please visit the Religious Exemption Request webpage to complete the online form.