COVID-19 Information for Employees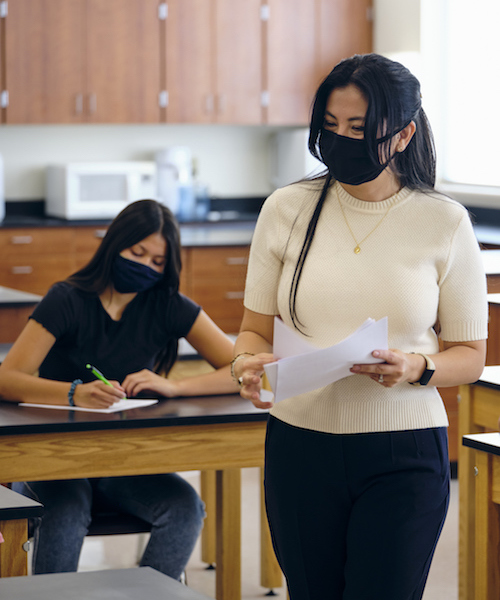 If you are coming to campus for any reason – for a class, a meeting or any other purpose – you must be vaccinated against COVID-19, for your health and that of others.
This requirement applies to students, employees and visitors. In addition, you must:
Wear face masks PROPERLY while indoors – that means covering your mouth AND nose at all times. (Masks are also recommended for outdoor gatherings.)
Practice social distancing and follow any posted instructions
Washing hands regularly or using hand sanitizer, as provided, is also encouraged.

COVID-19 Reporting and Contact Tracing
If you learn that a student has tested positive for COVID-19, has been exposed to a person with COVID-19, or is ill with any COVID-related symptoms, please submit a COVID-19 reporting form, so the college can follow up appropriately.
This form is separate from the Maxient reporting system in MyPortal. Please do not use the Maxient form in MyPortal because it is not designed for this purpose. The report will be treated as confidential and is routed to the Student Health Services clinician, who will initiate the following process for contact tracing and notification.
Initial notifications
Student Health Services will
Forward the information through a secure platform to the Contact Tracing Team

S

end confidential notices to the relevant dean and instructor (if the case was not reported by the instructor), athletics trainer (if applicable) and the director of College Operations (for custodial services)
Send confidential notices, if the student is also a college employee, to their work manager and district Human Resources
Contact tracing
Student Health Services will:
Contact the student to explain the contact tracing process and quarantine protocol, check the student's vaccination status and confirm test result
Notify the supervising physician for Student Health Services
Alert the Santa Clara County Public Health Department's COVID-19 program
The Contact Tracing Team will:
Interview the COVID-positive student to determine who may have been in close contact with them, and provide guidance regarding quarantine protocol and other relevant information in accordance with county and CDC guidelines
Submit a completed report to the Santa Clara County Public Health Department
Student Health Services and the Contact Tracing Team will jointly
Notify faculty members or students who have been in close contact with the student, and provide guidance regarding testing and quarantine protocol in accordance with county and CDC guidelines
Follow-up measures
The Contact Tracing Team will:
Provide a follow-up report to

Student Health Services
Dean or athletics trainer if applicable

Continue to monitor potential cases and report to Santa Clara County Public Health
Student Health Services will:
Follow up with the COVID-positive student during the 10-day quarantine period, and monitor the student's progress
Monitor test result submissions from students who were in close contact with that student, and notify the Contact Tracing Team of any positive cases
Follow up with the COVID-positive student regarding clearance to return to class, after recommended quarantine and improvement in symptoms
Notify faculty members regarding student's clearance to return to class, as applicable

Current Vaccination Requirements
Students must submit vaccination proof (or obtain an exemption) before they can register for any on-campus classes in winter quarter.
More than 98%

of students

who registered for on-campus classes last fall were able to continue with their classes after the Oct. 1 deadline for submitting vaccination proof.
Employees have a separate procedure for uploading their proof of vaccination. Please visit the district Human Resources website for instructions.

If you already uploaded your documents for fall, you don't need to re-submit for winter.
If you are uploading for the first time, please do so by Friday, Dec. 10 to ensure verification before winter quarter begins.
NEW: Boosters Are Recommended
COVID-19 boosters are now recommended by the CDC and state health authorities for
Pfizer: Anyone age 16 or older who received their second shot of the Pfizer vaccine at least five months ago
Moderna: Anyone age 18 or older who received their second shot of the Moderna vaccine at least six months ago
Johnson & Johnson: Anyone age 18 or older who received their Johnson & Johnson shot at least two months ago
Testing and Vaccination Locations
Find a Testing Site Near You
To find a free COVID-19 testing site near you, use these online tools:
Find a Vaccination Site Near You
Still need to get vaccinated? Visit these websites for information and assistance in finding a vaccination site near you
Feeling Anxious or Stressed?
Free counseling appointments are available through the Foothill-De Anza district
Employee Assistance Program
(EAP).
Classroom Supplies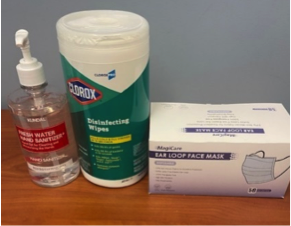 College Operations is providing the following for all classrooms used this fall
Face masks
Hand sanitizer
Sanitizing wipes
Signage regarding county health requirement for face masks regardless of vaccination status
CDC poster regarding ways to stop the spread of germs
Other materials – including plexiglass dividers, air purifiers, gloves and face shields – may be requested through your dean or manager.