Outdoor Environment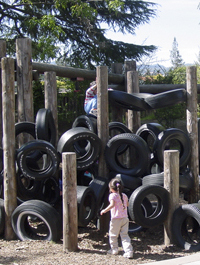 De Anza's Child Development Center maintains a spacious outdoor environment to promote a child's physical and mental development.
Beautiful landscaping surrounds our play areas to create an inviting atmosphere in which young explorers can climb structures, cross wooden bridges, ride on tricycle paths, and play on lawns. Our staff encourages children to help care for a garden.
We specially designed our lovely outdoor area to promote a child's safety, growth, and curiosity. It is fully enclosed and provides ample covered space. A door in each classroom opens to the outdoor play area, which aids supervision. We maintain separate areas for toddler and pre-school children and each area is specially equipped for the needs of its age group.