Early Education Philosophy
---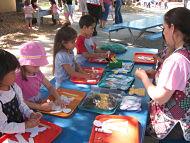 We believe children grow and learn best:
In a caring and non competitive environment
When they are both physically and mentally involved
When they are given opportunities to discover concepts themselves through experimentation, inquiry, and exploratory play
When their fears and emotions are respected and when they are encouraged to identify and verbalize their feelings
When they have opportunities for relationships with adults who show affection and respect for them and who they are themselves creative, happy, self-relient, and responsible.
When there is a shared responsibility of the parent and educator. Cooperation and communication between home and school is essential to the creation of an environment that fosters physical,cognitive,emotional and social development.
When their bodies are well rested and well nourished.
Therefore, we:
Respect the developmental level of each child and offer a wide variety of activities to challenge individuals as opposed to a fixed curriculum directed at groups of children.
Carefully structure each classroom environment to encourage exploration, choice making, large and small group activity, and the development of self-help skills.
Provide an outdoor environment that invites active, vigorous exercise in a natural setting. Trees, grass, flowers, water, and open space are emphasized in our outdoor space.
Create a climate of adult-child interaction which encourages conversation, shared involvement in activities, joint problem solving and genuine expression of feelings in constructive ways.
Encourage the development of social skills through modeling, facilitating new friendships, and assisting with conflict resolution.
Allow children to create and master their own challenges.
Provide opportunities for singing and movement to music.
Present daily activities building upon literacy, language, and math skills that are incorporated naturally into developmentally appropriate and play based curriculum.
---
Our Program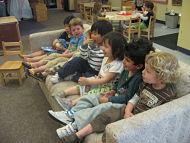 Our spacious Facility includes classrooms and play areas that encourage and challenge the development of children of varying ages and temperaments.
Check dates for upcoming Tours of our Center.
We offer separate programs for toddlers (18 months to two years old) and for preschoolers (three to six years old). Due to COVID-19 we are not providing childcare for children younger than 3 years old.
A catered breakfast, lunch and afternoon snack are included with tuition.
The Center maintains a low child to teacher ratio. The participation of De Anza student associates and parents often lowers the ratio even further.
Meal Program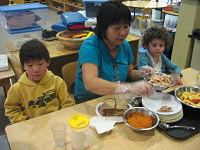 Chefables caters breakfast, lunch, and afternoon snacks which are included with tuition. Promoting a lifelong "healthy" diet is a part of the Center's curriculum.
The food items offered are limited to whole grain bread/crackers, zero trans fat products, and additive free products. The CDC promotes a menu that reflects its diverse culture.