Why Do We Say "Black Lives Matter"
Instead of "All Lives Matter"?
April 29, 2021
Today's CAN/DID Inclusion video focuses on why we say "Black Lives Matter" instead of "all lives matter."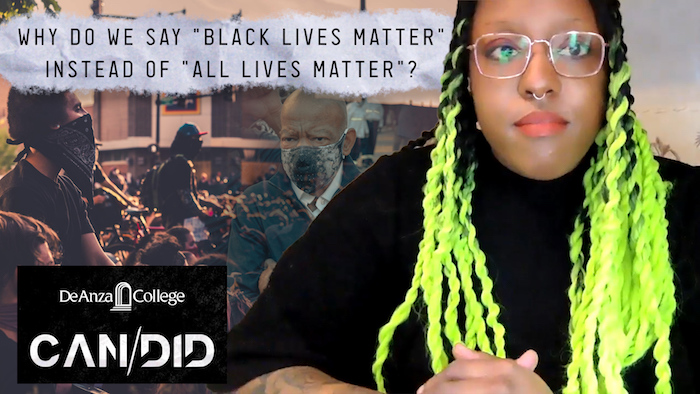 In the video, you'll hear from students, faculty and classified professionals – as well as President Lloyd Holmes – as they share their perspectives on the use of both phrases.
"We aren't saying 'all lives matter' because all lives are not being affected in the same way," says Deborah Taylor, screening and selection coordinator for the Nursing program.
"We're not saying 'all lives don't matter,'" adds student Abriana Holliday. "But the reason why we are saying 'Black Lives Matter' is because we have to continue to show people and tell people that our lives matter in order to avoid being discriminated against."
This installment comes ahead of tomorrow's Ethnic Studies Multiracial Panel event on African American Studies. It is the first of five panel discussions hosted by our Intercultural and International Studies Division. Read on for more information on the series.
Ethnic Studies Multiracial Panel Event
Join the Intercultural and International Studies Division for an online series of panel discussions and dialogues, which will bring together faculty representatives from our four core areas of ethnic studies, along with students, classified professionals and administrators from these racial, ethnic and cultural communities.
The panels will convene on five consecutive Fridays, from 2:30-4:30 p.m. Look out for related CAN/DID Inclusion Series videos preceding each of the panels.
Friday, April 30: African American Studies
Friday, May 7: Asian American and Asian Studies
Friday, May 14: Chicanx/Latinx Studies
Friday, May 21: Native American and Indigenous Studies
Friday, May 28: Comparative Ethnic Studies – Building Multiracial Alliances
We encourage participation in the entire series, for full inclusion and understanding. Please register in advance to attend.
About CAN/DID
CAN/DID is a multimedia series that examines equity and social justice issues by drawing on the knowledge and experiences of our own community members.
Future installments of CAN/DID will address additional aspects of the Black Lives Matter movement and more issues that affect all of us at the college.
You can find all the videos and social media posts, along with resources for support and further exploration at deanza.edu/candid. For resources and information on addressing racism, visit the Standing Against Racism webpage. We'll also highlight future installments through this email newsletter.
CAN/DID is produced by the multimedia team and others in the Office of Communications, in consultation with the Office of Equity, Social Justice and Multicultural Education.
Your feedback on the series is welcome at communications@deanza.edu.