Anti-Asian Racism:
How Do We Make Sense of What's Going On?
March 17, 2021
The latest video in the CAN/DID Inclusion Series takes a closer look at anti-Asian racism during the pandemic, asking: "How do we make sense of what's going on?" Two future installments will provide historical context and solutions.
With this week's tragic news about the murders of eight people in Atlanta – six of them women of Asian descent – it is critical to understand anti-Asian racism, and develop tools to combat it.
"We need to bring an analysis to anti-Asian scapegoating," says Mae Lee, chair of Asian American and Asian Studies. "Specifically, we need to bring an Asian Americanist analysis to what's happening."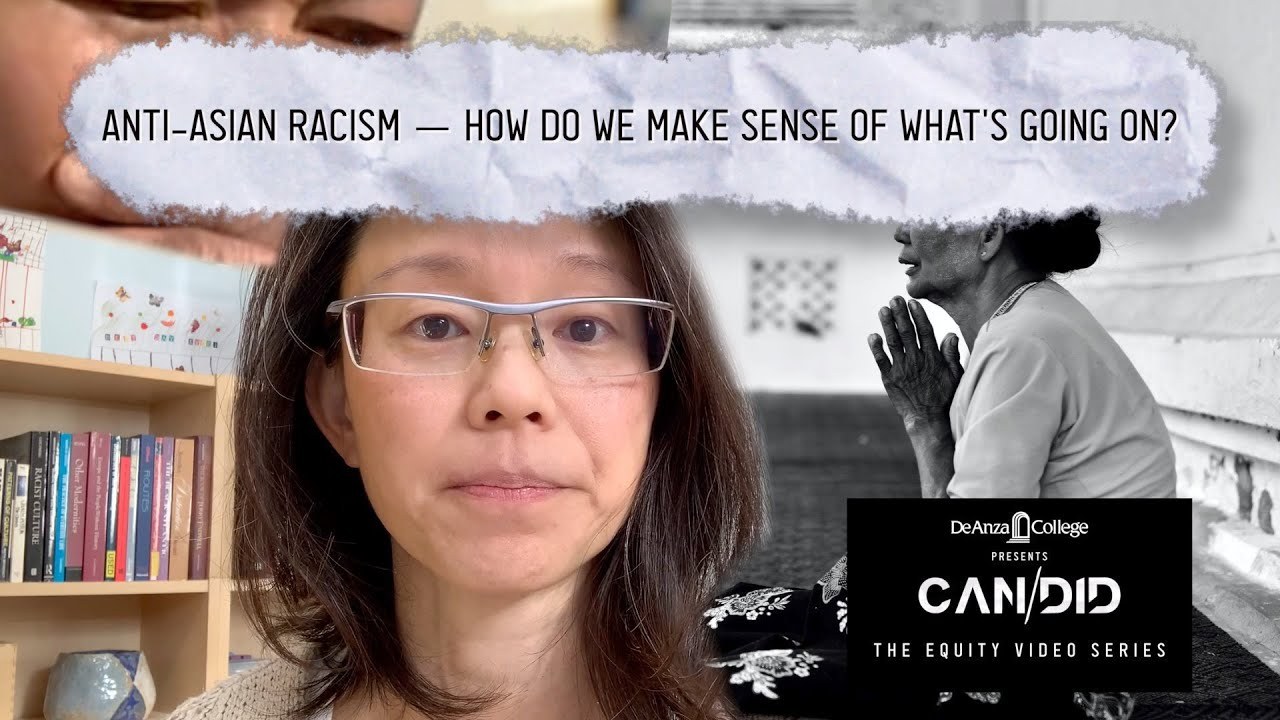 Lee also discusses the increase in and nature of anti-Asian aggression reported to Stop AAPI Hate, a tracking site created by a community collaboration.
"I think it'll definitely help people realize that Asian Americans are struggling during this time," says DASB president Katelyn Pan about such tracking sites.
Last month, President Lloyd A. Holmes wrote the college community to condemn anti-Asian racism and reaffirm De Anza's commitment to equity work in which the college has long been engaged. In his message, President Holmes noted forthcoming events, planned by the Office of Equity, and others, to continue the conversation. Details on these events are available below, with more information on the Office of Equity website and on the college events calendar.
Upcoming Events
We look forward to continuing the discussion with you about anti-racism and standing with the Asian and Asian American community at these events.
The first event, I Am Not the Virus. Racism Is, is set for next Tuesday, March 23. It will be a conversation with Oscar Peñaranda – an author, educator and community leader who is dedicated to fighting for ethnic studies and his communities.
This will be followed by a panel discussion on Tuesday, April 6: Then and Now – A Conversation On the History of Anti-Asian Racism in the U.S. The discussion will be moderated by Chesa Caparas, faculty coordinator for the Jean Miller Resource Room. The panelists include Mae Lee, Chair, Asian American and Asian Studies, and participant in the CAN/DID Inclusion series, and Jim Nguyen, Instructor, Political Science. Robert Handa, De Anza alum, NBC Bay Area reporter and host of Asian Pacific America, will also be on the panel.
Look for more videos addressing anti-Asian racism leading up to these events. See the first installment on anti-Asian racism at deanza.edu/candid.
CAN/DID is a multimedia series that examines equity and social justice issues by drawing on the knowledge and experiences of our own community members.
Future installments of CAN/DID will address additional aspects of the Black Lives Matter movement and more issues that affect all of us at the college.
You can find all the videos and social media posts, along with resources for support and further exploration at deanza.edu/candid. For resources and information on addressing racism, visit the Standing Against Racism webpage. We'll also highlight future installments through this email newsletter.
CAN/DID is produced by the multimedia team and others in the Office of Communications, in consultation with the Office of Equity, Social Justice and Multicultural Education.
Your feedback on the series is welcome at communications@deanza.edu.