What Does Black Lives Matter
Mean To You?
Feb. 24, 2021
This week's video installment of the CAN/DID Inclusion Series, presented by the Office of Communications, asks: "What does Black Lives Matter mean to you?"
As Black History Month comes to a close, hear from participants across the De Anza College community about what the Black Lives Matter movement means to them.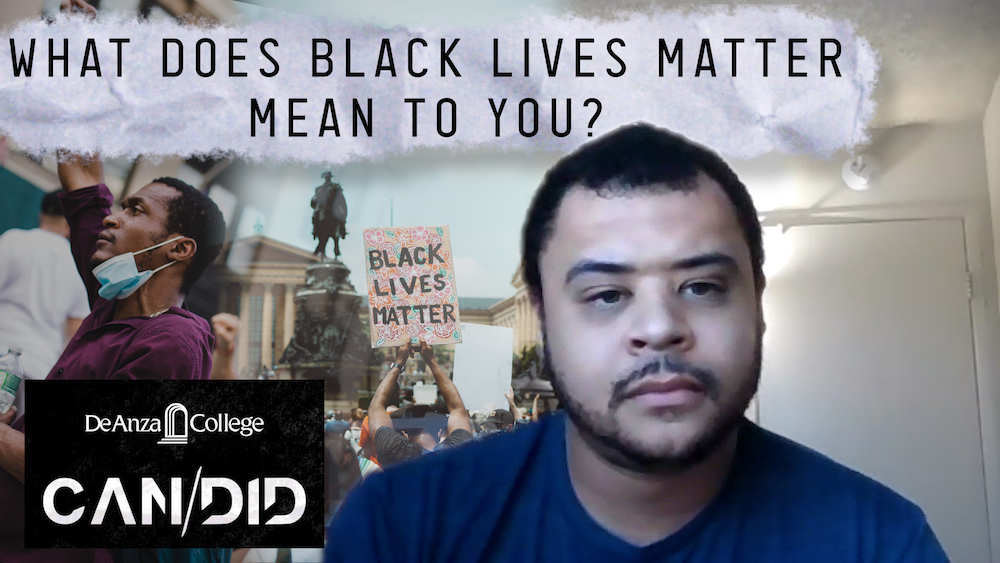 "It's the present-day civil rights movement," says Deborah Taylor, screening and selection coordinator for the Nursing program.
"Black people in this country and all other people of color as well need to be treated equally, right? And that means ... putting the resources behind the idea that Black people matter, that people of color matter," adds student Khari Crawford.
The death of George Floyd in Minneapolis and other recent events in 2020 and 2021, including the resulting protests and police responses, have highlighted longstanding injustices experienced by people of color in the United States.
CAN/DID is a multimedia series that examines equity and social justice issues by drawing on the knowledge and experiences of our own community members.
Future installments will address additional aspects of the Black Lives Matter movement and more issues that affect all of us at the college.
Look for upcoming videos addressing anti-Asian racism, which will be tied to an event developed by the Office of Equity and others, as noted by President Lloyd Holmes. See the first installment on anti-Asian racism at deanza.edu/candid.
You can find all the videos and social media posts, along with resources for support and further exploration at deanza.edu/candid. For resources and information on addressing racism, visit the Standing Against Racism webpage. We'll also highlight future installments through this email newsletter.
CAN/DID is produced by the multimedia team and others in the Office of Communications, in consultation with the Office of Equity, Social Justice and Multicultural Education.
Your feedback on the series is welcome at communications@deanza.edu.