Here's What Our Students Say
About Studying ESL at De Anza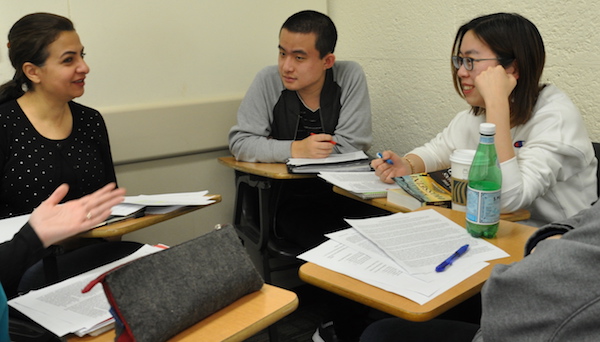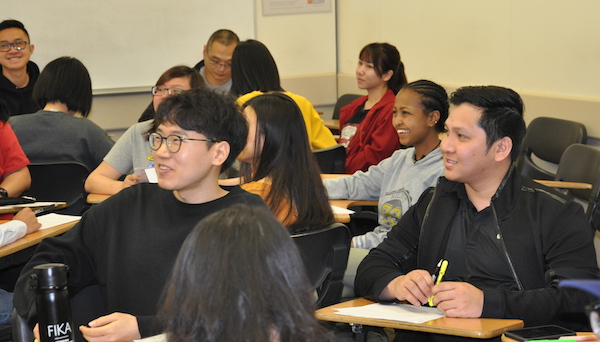 ---
Amin
Originally from: Iran
His goal: Amin is transferring to UCLA, where he plans to major in sociology
"I like the ESL department of De Anza College because it helped me a lot to improve my writing skills by teaching me how to make complex sentences, compound sentences, and different type of academic essays. Also, at the ESL department of De Anza College, I have been taught some of the critical parts of English grammar, which helped me a lot to improve my English skills."
---
Katherine
Originally from: Taiwan
Her goal: Katherine is transferring to the University of California, Berkeley
"ESL 234 was my first course at De Anza, and it is one of my favorite course at De Anza. I learned a lot and made some good friends. Most importantly, I built confidence in ESL 234. Also, in ESL 273, I improved my writing skills and that allowed me go to next higher level. I am really happy to take classes at De Anza."
---
Cynthia
Originally from: Peru
Her goal: Cynthia plans to transfer to a four-year university and major in Computer Science
"What I like the most about ESL classes at De Anza is that they are not just classes. When I take an ESL class, I know that I can count on the Speaking and Listening center that helps me gain confidence with my pronunciation and presentations. I can also go to the Writing and Reading Center that helps me improve my writing and grammar. Last but not least, I like to be a part of the ESL club in which I can practice leadership skills."
---
Narmin
Originally from: Azerbaijan
Her goal: Narmin wants to transfer to UC Berkeley or UC Davis. She plans to major in Computer Science and work on Artificial Intelligence applications.
"In the beginning of my studies at De Anza, my writing skills were not developed at all. In ESL 273, I learned how to write essays according to the academic structure. In ESL 5, I learned how to develop essays by adding more creativity. Both classes pushed me to improve and taught me to write properly."
---
Thi
Originally from: Vietnam
Her goal: Thi plans to transfer to San José State University, where she will major in Civil Engineering
"ESL 252 and 253 were my first ESL classes I took at De Anza. I used to be afraid of learning English. After one year, I received more than I thought I would in every aspect and improved my skills. I also learned how to write an essay in correct format.
"Although ESL classes come with a lot of homework and projects, I think they are helpful because students improve and learn their skills day by day. I like all of my ESL classes because each class taught me some special knowledge. ESL classes help me to become more confident in communicating with other people and support me in my future career path when writing essays in English language perfectly."
---
Da
Originally from: China
His goal: Da plans to transfer to San José State University, where he will major in History
"I think the ESL program at De Anza is really beneficial for all students whose first language is not English. ESL classes give me the platform to improve my English skills and teach me in detail how to fit in college life better as an international student. The classes that I like most are ESL 273 and ESL 5 because they taught me how to write academic paper."
---
Raphaela
Originally from: Austria
Her goal: Raphaela is majoring in Marketing Management at De Anza. She plans to transfer to San José State University and study Hospitality, Tourism and Event Management.
"My first ESL class at De Anza was ESL 273. My English, especially my writing improved a lot throughout the classes since I hadn't ever written an essay in English before. I'm lucky to say that I only had great experiences taking ESL with great teachers. The content discussed in classes, what I had to read and write about helped me understand and develop a wide range of vocabulary."
---
Negin
Originally from: Iran
Her goal: Negin plans to transfer to San José State University or the University of San Francisco, where she wants to major in business.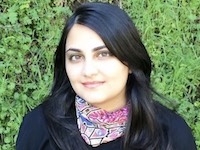 "ESL classes helped me to become a better writer and gain confidence for succeeding in all classes at De Anza College.
"I think what makes De Anza College ESL classes different than others are the passionate and helpful instructors who spend extra time to provide feedback. Moreover, the learning materials in most of the ESL classes are both challenging and fun, so ESL students can improve their English skills effectively."
---
Huy
Originally from: Vietnam
His goal: Huy plans to transfer to San José State University or Cal State East Bay, and earn a bachelor of fine arts degree in graphic design.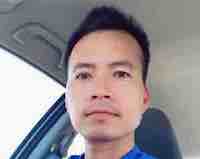 "As an immigrant, I had to learn English as a second language. Even though I learned English in Vietnam, learning English in this country required more skills. ESL helped me to improve my reading, writing, listening, speaking, and vocabulary.
"The ESL program also helped me to learn about American culture and local people. In ESL classes that I attended, I also had a chance to learn about different cultures represented by my classmates. My classmates came from different countries, so I was so lucky to get to know diverse cultures from the actual people.
"Most of my ESL classes were small, so students had a chance to receive individual attention from the teachers. ... For me, I didn't have any pressure while attending the ESL program. It was very suitable to my skill from day one to the day I finished all my ESL requirements."
---
Lin
Originally from: China
Her goal: Lin wants to join the nursing program De Anza and continue her nursing training at San José State University.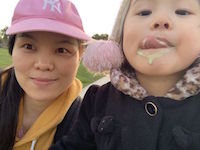 "ESL classes have given me an amazing transformation. When I entered De Anza College, all I wanted was to learn English in order to have an easy life living in America. The instructors were so friendly, encouraging, and professional. The more classes I took, the more confidence I gained to pursue higher education.
"After finishing all of the ESL classes, I took EWRT 1A and EWRT 2, and got A+ in both of them since my ESL classes had prepared me well with basic knowledge, especially about how to write an academic essay. Now, I am taking EWRT 1B just for my own improvement, and I am doing well in this class as well.
"Three years ago, I wouldn't believe that this would happen because I am so shy and was never prepared to live in an English-speaking environment. All of my incredibly wonderful ESL instructors helped me to meet a new me, who could speak English confidently and pursue a dream to become a registered nurse."