Red Wheelbarrow: Student Edition
Greetings, friends of student art and literature at De Anza!
See below for submission guidelines for the student edition.
On this page, you'll also find information about past student editions.
---
Red Wheelbarrow Student Edition, 2023
The Red Wheelbarrow Student Edition is an annual student-edited literary magazine published each spring by De Anza student editors to showcase the best fiction, creative nonfiction, poetry, art and literary performance pieces produced by De Anza students during that academic year. Anyone who has taken a De Anza class during the current year is eligible to submit work. Submitted manuscripts are discussed and evaluated without editors knowing names of those submitting; editors are students in the spring quarter EWRT 68A/AX "Literary Magazine" editing course taught by Jennifer Penkethman.
Enjoy the PDF for free and get a print version on campus from either the Language Arts Division office (for contributor's copies) or the De Anza Bookstore (for anyone who wants one, $15). You can also email weisnerken@deanza.edu or penkethmanJennifer@deanza.edu to order copies.
---
Tips for Viewing the PDF File in Adobe Acrobat
Download the PDF file of the 2023 Student Edition from this website to your desktop or other device
Open Acrobat. You can do this in Preview or other applications as well; it works best in Acrobat.
Choose "Open" in the file menu and open the downloaded PDF of the 2023 Student Edition.
Go to "View" in the drop down menu and click "Page display"
Toggle "Two page view" in Page display.
Toggle "Show cover page" in two page view as well.
Now you'll be able to see the file as if it were the actual book—with the facing pages correctly oriented
You can also browse the Red Wheelbarrow YouTube Channel.
---
Submission Guidelines:
Red Wheelbarrow Student Edition
Submissions are open through Friday, May 26, 2023, at 11:59 p.m. Prizes of $1,000 in scholarships will be awarded for best prose, poetry and art.
Send submissions to Jennifer Penkethman at penkethmanJennifer@deanza.edu
All submissions are anonymous when evaluated by student editors
Attach submissions as Word files (it is best if the author name is in the email only, not on submissions or in the file name)
Magazine will be launched June 28, 2023 (finals week)
NOTE: For the National Edition submission guidelines and prize information, visit the Red Wheelbarrow main webpage.
Submissions
Poetry: up to 5 poems
Stories: 1-2 short stories (up to 5,000 words each)
Plays: 1 piece (up to 4,000 words)
Flash Fiction: up to 3 short-shorts (600 words or less)
Creative Nonfiction: 1 piece (up to 6,000 words)
Art (all media): up to 5 prints or digital files (digital preferred)
Comics: 1 brief graphic story
Videos (short films, performances, original songs, dance): up to 3, not more than 10 minutes, combined
Requirements for video submissions

Film the video in landscape orientation
Put each piece in a separate video
Maximum of 3 video submissions that are no more than 10 minutes total

Example: Submit either one ten-minute video or three three-minute videos

Make sure your face is well lit
Make sure audio is clear, minimal background noise
Make sure to introduce the poem by saying your name clearly and the poem title as well
It's OK to very briefly introduce whatever you are reading too
A few video ideas:

Just film yourself reading your poem/fiction piece
Consider making a creative video that complements your piece with a voiceover of you reading your piece in the background
Come up with your own creative ideas!
Steps to Create an Unlisted YouTube video
Go to YouTube.com
Sign in to your YouTube account
Click Create in the top right of the page.
Select "Upload video."
Customize video details (title, description, etc.).
Click the "Visibility" section of the menu
Select "Unlisted" and copy the video link.
Email the link to penkethmanJennifer@deanza.edu
---

Digital Back Issue Archive
---
Red Wheelbarrow Student Edition, 2022
---
Red Wheelbarrow Student Edition, 2021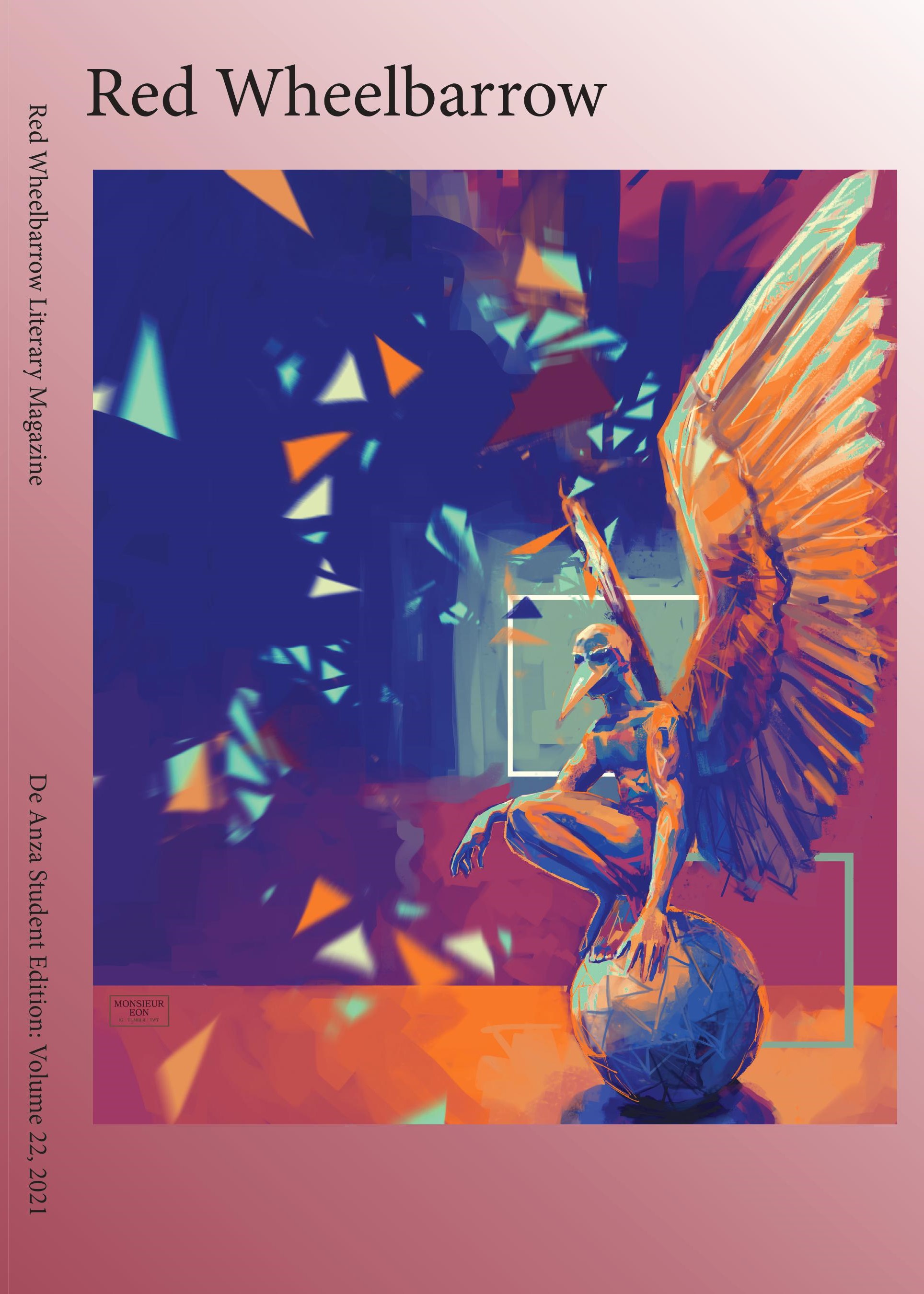 ---
Red Wheelbarrow Student Edition, 2020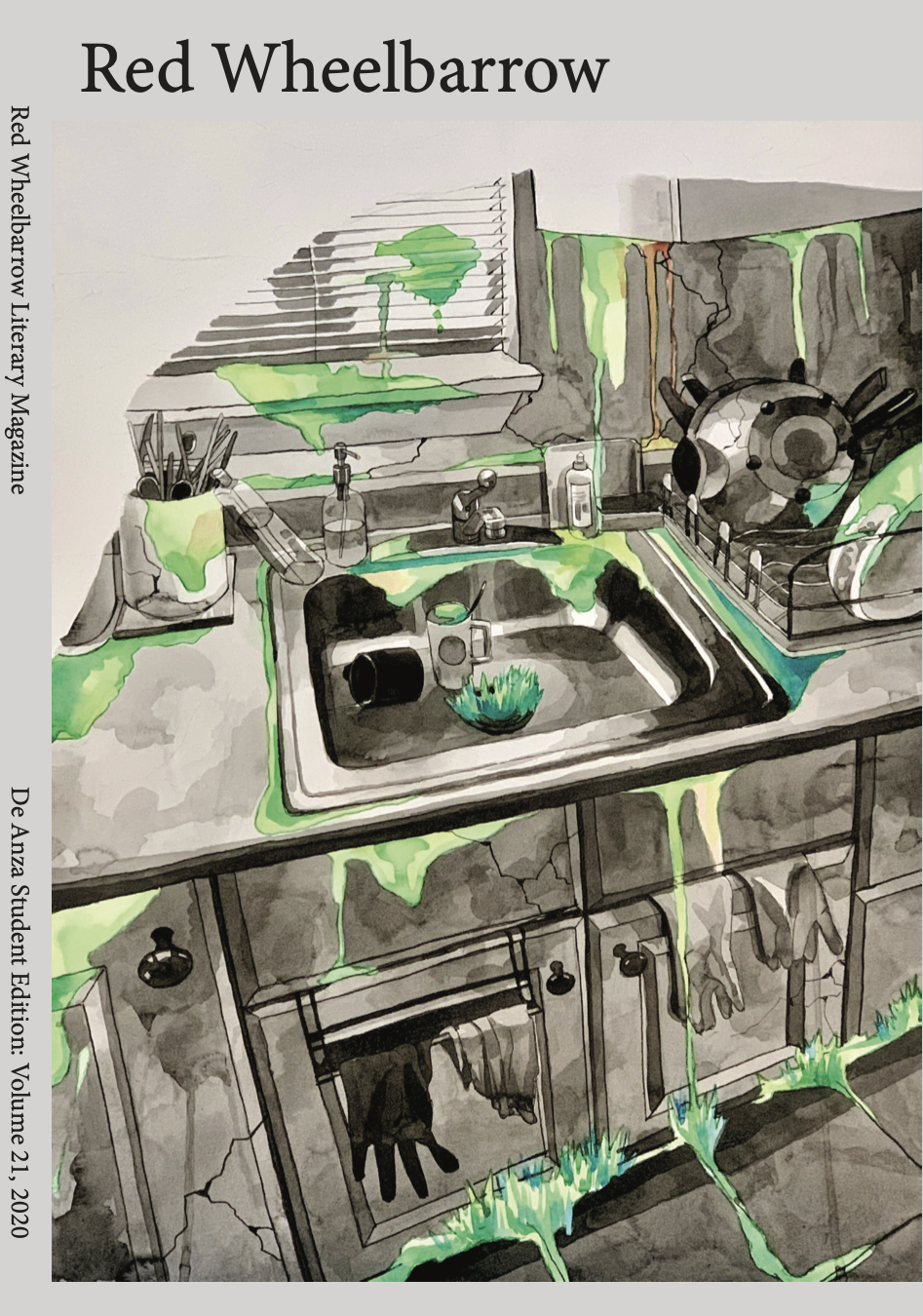 The 2020 student edition is available here as a downloadable PDF — this was our first "pandemic edition." Please enjoy the Red Wheelbarrow PDF for free or get a print version on campus (as soon as the campus reopens) from the De Anza Bookstore ($12).
Remember, if you choose to download and view the PDF version of Red Wheelbarrow, see our tips for opening the file in Adobe Acrobat for the best viewing experience.
You can also click the tabs below to see an interactive table of contents for the 2020 student edition.
2020 Table of Contents