Action Resources to Stand up for Black Lives and Against White Supremacy
Many of our students, faculty, and staff are wanting to take action as part of the movement for Black Lives. Increased urgency for this work has been sparked by the recent murder of George Floyd by police, but Floyd's murder is part of a larger system of police impunity and white supremacy that is baked into every aspect of US society.
The following resource list will be evolving. It will help you find ways to take action to make a difference in standing up for Black lives, Brown lives, and against all forms of racism and White Supremacy. Please contact Cynthia Kaufman the director of VIDA for coaching on how to take action.
The Movement for Black Lives
They have a great resource page: https://m4bl.org/week-of-action/
Some of the things they encourage are: school districts severing contracts with police departments, increased resources to deal with the COVID-19 crisis in communities of color, bail relief for those arrested in recent protests, accountability for police departments which have violated people's civil rights in the recent upsurge of protest action.
Reclaim our Vote Reclaim Our Vote,
They are a non-profit organization led by Black women for people of color that fights voter suppression by mobilizing vulnerable voters of color to vote in statewide elections. They have many actions people can sign on to help with.
Showing Up for Racial Justice https://www.showingupforracialjustice.org/
Has a lot of actions specifically designed for white people. One is "Collect Our Cousins for Voting: https://tinyurl.com/yc76kv7d. This is a quick guide for taking anti-racist action: https://tinyurl.com/y7ohd8ut
End White Silence Action toolkit from National SURJ: https://tinyurl.com/y8r5vlhj

Showing Up for Racial Justice at Sacred Heart Community Service:
General meetings first Tuesday of every month from 6-8 pm (currently virtual)
https://www.surjatsacredheart.org/

Sacred Heart Community Service
Is at the center of political organizing among low income communities and communities of color and the need right now is very very very great. The high infection and mortality rates among low income Latinx folks in the Silicon Valley is a part of the white supremacist system that devalues the lives of people of color. https://sacredheartcs.org/volunteer/
https://sacredheartcs.org/programs/social-justice/

NAACP San José/Silicon Valley
Calls for the following local demands. Any work you do to further those demands are acts in solidarity with our local Black Leadership.http://www.sanjosenaacp.org/
The following is from the recent call to action put out by their President Pastor Jethro Moore II:
*Santa Clara County must make Childcare available and free
*Black maternal health and birth workers' rights are prioritized to offer greater safety and better outcomes for Black mothers and babies.
*Better resource the already culturally competent and accessible clinics with funds to enable them to buy tests and offer unlimited testing.
*Culturally competent Domestic Violence Counseling resources for after the pandemic
*Transparency on the use of COVID disaster funding in Santa Clara County
*Santa Clara County Supervisor to move forward with creating a Public Bank!
*The Rent and Mortgage Cancellation Act (H.R. 6515) includes: suspension of rent and mortgage payments,
*Reduce the Prison Population
*The San Jose/Silicon Valley NAACP is seeking the appropriate Relief in light of COVID-19 to identify people who can be safely released from prison and jail, including those who are at high risk of illness due to age, those who were being held pretrial, and those who are already scheduled for release in the near future. We also are calling for robust re-entry services to ensure that those who are getting out of incarceration are equipped and supported to stay safe and stable upon release during the COVID-19 crisis.
*Re-establish a system of furlough. In societies around the world, mass furloughs have been issued to combat COVID-19.
*The Santa Clara County Police Departments must be transparent and honest about incidents of Use of Force and produce weekly reports to the county board of supervisors
*The San Jose/Silicon Valley NAACP calls for Santa Clara County to develop and implement an efficient and effective process to decertify law enforcement officers that violate the law or fail to meet public standards for law enforcement professionals; for Santa Clara County to report decertified officers to the National Decertification Index to ensure the effects of decertification across state lines.
*Santa Clara County prosecutors tracking officer misconduct, "Brady" lists of police officers deemed not trustworthy as witnesses. They often are called do-not-call or Brady lists, and are terminated.
---
VIDA

office is closed due to the Shelter in Place order due to the covid19 pandemic. We are available remotely and will continue to provide resources when possible
Join us for Office Hours:
---
Vasconcellos Institute for Democracy in Action!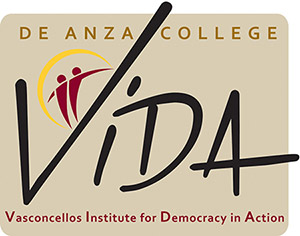 VIDA's mission is to empower students to become agents of change in their communities and beyond; to foster education that meets the needs of the communities we serve; and to help develop pathways to meaningful participation in local, state, and federal government decision making processes.
---
Community Service Learning
If you are looking for a community partner for your service learning class, visit our Service Learning webpage.
---
Donate to VIDA
VIDA could not exist without generous supporters who believe in the power of civic engagement. After the death of Senator Vasconcellos, VIDA received an extraordinary pledge to perpetuate the vision of the Institute of Community and Civic Engagement. Community members Jim and Becky Morgan pledged a challenge grant of $198,000 over three years in honor of Senator Vasconcellos' long history of civic work. Your gift will help the program match their generous donation.
Important information to direct your gift to VIDA:
Click the "Donate Now" button below.
Fill out the form with your information.
Under Program, choose "Other."
Type "VIDA" in the box and the amount you would like to donate.
For more information, contact Tess Chandler, Executive Director of the Foothill-De Anza Foundation, at 650.949.6149 or chandlertess@fhda.edu.
---
VIDA Celebration
Watch a short video of the VIDA renaming event here, or visit YouTube to watch in full screen.