Join the Public Policy School
Are you passionate about law, policy and social justice?
Do you want to learn public policy advocacy skills?
Application Requirements

You must
Have enrolled in, intend to enroll in, or have completed the

Leadership and Social Change Certificate Program*
Have successfully

completed Poli 17/ICS 27 or be enrolled

in this course during winter quarter*
Be

18 years or older
Commit to attending workshop events and completing the training
*requirement may be waived in rare, difficult circumstances.
Download the Public Policy School Flyer
How to Apply
Use the

online application

You must apply no later than 5 p.m. on Thursday, Nov. 29th, 2018.

Interviews happen Friday, Dec. 7th, 2018.
About the Program
Learn to Be a Public Policy Advocate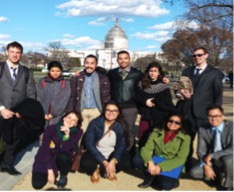 Join the Vasconcellos Institute for Democracy in Action (VIDA) and the Department of Political Science for a series of workshops to learn how law and policy is made and changed.
Ten students who have attended workshops and have successfully completed Poli 17/ICS 27 or are enrolled in it during the Winter 2017 Quarter may apply to train as a student public policy advocate and lobby the halls of government in Sacramento and the region.
Winter 2019: Plan an Advocacy Campaign
Apply to be one of 10 students who will go to Sacramento and Washington, D.C. — all expenses paid — to advocate for the issues you care most about.
Learn how to craft messaging, build coalitions, and lobby effectively to make change.
Receive small group and individual mentorship and training from Bob Stockwell and Jim Nguyen, instructors in Political Science.
---
Need More Information?
If you have any questions, please contact us!
Jim Nguyen, Political Science Instructor and Co-Facilitator of Public Policy School: nguyenjames@deanza.edu or 408.864.5551
Robert Stockwell, Political Science Instructor and Co-Facilitator of Public Policy School: stockwellrobert@fhda.edu or 408.864.8382
---
Purpose of the PPS
VIDA and the Political Science Department created PPS to teach students about the policymaking process, to train them in public advocacy, and to empower them to advance community interests. Students put their public policy advocacy skills to work locally, at the state level, and at the federal level with trips to Sacramento and Washington, D.C. All travel, housing, and meal expenses are covered by PPS.
Don't like the law?

Learn how to change it!
"Nothing counts but pressure, pressure, more pressure, and still more pressure through broad organized aggressive mass action."

- A. Phillip Randolph, Labor and Civil Rights Organizer
Highlights from Previous Years
The 2014-2015 Public Policy School concluded a successfuly year with trips to Sacramento and Washington, D.C.
Eleven students led by Co-Facilitators Bob Stockwell and Jim Nguyen from the Political Science Department conducted conference and legislative visits on state and federal issues.
Students attended legislative and policy conferences, networked with students and faculty from other colleges and actively fought for policy changes to increase support and funding to community colleges in California and across the country.
The students learned campaign, organization, advocacy, persuasive speech and communication skills, while successfully spreading the message of community college needs on behalf of other students.
Many thanks to the students and facilitators for another strong year. We look forward to next year's class and program!
Some images from our recent trip to Washington, D.C.: