An Overview of VIDA Programs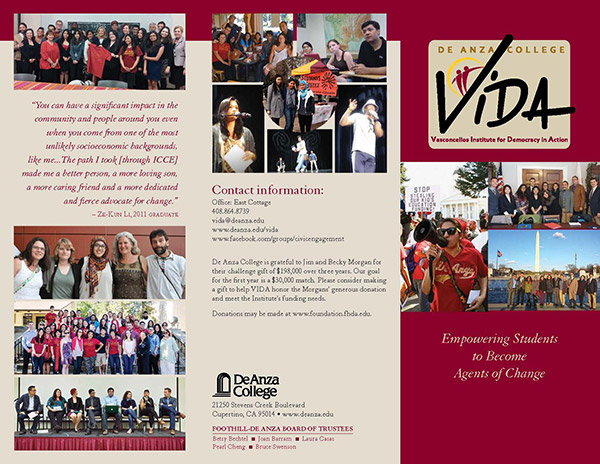 VIDA offers a Certificate in Leadership and Social Change and sponsors or helps coordinate several other programs, including California Campus Camp, Community Service Learning, HEFAS, LEAD, Public Policy School and the VIDA Internship.
Download the VIDA brochure.
Certificate in Leadership and Social Change
This certificate prepares students to be leaders in their communities and at their workplaces by gaining in-depth knowledge of social structures that define their worlds, and how to transform those structures in order to make the world a more equitable place.
---
California Campus Camp
Formerly called Campus Camp Wellstone, this is an intensive and energizing training program that is open to De Anza students interested in gaining practical skills in progressive political action. A distinctive curriculum is taught by some of the nation's leading experts in grassroots politics and organizing along three elements: progressive public policy, which lays out an agenda for action; grassroots community organizing, which builds a constituency to fight for change; and grassroots electoral politics, which provides tools for influencing and holding decision-makers accountable. If you are interested in participating, please contact Nicky Yuen at 408.864.8535 or yuennicky@deanza.edu.
---
Community Service Learning
Community Service Learning is a form of experiential education in which students apply knowledge, skills, critical thinking and good judgment to address genuine community needs. CSL can be required or can be attached as additional credit in G.E. courses from all disciplines at De Anza College.
---
Higher Education for AB 540 Students (HEFAS)
HEFAS is an institutional and educational program that provides free services, reduces financial stress and creates a safe space for all with an emphasis on undocumented and AB 540 students. We're dedicated to empowering students, building leaders, promoting social justice, and advocating for higher education. Our vision is to give students, parents, educators, and community members the tools to help undocumented students reach higher education regardless of the barriers that may exist.
---
Latina/o Empowerment at De Anza (LEAD)
LEAD aims to help students find a connection to our college and their communities and understand how powerful they can be as agents for positive social change. LEAD! courses are English Writing, English Literature, and Intercultural Studies courses that emphasize Latina/o culture, history, literature, and social issues with a strong emphasis on service learning projects.
---
Public Policy School
VIDA and the Political Science Department created PPS to teach students about the policymaking process, to train them in public advocacy, and to empower them to advance community interests. Students put their public policy advocacy skills to work locally, at the state level, and at the federal level with trips to Sacramento and Washington, D.C. All travel, housing, and meal expenses are covered by PPS.
---
VIDA Internship
The VIDA internship is a 10-month internship designed to support student organizing around promoting access to and success in higher education for community college students.