How to Register Online
Where to Vote
Are you voting by mail?
If you live in Santa Clara County and vote by mail, you can drop off your ballot here at the college. During the election period, an official ballot drop-box is secured to the flagpole on the Main Quad.
Be Informed
Read nonpartisan voter information from Voter's Edge.
Visit the California Secretary of State website for complete California elections and voter information.

Volunteer!
The Santa Clara County Registrar of Voters Office needs volunteers for election night. Volunteers are paid a stipend and there are many types of jobs. Visit the website for more information.
Our Commitment
De Anza is committed to providing information about the issues that are important to our students during election periods.
If you are a Foothill-De Anza Community College District employee, please read the memo about Political Advocacy by College Employees.
STUDENT VOTING GUIDE for California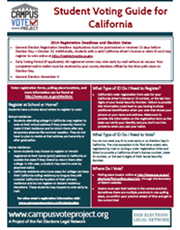 For a printed reference guide, download the Student Voting Guide for California, courtesy of Campus Vote Project.

RESOURCES
For More Information