COVID-19 Pandemic Updates
The campus is currently closed to students and most staff. Please see the Online Summer webpage for more information.
Unfortunately, we will not be able to produce photo ID cards or SmartPass Clipper cards during this closure (see messages below about the Digital VTA SmartPass and Digital ID Card).
Digital VTA SmartPass
While the campuses are closed due to the COVID-19 Pandemic we are unable to give out SmartPass Clipper Cards. The VTA is temporarily providing passes for SmartPass eligible students while the campuses are closed through the VTA EZfare app for iPhone and Android.
The VTA SmartPass and your VTA EZfare account will be associated with your primary preferred email address in your FHDA profile. Please make sure your email address is up to date before requesting your SmartPass.
After submitting your request if you are eligible your email address will be sent to the VTA within one week. The VTA will then email you about your transit pass; the email will be from moovelna.com. Please check both your Inbox and Spam folders for the email. If after ten (10) days you have not received the email, go to https://vtaezfare.transitsherpa.com/rider-web/ and use the Forgot Password function with your primary preferred email address in your FHDA profile to see if an account has already been set up. If that does not work create new account with your primary preferred email address in your FHDA profile. Once you are logged in go to My Tickets under My Account to see if it is there. You may have to refresh the page or log out and log back in. After you have created your account, it may take up to 2 hours for your pass to be delivered. You can also create accounts, recover passwords, and log in using the Android or iPhone apps.
To submit a request for a digital SmartPass please log in to MyPortal, go to Apps, scroll down to the Students section, then click on VTA SmartPass.
Please visit the following links for more information about VTA EZfare.
VTA EZfare Mobile Ticketing: https://www.vta.org/go/fares/ezfare
VTA EZfare for iPhone and iPad: https://apps.apple.com/us/app/vta-ezfare/id1289964194
VTA EZfare for Android: https://play.google.com/store/apps/details?id=org.santaclaravta.riderapp
VTA EZfare Mobile Ticketing Account Access: https://vtaezfare.transitsherpa.com/rider-web/
Digital ID Card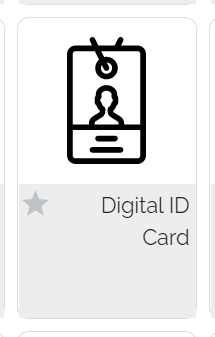 The digital ID card is now available in MyPortal for use while campus is closed. To access it go to Apps then select the Digital ID Card app tile in the Students section. It is also accessible in the hamburger menu of the De Anza College App for Android and iOS. The digital ID card should show the college logo for the campus at which you are enrolled, your picture if there is one in the system*, your name, the year, quarter, and campus at which you are enrolled, a bar code, and your student ID number. *If you do not have a picture in our system there should be a placeholder silhouette in its place and you will need to show additional documentation such as Driver's License or Passport for identification verification. Unfortunately, there is no way to add pictures until we are all able to return to campus.
While you won't be able to visit us in person during the pandemic, you can still reach us by email or phone (it is best to use email at this time). We will be periodically checking our email and voicemail between 9 a.m. and 5 p.m. Monday - Friday, and we will respond as soon as we can.
Please see www.vta.org/covid-19 for service updates from the VTA.
Please stay safe and healthy.
Sincerely,
The Office of College Life Staff
---
One Small Fee and Then It's Free!
Your SmartPass is on a Clipper Card

The VTA SmartPass (previously known as the VTA Eco Pass) is incorporated onto a "Clipper Card," the reloadable smart card used for transit fare payments throughout the San Francisco Bay Area.
Get Your SmartPass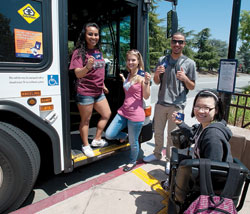 To get your SmartPass, you must pick up a personalized Clipper Card from the Office of College Life.
Keep your Clipper Card! It's automatically reloaded with the SmartPass each quarter that you remain enrolled at De Anza.
If you take fall, winter or spring quarter off, your SmartPass will be disabled the third week of that quarter. You can take summer quarter off without your SmartPass being disabled. Your Clipper card should automatically get reactivated if you come back, but if it does not you will need to come in to get a new one.
Your Clipper Card can be used for other transportation agencies if you add funds or other passes to the card. These will still be valid even after you have left De Anza. For more information on adding funds or passes other than the SmartPass please visit www.vta.org/go/fares/clipper or www.clippercard.com.
---
SmartPass VTA Routes to De Anza
The VTA SmartPass provides all De Anza students unlimited rides on Santa Clara Valley Transportation Authority (VTA) buses and light rail within Santa Clara County for the duration of a quarter term. The SmartPass is valid only for VTA services within Santa Clara County except Express services.
Currently five bus lines — VTA routes 23, 25, 51, 55 and Rapid 523 — stop at De Anza. For finding the best routes VTA recommends using the Transit app for Apple iOS and watchOS and Google Android devices. You can also look up VTA Routes and Maps, and use their Trip Planner on their website.
If there's no easy route for you to commute by bus to school, you can still take advantage of the SmartPass on weekends or any other convenient time.
How to Use Your Clipper Card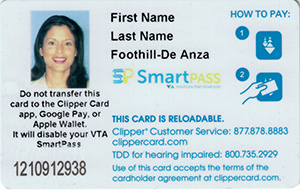 The Clipper Card for your SmartPass is a proximity card.
To use it, locate the Clipper Card reader at the entrance of the transit vehicle, fare gates or station and hold your card flat against the Clipper logo until you hear a beep or the gates open.
We highly recommended that you register your Clipper Card with Metropolitan Transportation Commission, especially if you think you might add value and other passes besides the SmartPass (BART, CalTrain, Muni, etc.).
If you do not register your card and you lose it, you will lose all non-SmartPass values you have placed on the card. To register go to www.clippercard.com and click on the "Register Card" link on the top of the page. You will need to create an account.
When Can You Use the SmartPass?
The VTA SmartPass is valid seven days a week for VTA buses and light rail ONLY within Santa Clara County except Express services. The SmartPass is valid as long as you are a registered student at De Anza College through the third week of the upcoming quarter and all of summer quarter. It will remain active as long as you are a student. If you take fall, winter or spring quarters off the SmartPass will be disabled the third week of that quarter. You can take summer quarter off without your SmartPass being disabled.
The VTA SmartPass is not valid on Express Services, ACE, Amtrak, BART, Caltrain, Highway 17 Express, Dumbarton Express, Monterey-Salinas Transit, and SamTrans.
How is the SmartPass Program Funded?
All enrolled De Anza students are eligible for the VTA SmartPass program through a mandatory quarterly fee,which was established by the De Anza Associated Student Government (DASG) during a spring 2011 proposition vote that passed 985 to 124 and was approved by the Foothill-De Anza Board of Trustees.
Part-time students with 0 to 5.9 units pay $5.75 per quarter, part-time students with 6 to 11.9 units pay $6.75 per quarter, and full-time students with 12 or more units pay $7.75 per quarter.