An acclaimed San Jose artist and several De Anza students have begun work on a special outdoor mural that will commemorate the college's 50th Anniversary, marking the end of a yearlong celebration.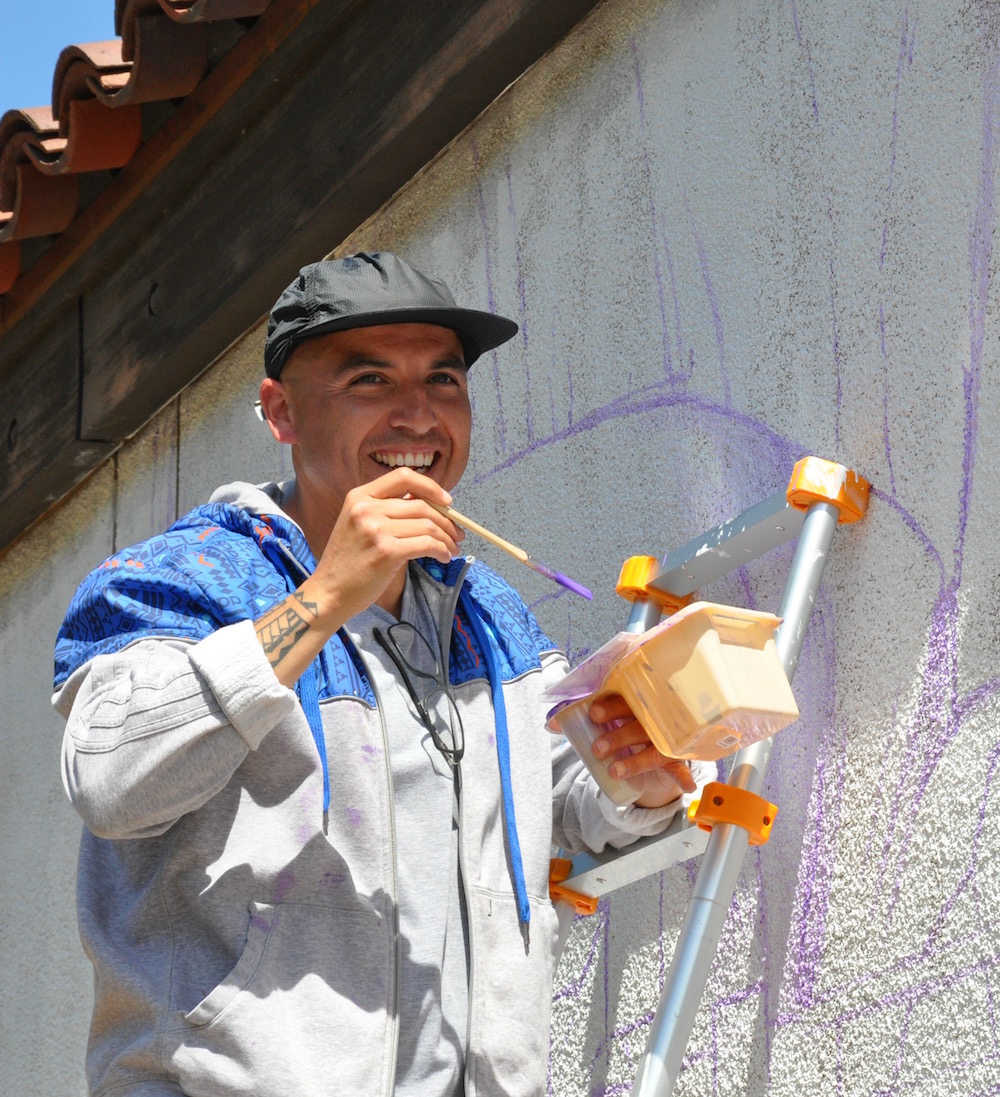 San Jose muralist Sam Rodriguez – a De Anza alumnus whose work has decorated buildings and public spaces in the Bay Area, Los Angeles, New York and Japan – was commissioned by the college to create a piece that expresses De Anza's values and the anniversary theme of "Engaging the Future: The Next 50 Years."
The work, funded through donations, began the week of June 4 when Rodriguez and several students washed and primed the south-facing wall of Building S5, located just south of the Library and the grassy expanse of S Quad. While the college is home to numerous pieces of public art, the new mural will enhance an area where there has not been any outdoor art before now.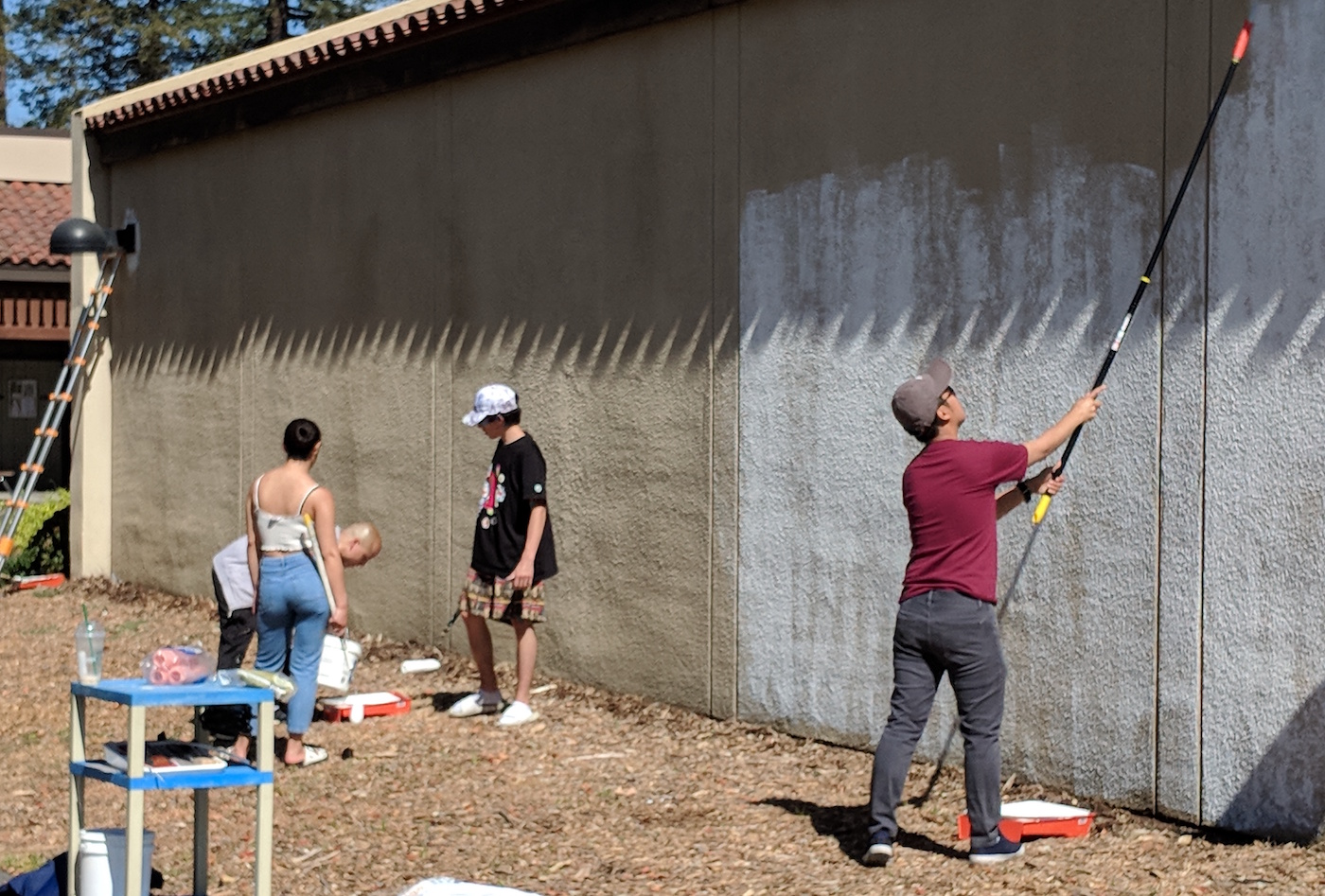 After tracing the outlines of his design, Rodriguez will spend the next three weeks filling in colors to create a piece that demonstrates his signature style – combining vibrant portraits with words and symbols to convey a deeper message. He'll be assisted by about 10 students, including interns from the Humanities Mellon Scholars program and several students majoring in art or graphic design.
Rodriguez is known for art that "builds a sense of community," said Diana Argabrite, program coordinator at De Anza's Euphrat Museum of Art. "He brings together visual cues around identity with an openness that invites viewers to find meaning from their own points of view," she added.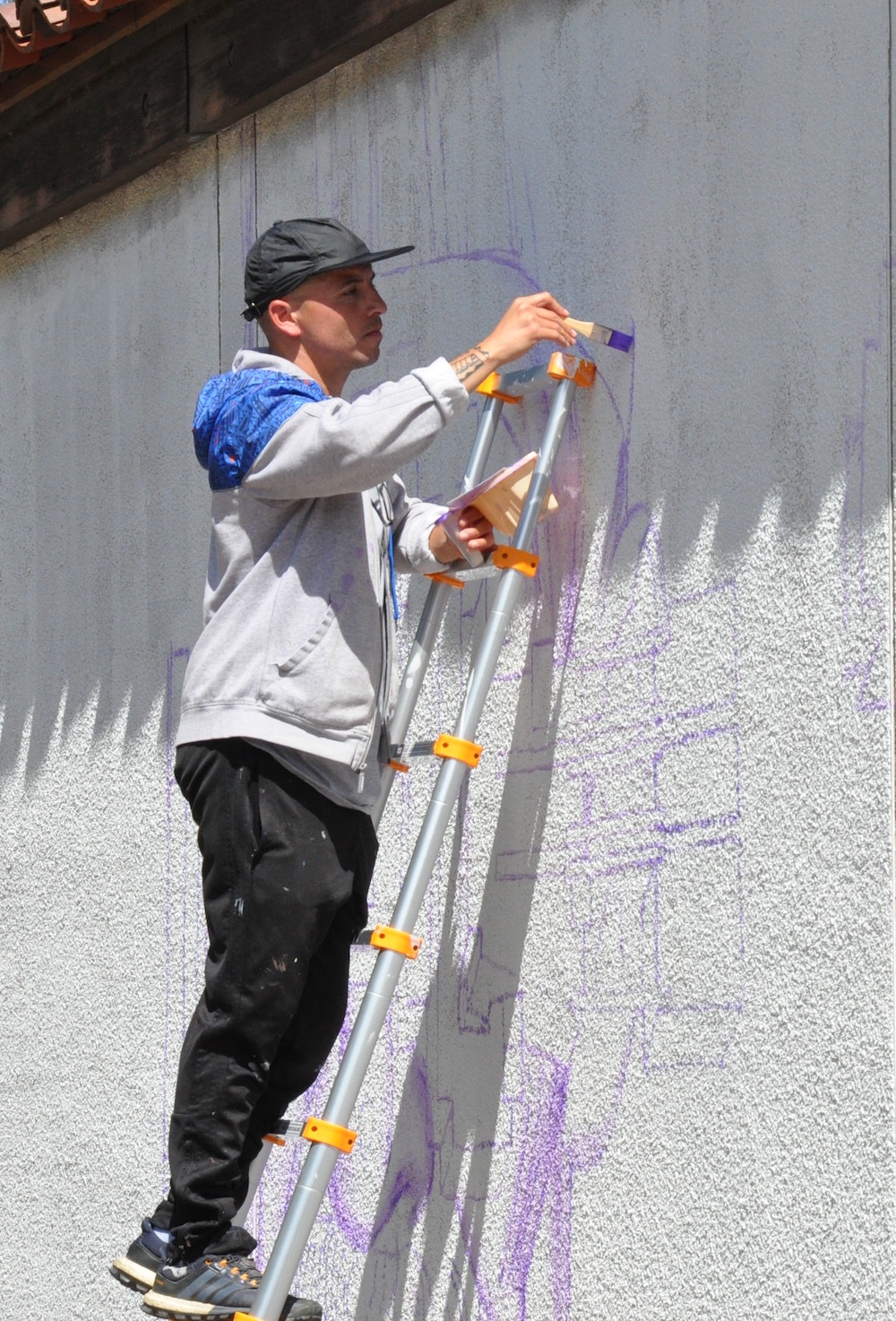 "I'm very excited about it," said Huy Tran, a recent De Anza graduate who volunteered to work on the project after hearing about it from an instructor and seeing Rodriguez's work online. "I just feel privileged to get to work with such a well-regarded artist."
Rodriguez, a De Anza alumnus, began his career as a self-taught graffiti artist before earning a bachelor of fine arts degree from the California College of the Arts. He now works as a free-lance illustrator, after developing graphic designs for public buildings, art festivals and corporate offices of Samsung, LinkedIn and other well-known companies.
De Anza's 50th Anniversary celebration began with graduation last year and will conclude this month. The celebration has included
Development of a special anniversary logo, selected by campus vote
The "Taste of History" event last fall, featuring Juan Felipe Herrera, the former U.S. Poet Laureate
The "Acts of Kindness" art project at the Euphrat Museum of Art
The recent speaking event with alumnus DJ Patil, who was the nation's first U.S. Chief Data Scientist
The new mural is scheduled to be completed this month. You can follow its progress by visiting the 50th Anniversary webpage, where more photos and a video, including an interview with the artist, will be posted as work continues.