Measure G at De Anza
---
De Anza College appreciates the generous support of our community members and voters. Measure G will provide the modern facilities and infrastructure that are essential for delivering instructional services and support to enable our students to succeed – today and in the future!
Measure G Planning Updates
Task Force Begins Work
The new Measure G Task Force has been working to develop a process and recommendations for moving forward on the Measure G "megaproject" and how to spend funds available to De Anza. The task force was established by College Council and includes members representing students, classified professionals, faculty and administrators from relevant areas.
---
Earlier Updates
Board Study Session
The Board of Trustees heard presentations and discussion about Measure G during a study session on Monday, May 8, 2023. Minutes of the session will be posted on the board meetings website. Presentations included
Slide Presentation of Draft Options
President Lloyd A. Holmes gave presentations in February 2023 to College Council, the Academic Senate, the Measure G Student Forum hosted by De Anza Student Government (DASG), and to Creative Arts faculty members and classified professionals. The slide presentation of draft options is available for viewing in PDF format.
Background on Measure G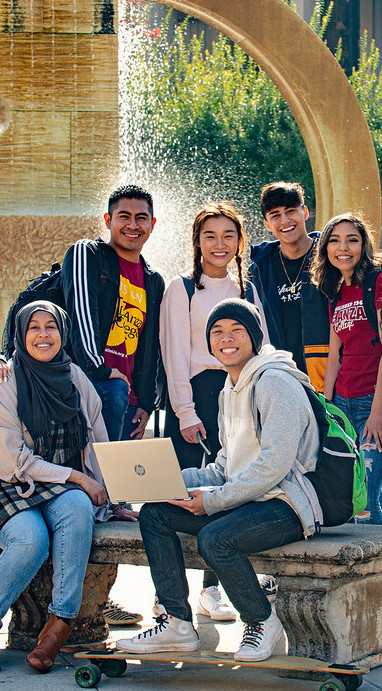 Ballot Measure G, approved by Foothill-De Anza district voters in 2020, authorized bonds to raise up to $898 million to upgrade and repair facilities, classrooms and labs, and to acquire and construct facilities, equipment and sites for both De Anza and Foothill College.

Measure G Projects at De Anza
At De Anza, the bond proceeds were identified to fund the construction of a new Services for Students Building and a new Event Center on the north side of campus, among other improvements. You can find more information in the Nov. 7, 2022, progress report to the Board of Trustees
The Services for Students building would help consolidate and centralize important services and programs.
The Event Center would directly serve instructional and student service needs, as approved by the district Board of Trustees, and will also, to the extent possible, help meet community needs for a cultural venue and civic meeting space.
Bond-funded work would also include changes to the main campus entrance at Mary Avenue and Stevens Creek Boulevard, construction of new infrastructure to serve the new buildings and temporary relocation of instructional and studio space for the Creative Arts Division.
The complete list of projects also includes upgrading fire alarm and fire suppression systems; modernizing building interiors and exteriors, including restrooms; and converting an existing athletic field to a competition facility for the Beach Volleyball athletics team.
---
For More Information
The following provide more information about Measure G planning and projects