Location: ATC 302

We are on the 3rd floor of the Advanced Technology Center.

Hours of Operation
Monday-Thursday 9:30 am to 12:30 pm
and 1:00 to 5:30 pm
Friday 9:30 am to 12:30 pm
Saturday-Sunday Closed
Finals Week Closed
District Holidays Closed
Contact Us
Stephanie Pham, Academic Skills Center Program Coordinator
408.864.8253
Diana Alves de Lima, Student Success Center Co-Director
408.864.8485
Melissa Aguilar, Student Success Center
Co-Director
408.864.5422
aguilarmelissa@deanza.edu
Let us know how we're doing!
Click here to complete a brief survey. We value your opinion. Thank you.
Skills Workshops assist students with learning strategies and info that promote academic success.
Current Schedule
Attendance Information
Topic Overview
Faculty partner with the Academic Skills Center to help students better improve their study strategies for specific subjects, including:
Accounting

Biology

Economics

History

Political Science
Self-paced skills course are no longer offered. Explore some alternatives to these courses and resources on the topic below.
Grammar
Reading
Spelling
Study Skills
Vocabulary
Writing
Supplemental Instructor (S.I.) Resources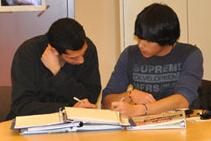 Training, benefits and time commitment.