Welcome to the SSC!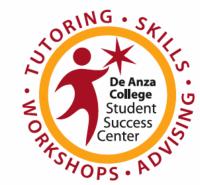 The Student Success Center supports classroom instruction by helping students at all levels to become better learners, and to gain the confidence and skills to achieve their greatest possible academic success.
Student Profile
Juan Pablo Hernandez Lopez: Tutee Becomes Tutor!
We Provide
Individual, group, and online tutoring in a variety of subjects
Workshops on study skills, listening/speaking, reading/writing/grammar and other topics
Course-specific Adjunct Study Skills courses
Tutor training courses
Our Goal: After participating in Student Success Center programs for an appropriate amount of time, and within the context of each student's individual needs, students will express a more positive attitude toward the subject they are studying, use effective learning skills, and improve their academic performance.
Apply for a Weekly Tutor
Funding Sources
Your DASB fees at work! DASB funds help support peer tutoring in the SSC. Other funding sources are or have been provided by state and federal educational grants including, the Basic Skills Initiative and previously, the Title III Grant.
Join Our Community of Students
We have developed a Canvas site with learning skills resources for De Anza students. It's free, and though it looks like a class, there's no credit, it will not show up on your record, and you can unenroll at any time. Sign up to get announcements about tutoring, workshops and events, and to browse our library of videos and resources to help you suceed!