January 2015
---
Major Studio Filming on Campus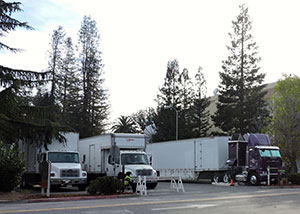 De Anza will be featured in an upcoming film from Universal Pictures about Apple founder Steve Jobs. Yet to be titled, the film is directed by Danny Boyle, whose previous projects include "Trainspotting" and "Slumdog Millionaire". Crew members scouted campus last week and principal shooting begins this week in the Flint Center.
Five students from the Film/TV Department have been selected to each spend one day as a paid production assistant on the set.
"Working a 12- to 14-hour day on this professional shoot will provide practical experience, networking opportunities and a glimpse into their futures -- with aching feet to prove that it wasn't just a dream," said Susan Tavernetti, chair of the Film/TV Department.
After filming in the Flint, the crew will take exterior campus shots over three or four days. Hundreds of students answered the call for unpaid extras through www.beinamovie.com. Paid extras are still needed. Beau Bonneau Casting is seeking locals 18-40 years old (particularly men sporting hair to reflect the 1980s-90s) and cars from model year 1983 or older, in good condition. For information see www.beaubonneaucasting.com/casting.asp.
Todd A. Marks, a Film/TV Department alum, is the computer/video playback supervisor on the film.
"He's proof that our program offers an important step towards the goal of working in the entertainment industry," said Tavernetti.
The movie will document Jobs' life from the release of the original Mac to his return to Apple and announcement of the iMac. Due to filming, Parking Lot J will be closed until Feb. 13.
---
Former De Anza Student Creates Painting for Time Magazine
Titus Kaphar, a former student and artist in residence at the Euphrat Museum of Art, was recently commissioned by Time magazine to create a painting of the Ferguson protestors for the annual "Person of the Year" issue. Time created this video about the painting's creation.
"I wanted to make something that didn't feel like an illustration of an idea but an expression of a feeling," said Kaphar. "The feeling that even after the ink dries from the printing of the magazine, I know that many will feel permission to forget what's written on those pages."
The collaboration began when an art director from Time saw Kaphar's exhibition "The Jerome Project" at the Studio Museum in Harlem. Soon after, the art director contacted Kaphar about creating a piece that reflected the events in Ferguson and the relationship between African-American communities and the police.
"I had already made a few pieces about the subject," Kaphar added. "For me this piece was never simply about Ferguson…this is the reality in Oakland, Detroit, Philadelphia, Chicago and hundreds of other cities around the country."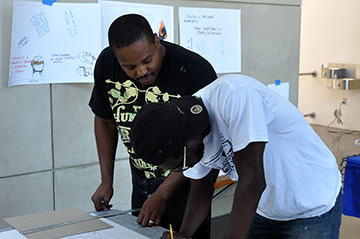 "The Jerome Project" exhibition explores the prison-industrial complex and the use of mass imprisonment to address economic and social problems. Kaphar was inspired to create those works when he began searching for his father's prison records. He found dozens of men who shared his father's first and last names. He contacted many of those men and sketched them. The portraits were then submerged in tar in proportion to the amount of time the individuals had spent in prison.
"After doing more research, I realized my initial formula was insufficient in its ability to communicate the impact of finding oneself in the criminal justice system," said Kaphar. "I abandoned the formula, and the tar became symbolic in communicating the varied impact jail, prison, probation or parole has on millions of people in this country."
Kaphar recently received a grant from Creative Capital to expand "The Jerome Project" and include a film aspect. He also has two exhibitions in the Jack Shainman Gallery in New York City. He returned to De Anza last summer as artist in residence at the Euphrat, and advised Puente and Black Leadership Collective (BLC) students on creating artwork around mass incarceration.
"Titus is an outstanding teacher and mentor," said Diana Argabrite, director of the Euphrat. "He creates an environment based on mutual respect, has the student's best interests at heart and always encourages deep reflection and dialogue."
Kaphar attended De Anza in 1997. Argabrite gave him one of his first opportunities to teach art in a classroom. For that, Kaphar says, De Anza is often in his thoughts.
"My time at De Anza planted the seeds for the content that would become the focus of my artistic practice," Kaphar said.
---
Environmental Studies Students Continue at UC Davis
Two graduates and Environmental Studies instructor Ryan Phillips were recently published in thepeer-reviewed journal "Western Birds."
The paper, "First Successful Nesting of Swainson's Hawk in Santa Clara County, California, since the 1800s," documents the nesting of this state-threatened species. The hawks historically resided in Santa Clara County, but have become endangered mostly due to human activity.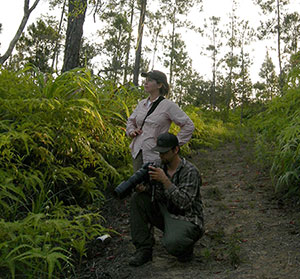 "Swainson's hawks are amazing animals -- they travel thousands of kilometers each year, often as far as Argentina," said Ryan Barbour, one of the students who co-authored the paper. "Having this bird nesting two years in a row is huge because it shows how important this undeveloped valley floor is to native wildlife."
As part of the Wildlife Science Technician program, Barbour and co-author Breanna Martinico spent much of their time monitoring wildlife in Coyote Valley, one of the last undeveloped pieces of land in Santa Clara County. For their Swainson's hawk research, they took detailed notes on the birds' habitat, incubation period and nesting habits.
"While I was being taught the concepts of wildlife biology I was able to apply what I was learning to make a positive impact in the world," Martinico said. "Learning in an outdoor classroom is truly a rewarding and unique experience."
Barbour initially enrolled at De Anza because of the quarter system and high transfer rates. He took general education classes the first few quarters. Then, he heard about the Kirsch Center.
"I had never been in a green building before -- the energy inside was inspiring," Barbour said. "After some introductory classes I knew I had finally found a career path I was passionate about."
Although Martinico always considered herself an environmentalist, she did not consider an environmental science career until she came to De Anza.
"I developed a passion for learning about the plants, animals and ecosystems around me," she added. "The knowledge and inspiration from the instructors in the program are a large part of what made [it] great."
Because of the hands-on experience they gained at De Anza, Martinico and Barbour were able to intern at the San Francisco Bay Bird Observatory and the Belize Raptor Research Institute. Barbour studied abroad in Belize and worked as a field technician there.
"The experiences I gained from this program made my resume competitive," said Barbour.
Martinico and Barbour are now seniors in the Wildlife, Fish and Conservation Biology program at UC Davis. Barbour conducts avian surveys for the school's Museum of Wildlife & Fish Biology, and is also studying the diet of barn owls on Yolo Farms. They are both applying to the school's Avian Sciences Masters program, and plan to continue contributing to conservation projects at home and abroad.
---
De Anza Grad Publishes First Novel
De Anza grad Jake D. Parent recently published his first novel, "Only the Devil Tells the Truth." The novel draws from Parent's own experiences growing up in San José.
Parent graduated in 2009 with an associate degree in Liberal Arts with an emphasis on Social and Behavioral Sciences. He received the President's Award at the ceremony.
"[De Anza] was the place where I began to develop a framework for thinking about the world," Parent said. "It was where I first really learned to use my brain to deconstruct the problems of the world into more simple to understand parts."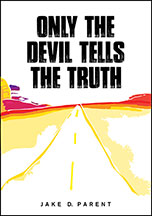 Parent went on to earn bachelor's degrees in Politics and Community Studies at UC Santa Cruz. Last year, he completed the Master of Professional Studies in Political Management and Communication at George Washington University. He lives in Washington, D.C., where he writes on politics and other topics. Parent is also involved in other projects, including an orphanage in Afghanistan he started with friends at De Anza.
"The two most important things you can do to increase your chances of getting published are write a lot and read a lot. It also helps to have something worth writing about," added Parent. "So live life -- do things that make you feel uncomfortable. It's in those moments that you can see the truth about world."
---
Dr. Estela Mara Bensimon to Speak at Equity Conference
Dr. Estela Mara Bensimon will facilitate the Social Justice, Equity and Basic Skills Linkages Conference on Wednesday, Jan. 28. Dr. Bensimon is a professor of higher education and co-director of the Center for Urban Education (CUE) at the USC Rossier School of Education. Her current research is on issues of racial equity in higher education.
Up to fifty part-time faculty stipends are available on a first-come, first-served basis. Please RSVP to Kristen Kinne at kinnekristen@deanza.edu. For more information, contact Veronica Neal at nealveronica@deanza.edu