Take College Classes, Tuition-Free!
---

Sign Up Now!
Here Are the Steps to Get Started
Don't wait! See your high school counselor as soon as possible.
Explore Interests ~ Earn College Credit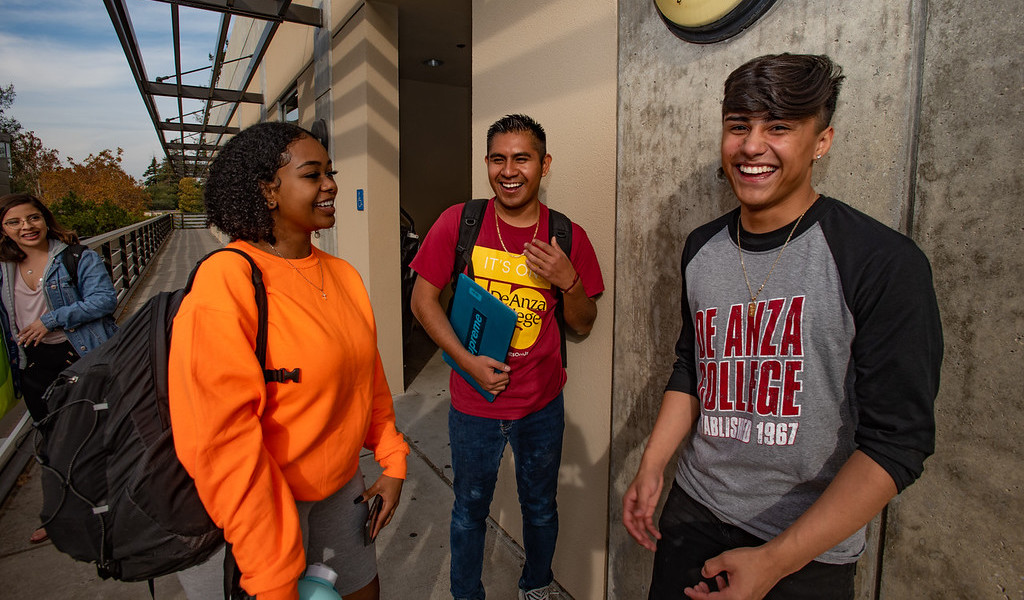 If you're a student in the Fremont Union High School District,* you can
Take college classes in a variety of subjects.
Pay no tuition or fees, only the cost of books or materials.
Learn from De Anza College instructors who are experts in their fields.
Get a head start on your career by choosing from courses in accounting, administration of justice, automotive technology, business, child development, computer programming – and more!
Most courses provide credit that is transferable to the California State University (CSU) or University of California (UC) systems.
* De Anza College is offering priority enrollment for these courses to students attending Cupertino High, Fremont High, Homestead High, Lynbrook High, Monta Vista High and the Educational Options Center. You will be able to register earlier than most students, which means you're more likely to get the classes you want!

Check the Course List
You'll find detailed descriptions for each course listed below by looking them up in the De Anza College Catalog.

Courses Offered During School Hours
These courses are open to grades 10-12 and are meant to be taken in sequence, providing high school credit as well as college credit. They will be offered during the regular high school day.
SEQUENCE
FALL 2021
WINTER 2022
SPRING 2022

Accounting and Financial Services

ACCT 1A: Financial Accounting I (5 units)

ACCT 1B: Financial Accounting II (5 units)

Automotive Systems: Diagnosis, Service and Repair

AUTO 50A: Introduction to Automotive Principles (4 units)

AUTO 50B: Applied Automotive Principles and Lab (2 units)

Education, Child Development and Family Services

Take first:
CLP 5: College Major and Career Options (2 units)

Then take:
CD 54: Curriculum for Early Childhood Programs (4 units)

CD 10G: Child Development: The Early Years (4 units)

Health

HLTH 21: Contemporary Health Concerns (4 units)

(Winter course to be determined)

HTEC 50: Introduction to Health Technologies (4 units)

(Offered at two high schools)

Courses Offered After School Hours
These courses are open to grades 9-12 and will be offered outside the high school day. They provide college credit only. These don't need to be taken in sequence, so you can choose the classes that interest you!
SUBJECT
FALL 2021
WINTER 2022

Administration of Justice

ADMJ 1: Introduction to Administration of Justice (4 units)

ADMJ 5: Community Relations (4 units)

Computer Information Systems

CIS 40: Introduction to Programming in Python (4.5 units)

CIS 22A: Beginning Programming Methodologies in C++ (4.5 units)

Business and Marketing

BUS 73: International Marketing (5 units)

BUS 60: International Business Management (5 units)

Humanities

HUMI 1: Creative Minds (4 units)

Psychology

PSYC 1: General Psychology (4 units)
(This class is also offered in winter 2022)

PSYC 1: General Psychology (4 units)
(This class is also offered in fall 2021)

---

PSYC 12: Psychology of Gender (4 units)
---