Facilities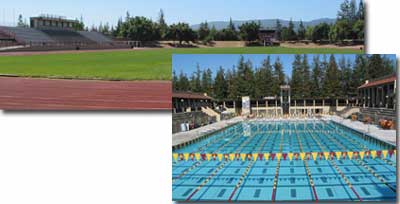 We have a new soccer field, tennis courts, softball field, golf area, archery area, locker rooms, athletics facilities and updated classrooms including Internet access.
Our renovated Lifetime Fitness Center offers a variety of workout options. The Lifetime fitness center is available to registered to students that have registered for the PE 70A. The Lifetime Fitness Center is available at the following times:
6 a.m. to 3 p.m. and 5 p.m. to 8 p.m. Monday through Thursday
6 a.m. to 2 p.m. Fridays
8 a.m. to 1 p.m Saturdays
(closed some holidays)
Personal trainers are available at no additional cost to students. To use the facility, students must register for PE 70A and PE 71. If you are a staff or faculty member, contact C.J. Jones at jonescj@fhda.edu.
The Physical Education and Athletics complex is beautifully maintained and enhanced by mature trees and landscaping. The facilities are used 12 months a year Monday though Saturday. Students participate in over 110 physical education classes and 19 men's and women's athletic teams.
The aquatics facility consists of a 50-meter Olympic sized competition pool with a diving well that is equipped with 5- and 10-meter diving platforms and 1- and 3-meter diving boards. Field space includes facilities for baseball, softball, archery, soccer, football, golf, track and field, walking and jogging for the public. The gymnasiums are used for activities ranging from tai chi to volleyball. De Anza offers seven lighted tennis courts for student use.
Physical Education facilities can be reserved for group functions. Requests for use of the gyms, tennis courts and fields can be forwarded to the De Anza College Facilities office. Facility request forms and fees will be explained there. Please contact: the division dean, Coleen Lee-Wheat, at 408.864.8751.