Office Hours: Monday through Thursday 9am-6pm and Friday 9am-1pm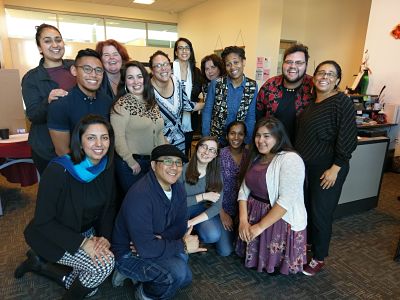 Welcome to the Office of Equity, Social Justice and Multicultural Education!

---
Event Series: Engagement in the Face of Hatred
Standing Up Against Hate Speech
Date: Wednesday, April 25
Time: 11:30 a.m.-1:20 p.m.
Location: Campus Center Conference Rooms A & B
Contact: Tom Izu, California History Center Executive Director
Join a facilitated dialogue intended to help students understand the relationships between hate speech, free speech and the First Amendment. Like many campuses, De Anza has had people come to campus and speak in ways intended to provoke. What can individuals and institutions who witness this type of speech do?

Additional events in coming weeks:
Developing Community Resilience
Date: Thursday, May 17
Time: 11:30 a.m.-1:20 p.m.
Location: Campus Center Conference Rooms A & B
Contact: Alicia Cortez, Equity and Engagement Division Dean
A year after the rhetoric that was unleashed by the Trump campaign and presidency, there's a sense of exhaustion among many in our community – including Muslims, immigrants, undocumented people, LGBTQQI+ people and others who feel under attack and physically unsafe. How can we support each other in these divisive and stressful times? What are ways that community organizations are working to push back against those assaults?
All events are accessible. Previous events included
Compassion, Care and Advocacy in Response to Homophobia (Feb. 14)
The series began with a film screening of

"

The Laramie Project"

and a community conversation about

LGBTQQI+ allies and campus support,

in response to a recent hate crime.


Addressing White Supremacy (March 6)


President Trump's election brought white supremacist forces from the margins to the center of discussions in this country. There are white supremacists in every region, including the Bay Area. Some are targeting colleges to provoke and recruit. How do we recognize and respond to white supremacist forces, while taking care of ourselves and our community?
Check back here for more information and events, or contact the Office of Equity at 408.864.5636.
Events sponsored by
California History Center Audrey Edna Butcher Civil Liberties Education Initiative
Office of Equity, Social Justice and Multicultural Education
Jean Miller Resource Room for Women, Gender and Sexuality
Vasconcellos Institute for Democracy in Action
Office of the President
Mission Statement
The Office of Equity, Social Justice and Multicultural Education promotes — through programs and services — an academic, cultural and social environment that provides equity, social justice and academic success for all members of the De Anza College campus community. It supports the district and college missions, which consider diversity an essential component of student education in the 21st century.
The Equity Office takes this charge seriously. We have expanded our mission of fostering a climate of healthy diversity that values individual and group differences and respects the perspectives of others by working to eliminate institutional oppression or barriers that perpetuate inequity, injustice, and mono-cultural education.