Higher Education for AB 540 Students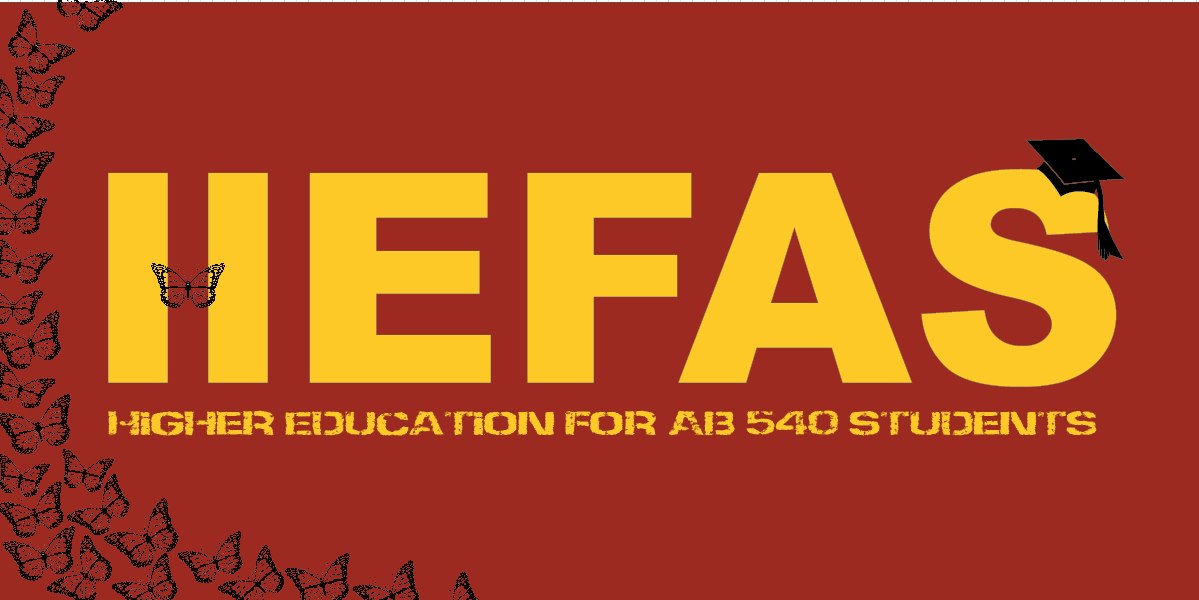 HEFAS has move to a new location, come on out and visit us at the East Cottage, Room 101.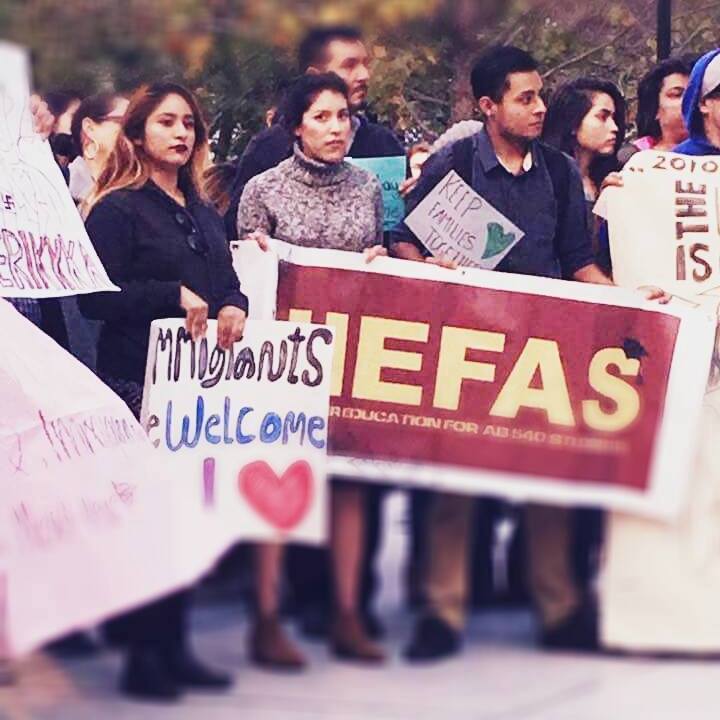 Who we are
HEFAS (Higher Education for AB 540 Students) is an institutional and educational program that provides free services, reduces financial stress and creates a safe space for all with an emphasis on undocumented and AB 540 students. We're dedicated to empowering students, building leaders, promoting social justice, and advocating for higher education. Our vision is to give students, parents, educators, and community members the tools to help undocumented students reach higher education regardless of the barriers that may exist.
---
We provide free services: Plus easy access to:

-Printing -Scholarship information/financial aid
-Textbook/calculator rentals -Computers

-Testing materials -Counselors

-Educational workshops -Peer mentors/tutors

-Information on new legislation
---
Read more about HEFAS in the La Voz News archives.
What is our favorite thing about the program?
"My favorite thing about HEFAS is just knowing it exists, and that if I refer a student to HEFAS there will be a safe and supportive environment welcoming them! Also, the student interns are super friendly and personable; plus always down to support wider campus events."
- Melecia Navarro, De Anza alum and EOPS Program Coordinator
---
HEFAS SUMMIT
Every spring, this annual summit invites students, parents, educators, and community members to a day-long event to learn about a wide-range of issues concerning the undocumented community such as the undocumented identity and ally support.
Please email us to request a workshop.
---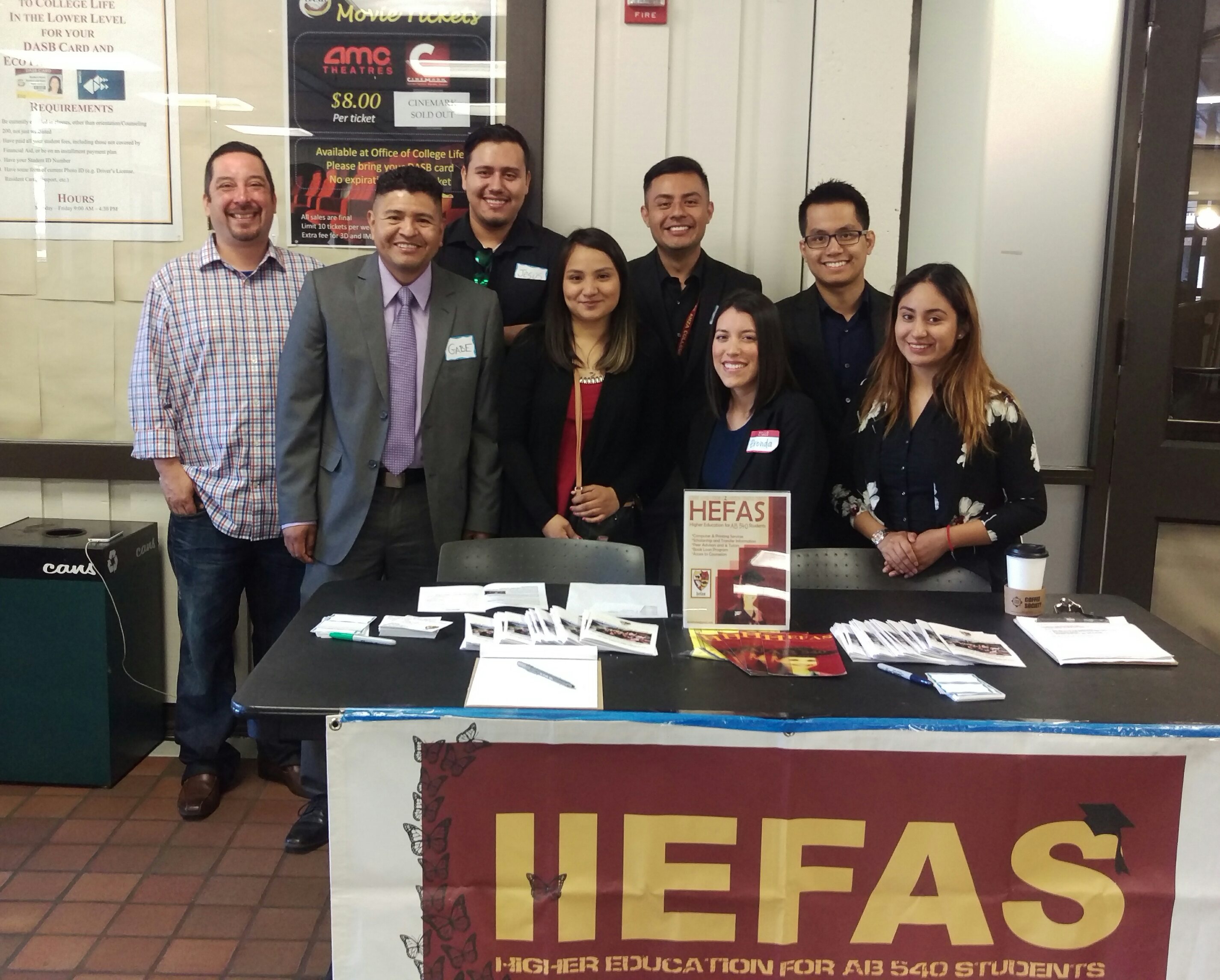 How can volunteers get involved?
HEFAS is a great way to participate in social justice, civic engagement and leadership projects. Everyone is welcome! You don't need to be undocumented to volunteer. What type of work are you hoping to do on campus? Are there any skills you'd like to develop during your time with us? How many hours can you dedicate to HEFAS? We'd like to know more about you so we can assign you to certain projects where you can learn, excel and, most of all, have fun!
Legislation
AB 540 allows qualifying undocumented students to have access to in-state tuition in public California colleges.
CA Dream Act consists of two bills:
AB 130 allows AB 540 qualifying students to apply to private institutional scholarships in public colleges and universities.
AB 131 allows AB 540 qualifying students to apply for the Board of Governor (BOG) Fee Waiver, Cal Grants, and other forms of institutional student aid.
Deferred Action for Childhood Arrivals (DACA)
grants qualifying undocumented individuals protection from deportation and a two-year provisional work permit.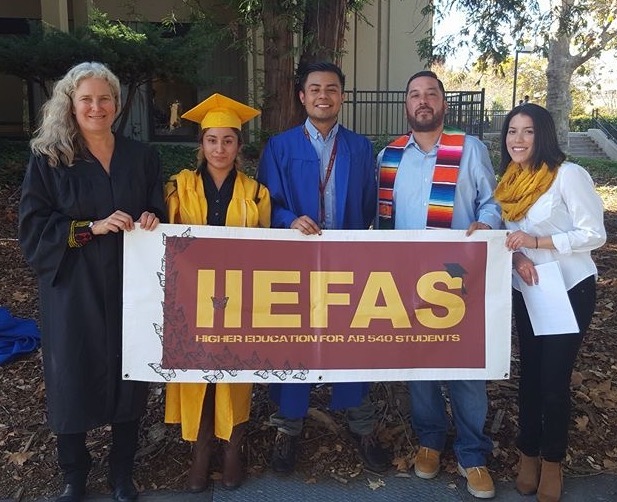 Facts
11.2 million undocumented immigrants of all ages live in the US

1.8 million undocumented children under the age of 18 live in the US

65,000 undocumented students graduate high school every year

Only 7,000-13,000 undocumented students enroll in college throughout the US

An estimated 3,000-5,000 undocumented students are enrolled in college in CA
---
Resources
California DREAM Act - apply for the Board of Governor (BOG) Fee Waiver, Cal Grants, and other forms of institutional student aid
California Nonresident Tuition Exemption (AB 540) - apply for in-state tuition in public California colleges
De Anza College's resources for undocumented students - updated regularly with information about on-campus programs and other resources for undocumented students
DEEP (Dream Educational Empowerment Program) - provide resources that contribute to continuous learning, advocacy work and support of the undocumented immigrant community
DREAMER's Roadmap - help undocumented students find scholarship opportunities through a mobile app
e4fc (Educators for Fair Consideration)-empower undocumented young people to achieve their educational and career goals
Generation Progress - scholarships for undocumented students
My (Un)Documented Life - provide up-to-date information and resources to undocumented immigrants. They post scholarship opportunities that are open to undocumented students, strategies for navigating the educational system, information on how to apply for DACA/Advanced Parole, news on DAPA, and much more
TheDream.US - support DREAMers' college access and success through a scholarship to Partner Colleges that are committed to their success and advocacy for tuition and aid equity
---
Contact Us
Email: ab540hefas@gmail.com
Phone: 408.864.5559
Office: Lower level of the Hinson Campus Center, Room 132
Join us on Facebook to stay updated!
HEFAS is funded in part by: