Listening Practice Sites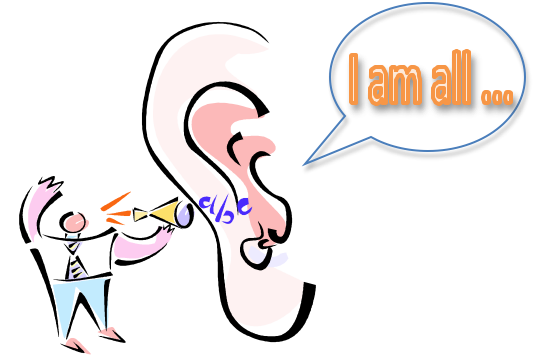 1. Pulse of the Planet
This site has short audio recordings which are accompanied by the complete text with pictures on one page. These programs are created by Jim Metzner For PULSE OF THE PLANET and include customs and traditions from around the world.
http://pulseplanet.com
2. Lost and Found Sounds: The Stories
This is a wonderful collection of sound documentaries which provide fascinating cultural history collected by the Kitchen Sisters. These programs are presented on All Things Considered on NPR (National Public Radio). Each recording is connected to a page which includes pictures and a detailed summary of the recording.
http://www.npr.org/programs/lnfsound/stories/index.html
3. Talk Programs (NPR)
This site includes programs like Talk of the Nation and All Things Considered. Another good choice is Fresh Air which has wonderful interviews of famous people!
http://www.npr.org
4. Randall's ESL Cyber Listening Lab
At this site, you can choose from a list of listening assignments that vary in length and difficulty. The conversations are created for second language learners to test their listening and you can read the transcripts and get help with vocabulary at Randall�s place too.
http://www.esl-lab.com/
5. Voice of America News
You can hear the news from around the world and read the transcripts while you listen. Choose the current affairs topic you want to learn more about.
http://www.voanews.com/index.cfm
6. English Learning
For an introduction to the pronunciation software, ENGLISH POWER 1 and 2, go to this website. In the end, however, this is primarily an advertising site so talk to an LSL staff member if you are interested in using this software to improve your pronunciation.
http://www.englishlearning.com/
7. EFL Club Songs
Listen to the Beatles and other popular singers and improve your vocabulary. For a little more of a challenge, some of the words are missing from the lyrics for you to guess! This website is lots of fun!
http://www.eflclub.com/2songs/songs.html
8. E.L. Easton-English Online
There are all kinds of listening activities listed at this site and links to other languages as well.
http://eleaston.com/listening.html
9. Ohio ESL
Ohio University offers an excellent reference list of listening practice sites. The list is well organized and descriptions include degree of difficulty.
http://linguistics.ohio.edu/linguistics/
10. Ello
Todd Beuckens designed this excellent site for beginner and intermediate learners of English. The audio clips are one to two minutes in length, use natural and informal English, and come with quizzes and dictionary links. Todd features interviews with speakers from all over the world.
http://www.elllo.org
11. Live Radio and television from Around the World
No matter what you are looking for, whether it's music or international news, this is a great resource!
http://broadcast-live.com/
12. BBC News from our own correspondent
Personal reflections by BBC correspondents around the world. This is a very nice news and information site. You can research countries around the world in addition to getting the latest news.
http://news.bbc.co.uk/2/hi/programmes/from_our_own_correspondent/default.stm
13. History Made Every Day
Watch full TV shows and movies at this site.
http://www.history.com/media.do
14. This I Believe
You can listen and read people's philosophy of life statements on this National Public Radio site.
http://www.npr.org/templates/story/story.php?storyId=4538138
The Power of Hello
http://www.npr.org/templates/story/story.php?storyId=93536198
Making It Up as I Go Along
http://www.npr.org/templates/story/story.php?storyId=16357141
Living What You Do Every Day by Yolanda O'Bannon
http://www.npr.org/templates/story/story.php?storyId=6431548
Telling Kids the Whole Truth
http://www.npr.org/templates/story/story.php?storyId=88241635
The America I Believe In
http://www.thisibelieve.org/dsp_ShowEssay.php?uid=27
15. Interesting Things for ESL Students
There are many useful links to improve your listening skill and pronunciation ability on this Charles Kelly website. You can listen and repeat all those irregular past tense verbs too!
http://www.manythings.org/
16. Learn English - Feel Good
Among other things, you can improve your ability to understand popular movies and improve your listening skills on this site.
http://www.learnenglishfeelgood.com/eslvideo/
17. News Websites
On these sites you can watch video clips from ABC, MSNBC or CBS news.
http://abcnews.go.com/
http://www.msnbc.msn.com/id/8004316
http://www.cbsnews.com/videos/
18. National Geographic
This website has a lot of educational videos about nature, animals, cultures, science, and more.
http://video.nationalgeographic.com/video/
19. Discovery channel
This website is similar to National Geographic and includes full TV episodes of popular shows from the Discovery channel.
http://dsc.discovery.com/videos/
20. The English Learner Movie Guides
Movie summaries, vocabulary and cultural references, and other resources to support language learners going to the movies.
http://www.eslnotes.com
21. English, baby
There are some good audio and video clips here that replicate authentic speech and provide a good focus on vocabulary. You are also encouraged to pay for the more advanced features of the website and there are way too many ads to navigate.
http://www.englishbaby.com
22. English Central
Learn English while watching videos. You can record your voice and get feedback on this site. One of my students recommended it, so it's definitely worth exploring if you want to improve your speaking. You have to join the site but it's free.
http://www.englishcentral.com/en/videos
23. Phonetics: The Sounds of Spoken Languages (Pronunciation)

Choose "American English" on this website and learn how to pronounce vowels and consonants of American English by watching animated diagrams.
http://www.uiowa.edu/~acadtech/phonetics/#
24. Favorite Poem Project (Pronunciation)
Watch videos of people from different backgrounds reading their favorite poem out loud. You can read the poem and practice reading it together with the video. Good for practicing stress, emphasis, intonation, and rhythm.
http://www.favoritepoem.org/index.html
25. American English Pronunciation Practice with Minimal Pairs (Pronunciation)
This website offers many minimal pair exercises and quizzes. Minimal pairs are pairs of words that are pronounced the same except for one sound, for example, right and light. http://www.manythings.org/pp/
26. Ship or Sheep (Pronunciation)
Practice pronunciation by listening to and repeating minimal pairs. You can also listen to and practice tongue twisters with minimal pairs.
http://shiporsheep.com/
27. Cambridge Pronunciation Animation (Pronunciation)
Watch animated lessons on different areas of pronunciation in English. You can practice each vowel and consonant as well as stress and intonation. (British English)
http://www.cambridge.org/elt/resources/skills/interactive/pron_animations/index.htm
28. English Central Pronunciation (Pronunciation)
Learn how to pronounce some of the most difficult vowels and consonants in English by watching videos. The videos provide detailed explanations of how to move your mouth and position your tongue when pronouncing a specific sound.
http://www.englishcentral.com/videos#/browse-app?browseType=video&goal=8&difficulty=ALL
29. Kelly Reiter - Speech Trainer Youtube (Pronunciation)
Learn tips to modify your accent in English by watching Youtube videos posted by an American English Accent Coach.
https://www.youtube.com/user/AccentModification
30. Rachel's English (Pronunciation)
Take video lessons on a variety of topics in pronunciation, including IPS, stress, intonation, linking, and rhythm.
http://rachelsenglish.com/
31. PhoTransEdit (Pronunciation)
The website offers an online IPA keyboard and converts regular text into phonetic symbols.
http://rachelsenglish.com/
The original list was created by MaryAnne Ifft.