Equity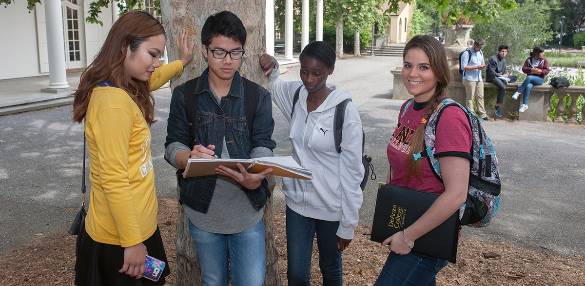 Welcome to the Social Sciences and Humanities Equity page! Here you will learn about equity initiatives being undertaken by the division and resources for faculty and students. This includes the Equity Core Team, the Conversation-Application-Reflection program (C.A.R.), upcoming events, resources for faculty who wish to infuse their curriculum/pedagogy with equity practices, and student on and off campus resources.
Equity Core Team
The Equity Core Team model was created by our Campus Equity Office to enable divisions to work with their faculty on equity projects and to hold discussions across departments on how to improve equity and success rates for the students in our classes.
Our Social Sciences/Humanities Equity Core Team is very active in Equity efforts both in our division and campus-wide. We attend not only our own meetings but are part of the Equity Action Council and our members work closely with the Equity Office on campus-wide programming. Our Core Team has introduced a series of campus conversations around equity titled "Student Voices" where we bring together staff, faculty, administrators and students to have dialogue around student equity. The students are the focus of those workshops, and hearing their challenges and success allows faculty to better understand how to meet student needs so that our students can find more successful outcomes in and outside the classroom.
More recently, the Core Team has created a student resources page for our division, so that faculty can direct students to off and on campus resources such as food, health, psychological service, legal assistance, and more. We hope faculty and students will use these resources and include on their syllabi and on their course pages.
As of Winter 2019, our current core team membership consists of the following: Carolyn Wilkins-Greene (Dean), Steve Nava (Liaison/Sociology), Jim Nguyen (Political Science), Ameeta Tiwana (Anthropology), Rich Booher (Philosophy), MyLinh Pham (History), Laura Chin (Political Science) and Lori Clinchard (Humanities).
We meet bi-weekly for one hour each term. We welcome the participation of new members. If you are interested in joining the core team, please email Steve Nava at navasteve@deanza.edu.
Conversation-Application-Reflection (C.A.R.)
C.A.R. is a project started by Dean Carolyn Wilkins-Greene to engage faculty in having conversations with their colleagues about student equity. In the past, selected readings were provided by the dean at which point faculty would engage in discussion in the article as it relates to their discipline (Conversation). During the conversation, the discipline faculty would devise a way in which to apply the lessons learned from the article to their classrooms (Application). At quarter end, the faculty would then re-convene to discuss how the application went, what went well, and what could be improved on in the future (Reflection).
During the 2016-2017 year, the C.A.R. has changed from an article review to a "Social Scientist Spotlight" which is an idea originally conceived by Jeff Schinske in Biology. The focus withe the Spotlight is to find pioneers in a given discipline who might come from an underrepresented group in that field. The instructors would then give their students an assignment where they would study the subject of the Spotlight. Many times, students will begin to realize they could see themselves possibly entering a field that previously they thought was unattainable due to stereotypes.
Current Projects/Upcoming Events
We have a Staff Development Workshop sharing out our lessons learned from conducting Student Voices events on campus. We will also hear from student panelists at the event. The date is tentatively Friday, May 5 from 1:30 to 4:30 PM in the California History Center. PGA/PAA and part-time stipend available for participation. If you are interested in attending, please contact Steve Nava at navasteve@deanza.edu
Equity Resources/Links for Faculty
Office of Equity, Social Justice and Multicultural Education