Offices Reporting to the President
The President is responsible for the management of the College and all its departments, including the operation of the campus facilities and the administration of the College's business activities. To assist in the performance of these duties, the President, with the approval of the
Foothill-De Anza Community College District Board of Trustees
, appoints responsibilities to his senior staff members.
Administrative Organization Chart
Vice President, Finance & College Operations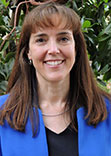 Susan Cheu, VP of Finance & College Operations, is the chief finance and budget officer, responsible for Budget and Personnel, College Operations, Emergency Preparedness, Measures C and E, Technology Resources, and Sustainability.
Visit the Office of Finance and College Operations website.
Vice President, Instruction
Christina Espinosa-Pieb, VP of Instruction, is responsible for Academic Services, Learning Resources, including Distance Learning and the Library and Student Success Center, Community Education, and the Instructional Division offices.
Visit the Office of Instruction website.
Vice President, Student Services and Institutional Research

Stacey A. Cook, VP of Student Services, oversees Financial Aid and Scholarships, Admissions and Records, Counseling and Matriculation, Student Development and EOPS, Special Education, and Athletics.
Visit the Office of Student Services website.
Office of Marketing/Communications
Marisa Spatafore,
Director of Marketing/Communications
, is responsible for media relations, publication and Web design, and content oversight for the College.