Parking Permit Information
Parking permits are requiired in all parking lots. Overnight parking is not permitted. Parking permits are not required for off-campus classes.
SELECT a type of parking to skip to more information about it.
30-Minute No Permit Required Parking
There are parking spaces with no-permit required for short-term parking needs in the parking lots listed below.
Annual and Quarterly Parking Permits
Student parking decals are available through the MyPortal online registration system when you register for classes.
Payments are also accepted at the Cashier's Office in the Registration & Student Services Building, but you must order your permit online first.
Student parking decals are ordered and paid for online and subject to a small shipping and handling fee ($2.50-$6.00). Upon completion of the online purchase, a printable receipt will be available. You will also receive a purchase confirmation via e-mail or text message. An interim permit will be immediately available for all paid orders. The interim permit (good for 15 calendar days from date of purchase) is for temporary display until your decal arrives in the mail. All decals are mailed to the address specified on the order.
In-person payments are still accepted at the cashier's counter in the Registration & Student Services Building. There is no shipping and handling fee if you purchase your permit in person. Students MUST pre-order the decal online before any payment will be accepted at the cashier's counter.
Annual Permits

Annual permits purchased at the beginning of the academic year (summer session) are available for $90.00.
The price of an annual permit purchased later in the year is pro-rated ($70 if purchased at the beginning of fall quarter, $50.00 if purchased at the beginning of winter quarter).
All annual permits expire June 30.
Quarterly Permits
The cost for a quarterly permit is $26.65 for cars and $15.00 for mopeds and motorcycles.
The cost for a summer session permit is $20.00 for cars and $15.00 for mopeds and motorcycles.
Quarterly permits expire at the end of each quarter/session.
Guest Permits
Important Notes
Parking permits are non-refundable.
It is important to read the instructions on the back of the decal.
Parking decals are not replaced if stolen or lost.
Purchase of a parking permit is not a guarantee of an available space.
De Anza parking permits are valid at the Foothill campus.
Back to top
If you drive a car that has no decal, or if you don't drive to the main campus on a regular basis, you can purchase one-day parking permits for $3 from yellow machines located in each student parking lot and in the Flint Center and Stelling parking structures. Machines will accept nickels, dimes, quarters, and dollar bills, but will not give change. Machines will also accept credit cards. One-day permits are valid in student lots only.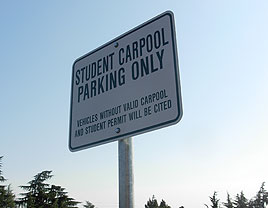 Carpool Parking Permits
There are reserved carpool spaces available in student parking lots. You must apply for a car pool parking permit to use the spaces.


Disability Parking Permits
Designated handicapped parking spaces are located in every parking lot a De Anza for blue (long term) or red (temporary) "handicapped" DMV placards or license plates issued by the California State Department of Motor Vehicle. Students who are temporarily disabled may apply for a college issued Temporary Disability Parking Permit. Learn more about De Anza's disability parking permit policies.
Staff-Only Parking Lots/Spaces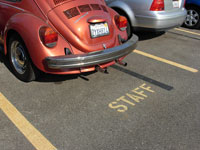 All "yellow" painted stalls are for staff/faculty parking only. (A district-provided decal is required). All "white" painted parking stalls designate student and visitor parking.
The parking fee for special events on campus, such as the Flea Market and Flint Center performances, is $5. Parking for select Flint Center engagements is $10.
Avoid Parking Tickets
All parking requires a paid fee or permit from 7 a.m. to 10 p.m. seven days a week. (Regulations in staff lots are enforced the same hours as above). One-day permits are available for $3 from machines in every student lot including the Flint Center and the Stelling parking structures. Full-quarter and annual permits can be purchased from the Cashier's Office in the Registration & Student Services Building. Further information is available at the Campus Safety and Security Office located on the lower level, east side, of the Hinson Campus Center.
Handicapped parking areas require a handicapped placard from the DMV.
Park only in a marked stall.
Do not back into a stall.
Overnight parking is not permitted.
Note: All fees are subject to change without notice.