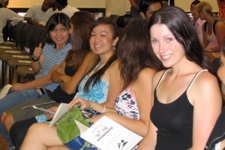 How to Join
If you are interested in enrolling in Fall 2019, find fall course offerings by checking the Class Schedule webpage
To identify MPS courses, look for a section number that contains "MP" – such as 01MP, 02MP, etc
You can add MPS classes by using the CRNs below
If the class is claimed "full," please , fill out this form and one of our counselors will notify you if space becomes available
Course Offerings in Fall 2019
| Math Class (CRN) | Time | Days | Room | Instructor | Counselor |
| --- | --- | --- | --- | --- | --- |
| MATH 10 (20970) | 08:30 AM-10:20 AM | MTWThF | E33 | Stachnick, Gregory | Khoa |
| MATH 10 (24845) | 10:30 AM-12:20 PM | MTWThF | MLC108 | Fischer, Rani | Alma/Melissa |
| MATH 10 (24846) | 01:30 PM-03:45 PM | MTWTh | S16 | Bambhania, Doli | Alma |
| MATH 10 (24931) | 04:00 PM-06:15 PM | MTWTh | S45 | Geraghty, Maurice | Alma |
| MATH 10 (25319) | 06:30 PM-08:45 PM | MTWTh | E33 | Yarahmadi, Fatemeh | Alma |
| MATH 114 (25667) | 09:30 AM-11:45 AM | MTWTh | S44 | Lundstrom, Kelly | Alma/Sheldon |
| Math 41 (25333) | 09:30 AM-11:20 AM | MTWThF | E36 | Rashid, Nahrin | Khoa/Melissa |
| Math 41 (24851) | 10:30 AM-12:20 PM | MTWThF | S46 | Guerrero, Salvador | Khoa/Melissa |
| Math41 (24852) | 01:30 PM-03:45 PM | MTWTh | E33 | Balm, Cheryl | Khoa/Sheldon |
| MATH 43 (25341) | 10:30 AM-12:20 PM | MTWThF | E34 | Tran, Danny | Khoa |
For additional information, contact the PSME Division Office at mps@fhda.edu or 408.864.8800.
Location: Room S31
Your Commitment
Students who choose to participate in MPS are expected to abide by the following guidelines:
Attend class regularly. MPS allows a maximum of 5 absences throughout the quarter. Tardies of more than 5 minutes are calculated at ½ an absence.
Keep up with all homework, activities and lab assignments.
Abide by the MPS Program Participant Agreement.