What is MLT?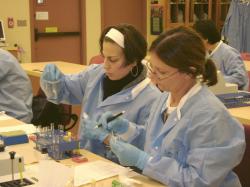 The Medical Laboratory Technology (MLT) program prepares students to work as medical laboratory technicians in clinical laboratories, industry and biotechnology. The MLT curriculum combines classroom lectures, student laboratories and clinical training to foster the analytical and problem solving skills required in this profession.
Graduates who successfully complete the MLT program are eligible to sit for national certification exams offered by American Society for Clinical Pathology and the American Association of Bioanalysts (AAB).
The De Anza College MLT Program is currently accredited through 2029 by the National Accrediting Agency for Clinical Laboratory Sciences (NAACLS), which can be contacted at 5600 N. River Rd., Suite 720, Rosemont, IL 60018-5119 or 773.714.8880. It is approved by the Laboratory Field Services unit of the California Department of Health Services until Dec. 1, 2022.

What's new
MLT Information Meeting:
Due to COVID18 there willnot be an informational meeting on June 1st.

The next meeting may be late summer or fall
Application Deadlines: twice per year (June & October)
Applicants must submit their application to:

mltprogram@fhda.edu

. Any denied applications must be re-submitted for the next round.
Spring deadline: June 29-July 3
Accepted applicants must be ready to enroll for Fall 2020
For foreign transcript evaluations please visit the Laboratory Field Services website for detail information for course by course evaluation.