| | |
| --- | --- |
| Pre Arrival Information | Orientation Workshops Handouts |
| | |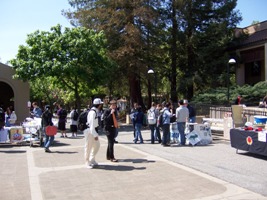 All new F-1 students are REQUIRED to attend the Orientation Program. During the Orientation Program, students will take all necessary placement tests, meet with International Student Counselors, select and register for classes, and take the Counseling 50 (Orientation to College) course.
Summer Intensive ESL Course Orientation
Fall/Winter/Spring Orientation
Visa Application & Arrival in the U.S.A.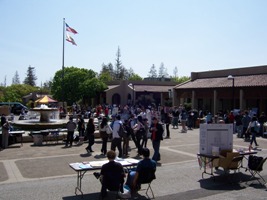 International students can apply for an F-1 visa at a U.S. embassy or consulate in their country within 90 days counting from the reporting date typed on the Form I-20 and enter the U.S. within 30 days from the reporting date. For example: if the reporting date on the I-20 is September 20, then you can apply for the visa as early as June 20 and enter the U.S. as early as August 20. You will need to pay a SEVIS fee and visa application fee, prepare documents, and be interviewed. If your visa application is approved, the U.S. embassy will place a F-1 visa sticker in your passport. You are now ready to purchase your airline ticket and attend De Anza College.
Be prepared to take your placement tests on the first day of the orientation at De Anza College. Placement tests in English, ESL (English as a Second Language), Intermediate Algebra, and Calculus.
For placement tests information and samples, go to the following website: www.deanza.edu/admissions/placement
Arriving at a U.S. Port of Entry
To find out what a student can expect upon arrival into the U.S.A., please click on this link: http://www.ice.gov/sevis/students/
Prepare for your F-1 Visa Application and Interview
This information is for people who plan on entering the U.S.A for the first time as F-1 visa holders. Click here.
The Health Verification form must be completed by all students and returned to the ISP office with all of the appropriate medical documentation attached upon arrival to De Anza College. Failing to do this by the specific deadlines will result in 'HOLDS' on student accounts which prevents students from register for classes.
ISP Homestay Program


De Anza, like most community colleges, does not have any dormitories for its students. However, De Anza is conveniently located near many private housing choices; check out the list of hotels and local apartments for detailed information on housing.

International Student Programs also works with an organization called International Student Placements, http://www.isphomestays.com/, that will find homestays with families for our international students. These homestays provide partial meals (breakfasts and dinners) and serve as excellent opportunities for students to learn more about the American culture and improve their English skills. If you prefer to live on your own or with another student, you can also contact the ISP Homestays for apartment living and shared housing.
Click HERE for the Homestay quick informational handout.
If you would like to find housing/apartments on your own, just type "apartment rentals near De Anza College" on your search engine.
Students also find the De Anza ISP Facebook page useful to connect with other international students in order to find housing accommodations by posting advertisements here. Look us up on Facebook under De Anza ISP and request to become a friend!
Translators in the following languages are available for this service: English, Japanese, Chinese, Portuguese, Russian, Spanish, Arabic, and Korean.
Contact the ISP office coordinator Angelica Strongone if you have more questions related to housing at strongoneangelica@fhda.edu.