Welcome
_________________________________________________________
A NEW revised series in the history of Western Civilization
-- History 6A, History 6B, and History 6C --
is now being offered by the History Department. The courses are 4 units each, and each course can be taken separately. This NEW 3-quarter series (6A, 6B, 6C) replaces the OLD 4-quarter series (4A, 4B, 4C, 4D).
Please see the Course Catalog link (to the left) for a full description of each of these new courses. Hist 6A, Hist 6B, and Hist 6C are each transferable to the UC and CSU (see transfer information details at www.assist.org by clicking here). Each course also fulfills General Education areas at De Anza College, the CSU, and UC (see GE lists under Degrees and Certificates link, to the left).

- HIST 4D (the last part of the OLD Western Civ series) was offered for the final time in Spring 2015.
_________________________________________________________
History is the study of past individuals and societies viewed from every possible angle: biographical, social, political, economic, religious and other.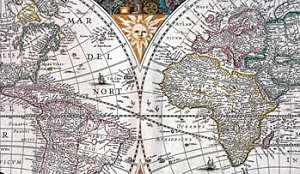 Historical research is a form of critical reasoning by which historians mentally reconstruct past reality from careful examination and study of primary evidence such as historical documents and artifacts.
Students of history learn to "think historically" and see themselves and society developing across time, thus attaining deeper and richer self-understanding.