2017 Commencement Speaker: Diego

Gómez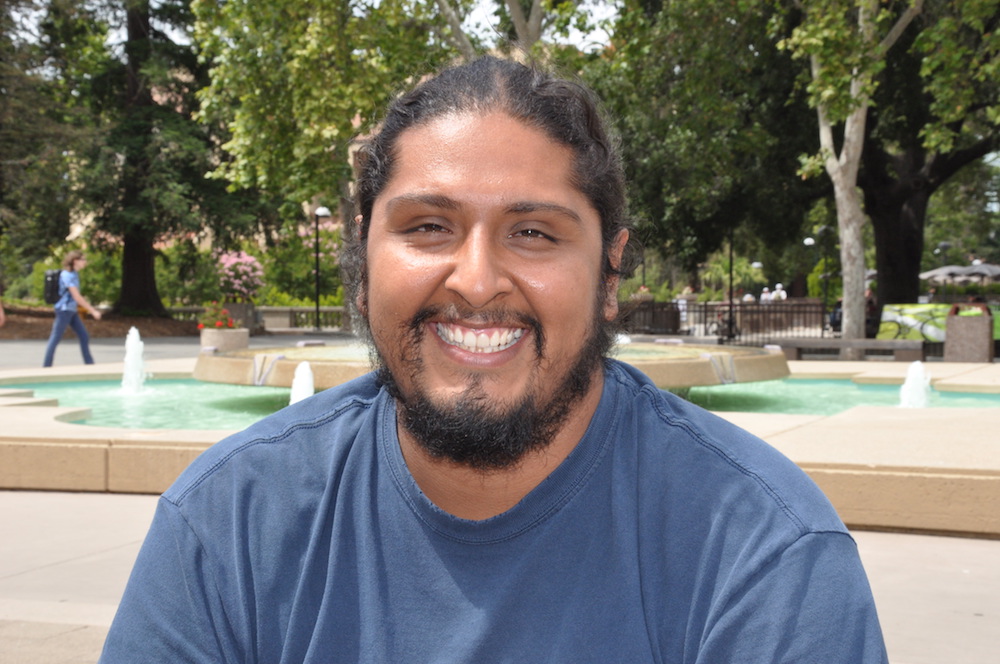 This year's commencement speaker will be Diego Cihuacoatl Gómez, a philosophy major and 2017 graduate, who says that being a student mentor and teaching assistant at De Anza showed him the importance of community and the potential for change.
Gómez, 27, will be transferring to San Francisco State University this fall. During his time at De Anza College, he worked as a mentor for the Men of Color Community (MC2) program and as a teacher's aide for Chicano Studies instructor Juan Gamboa. Gómez also has been a leader in the M.E.Ch.A. student organization.
He and Stephanie Dittrich, who will be transferring to the University of California, Santa Cruz, are this year's winners of the President's Award, presented annually to graduating students who have overcome adversity and shown perseverance in seeking an education at De Anza.
Gómez said he wants to give this message to fellow graduates: "Things always have potential to change. Though your life may be looking some kind of way, though your grades may be going a certain way, if you decide you want to change – even really slowly and really small – you can eventually change."
That realization helped him raise his own grade-point average from 1.3 to 3.74 during his time at De Anza. Gómez said he wasn't always a model student when he was in high school at Downtown College Prep, in San Jose, or during his first years of attending different community colleges. But during a two-year break from college, he became inspired while working as a classroom aide at an East San Jose elementary school.
The experience of being a role model for young pupils sparked a new drive within himself, Gómez said. He now plans to study philosophy at San Francisco State, with a minor in race and resistance studies, and eventually become a teacher.
For Gómez, a pivotal experience at De Anza came from participating in MC2, a new learning community developed by the Office of Outreach and Relations with Schools. Gómez joined the program, which provides support for male students who are Latino, African American or Pacific Islander, after he met MC2 counselor Umar Douglas on campus. As a student mentor, Gómez helped lead workshops and coached others who, like himself, sometimes struggled because traditional education didn't seem relevant to their lives.
Through the MC2 program, Gómez met Gamboa, who encouraged him to help revitalize De Anza's chapter of M.E.Ch.A., which works to support and empower Latina and Latino students. That also led to Gómez serving as a teacher's aide. The work included helping lead class discussions, but Gómez said "probably the most important part" was creating a comfortable environment by establishing one-on-one relationships with students.
That's important for students to succeed, said Gómez. He cited research he encountered at an ethnic studies conference, which confirmed, "when you are acknowledged and recognized in an academic setting, you just do better."
Another influential experience came from an English class in critical reading and writing that focused on protest literature, including James Baldwin's writing on race and other issues in America. "It changed my perception of academic writing," Gómez said. "It really showed me the power of the written word."
Gómez, who composes poetry himself, is now polishing his speech for the 2017 commencement ceremony. His audience will include numerous family members – parents, grandparents, siblings and nieces – who are planning to attend the big event on June 30.
---