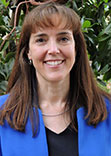 The Office of Finance & College Operations is housed in the Administration Building and is under the direction of the vice president of Finance and College Operations, Susan Cheu.
Susan earned a master's degree in accountancy at San José State University and a bachelor's degree in natural resources from the University of California, Davis. Susan worked as an accountant and then senior accountant for Diversified Software Systems. She also worked as a staff accountant at Arthur Andersen. Before joining De Anza College, Susan served as interim chief financial officer at Gavilan College, following six years as the college's director of Business Services. She is a member of the college's Employee-Employer Relations Committee (EERC) and oversaw the financial resources portion of Gavilan's most recent Accreditation Self-Study.


"De Anza's mission of providing a learning environment to challenge students to meet their goals and become responsible leaders is in direct agreement with my personal philosophy," Susan says she very much values working in the community college, and in particular knowing she's part of an organization helping people to change their lives.
The vice president of Finance & College Operations is the chief finance and budget officer, responsible for Budget and Personnel, College Operations, Emergency Preparedness, Measures C and E, and Sustainability.
Assisting her are the interim associate vice president of College Operations, Pam Grey; and the Director of Budget and Personnel, Bret Watson.
What We Do
The Office of Finance & College Operations is responsible for the College's business activities and the operation of the campus.
The College offers more than 100 areas of study serving an unduplicated headcount of more than 24,000 students in the credit programs and 42,000 through community education offerings. Supporting our students are approx. 935 full-time and part-time faculty and 250 staff.
Set on 112 acres, the campus has 61 buildings, with approximately 116 classrooms and lecture halls and 43 labs. The campus also houses an Olympic aquatics complex and a 5,000-seat Outdoor Events Arena.
The annual budget for the college is approximately $100 million.
Departments
Budget Analysis
DASB Accounts
Part-time Faculty Payroll
Personnel