ELIT 17.01: Introduction to Shakespeare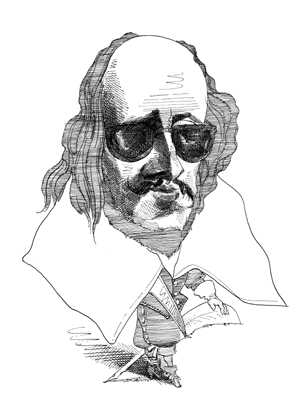 Class Info for Summer 2014:
M-TH 8:00am-9:50pm
De Anza College
Amy's Contact Info:
Office Room: F61-E
Office hours:
By Appointment in the summer. Please e-mail if you would like to meet with me.
Website: http://www.deanza.edu/faculty/leonardamy/
E-mail: leonardamy@fhda.edu
Final Time: Aug. 7th at 8:00am in the classroom
Required Texts:
A Midsummer Night's Dream Manga

Hamlet
Macbeth: The Graphic Novel: Original Text
Othello
Taming of the Shrew

Twelfth Night
-ELIT 17 Course Reader by Amy Leonard this will be on our catalyst site
Recommended Text:
• EasyWriter by Andrea Lunsford

Course Description:
This class will introduce you to the five representative forms of Shakespeare's plays: comedy, tragedy, problem play, history, and romance, as well as Shakespeare's sonnets. The class will look at each form in a variety of contexts that will help you understand theater, literature, and the everyday life of Shakespeare, so that upon completion of the class, you will be able to easily interpret the themes and meanings of Shakespeare on your own.
Course Objectives
The students will:
• Learn the different genres of Shakespeare.
• Learn the historical context of the plays.
• Learn how to close read scenes of plays.
• Gain an understanding of characters, themes, and plots within plays.
• Gain an understanding of Shakespearian performance.
• Participate in performing plays.
• Gain an understanding of the poetic form of a sonnet.
• Practice annotation of plays.
• Gain an understanding of Shakespearian language.
• Gain an understanding of different critical interpretations of plays.

GRADE SCALE:
97-100%=A+ 87-89%=B+ 77-79%=C+ 67-69%=D+ 59% and below=F
93-96%=A 83-86%=B 73-76%=C 63-66%=D
90-92%=A- 80-82%=B- 70 – 72 = C- 60-62%=D-
Graded Assignments for the Quarter
Each of your assignments will receive points. Here is a list of the assignments you will do and the total points possible for each assignment:
| | | |
| --- | --- | --- |
| Assignment | Points | Percent of Grade |
| Literature Analysis Essay | 100 | 10% |
| Midterm Performance | 150 | 15% |
| Term Paper/Project | 200 | 20% |
| Final Debate | 100 | 10% |
| In-Class Work | 200 | 20% |
| Quizzes | 150 | 15% |
| Weekly Responses | 100 | 10% |
| Total | 1000 | 100% |
1. Literature Essay #1: What Type of Character Art Thou? (100 pts total) In order to develop and appreciate the keen awareness of narrative/poetic forms, themes, images, literary styles/movements, and historical contexts, you will be asked to a detailed 3.5+ pg analysis of a character in A Midsummer Night's Dream or Othello. The focus of your analysis should be on how one line or image defines this character the (literary) details of the quote (tone, voice, images, irony) and/or the narrative form as a whole (narrator, characterization, conflict). Due:
2. Midterm Performance (150 points): Shakespeare always said, "All the world's a stage", so your midterm project will require either an individual performance of a soliloquy or a group performance of a scene. The performance must include props, costumes, and blocking. This may seem scary now, but we'll go slow and build up to it, so that you will be a confident Shakespearian actor by show time. Due:
3. Term Paper/Project (200 points):
Rewrite a sonnet
Re-write a Scene
Traditional Term Paper
Artistic/Web Project
Due: Aug. 4th at the start of class
4. The Great Shakespeare Debate (100 Points): Because this Shakespeare's cannon is vast and covers an enormous amount of literature, we cannot read everything. Your job for the final will be to work in a team and prepare a short presentation on a play, sonnet, or work by, about Shakespeare, or about the Elizabethan Culture surrounding Shakespeare that we did not get a chance to read but you think should be included in the class. Due: Aug. 7th at 8am-9:50am
5. In-Class Activities (200 points): The majority of work for this class will take place through discussing works, analyzing films, reciting lines, acting out scenes, debates, presentations, and doing a variety of group work. If you are not here, you cannot participate and you will not get these points. So, make sure you come to class! Due: Daily
6. Weekly Seed Responses (100 Points): You will pick one question from the discussion/study questions and write a ½ page response answer. These responses will be due weekly on Catalyst and should be treated as informal writing. Due: Thursdays at the start of class
7. Literary Analysis Quizzes (3 quizzes x 50pts each = 150 points): Because this class has a lot of reading, I want to make sure that you are keeping up with the reading and understanding it. These quizzes will be an analysis of a passage and passage identification. The questions on the quiz will be taken from texts that we discuss in class and texts we do not discuss in class, so make sure you read everything. Due: Randomly throughout the quarter