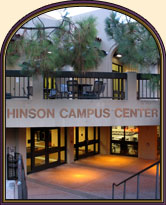 Testimonials
Luis Zuniga

Transferred to University of California, Los Angeles

Sociology major

President's Award Recipient

Coming to De Anza College was a life-changing moment in my life. Without the help and support of EOPS, I would have not been able transfer on time. I needed a counselor to guide me through the steps of transferring to a 4-year university and at EOPS I found that support. Early registration was a key resource for me because without it I wouldn't have gotten the classes that were necessary for my A.A. degree. The book grant I received every quarter was extremely helpful as well as the ongoing support I received from everyone at the EOPS office. As a first generation college student, it was hard for me to navigate through the educational system. I struggled every so often balancing a full time job along with full time school, but every step of the way EOPS was there to lend me a hand during the good and bad times. As I move on to a new chapter of my life, I will be forever thankful of all the opportunities De Anza and EOPS have given me. I want to thank everyone from EOPS, especially Truly. Her dedication as a counselor has inspired me and her charisma is like no other.

Van Nguyen

Transferred to San Jose State University

Business Administration – Accounting major

Time has passed by so fast since I first started study at De Anza College. Today, as a student who is going to graduate in Spring 2015, I would like to share with all of you about my wonderful experience that I received from EOPS.

First of all, registering for classes early is the first benefit that I received from EOPS. I still remembered how it was not easy for me to register the classes that I wanted because they were full. As a result, I had to register for classes that started at 7:30 am and I had to wait five hours for the next class. However, with the support that I received from EOPS, I could be able to register the classes that fit for my schedule and I could choose the professor that I like as well. Without EOPS, I would not be able to register classes early.

Receiving the book voucher is the second benefit that helped me feel less stress. As an ESL student who struggled with English and who was older than other students, I always felt stressed when I spoke English. Besides, I was also a full time student and I had to work part time in order to pay for my living cost. Therefore, I always felt stressed with my finances when I had to pay for everything by myself. However, the book voucher from EOPS helped me a lot with my finances when I bought books. As a result, I felt less stressed when the classes started.

Finally, the counseling service is so amazing that I always feel happy to see my counselor. For me, studying hard is not enough because to be a successful student, I need advice from my counselor. Counselors, for me, like parents who take care of their children, who share with them how much stress they once felt at school, who give them advice when they do not know what to do, who give them strength and lift them up when they feel bad because they did not get an A. Counseling service from EOPS is always like my parents. They are always patient and listen to me. They always understand me and guide me through difficulties. They are more than just counselors; they are always like my best friend. Without their guidance, I would not know which classes I should take in order to transfer to my dream school. Additionally, all the people who work at EOPS always welcome me and help me whenever I have a question.

Being an EOPS student at De Anza College is the luckiest thing that I have. Throughout EOPS, I received a lot of support and benefits from my counselor and other people who worked at EOPS. Therefore, I would like to express my appreciation to all of them because they always make me feel like I am home whenever I walk in to EOSP office.

My goal is graduating at San Jose State as accounting major, passing CPA exam, and getting a Master of Accounting. I also dream about working at a nonprofit company or the government in the US in order to help other people, especially poor students. I want to help them because I want to share with them my luck that I received from EOPS at De Anza. I know without the support I received from EOPS and without their guidance, I would not become who I am today. I would not be able to finish my studies in three years as well as transfer to San Jose State. Once again, I would like to say thank you very much to all of the people who work at EOPS. I wish all of you the best things.

Faraz Kasseb Danandeh

Transferred to University of California, Santa Barbara

Economics and Accounting major

I got familiar with EOPS program via my brother, who also was a member of EOPS throughout his presence at De Anza College. I remember him telling me many times: "Please, don't forget the deadline to register for EOPS". Now I know why he kept asking me to register for the EOPS program as soon as possible. I've been at De Anza for two years, and have seen many programs throughout this time, but from my point of view, none of them come even close to the effect that EOPS has on students' academic lives. I can certainly say that I wouldn't be where I am right now without the help of the EOPS staff and their guidance. From the early registration opportunity to its lovely, knowledgeable and caring counselors to the $225 book vouchers, all have helped me reach my goals and become a student who got bombarded with acceptance letters, honors programs and scholarships.

I can't thank the EOPS staff enough, who worked restlessly everyday to help students like me thrive. On behalf of all the EOPS students I want to say we all owe our success to you guys, without the help of you we would not be able to make it this far. Thanks for everything, and please keep up the hard work, because there are still many students out there who need your help.

Albert Herrera

Transferred to San Francisco State University

Cinema major




The staff of EOPS here at De Anza College has been some of the most helpful, kindhearted people that I've ever encountered. Since the moment I walked in I've been receiving the support that I needed, whether it be academic counseling or just life advise I've found the comfort and support I needed here in this program. Not having the best financial background, I found it hard to get ahead in school. EOPS helped me feel more confident by giving me a chance to buy every book I needed to succeed in my classes. This helped me to move forward as a student. One of the disadvantages I have is being a shy person. I am the type to never go to see a counselor on my own, but in EOPS there is mandatory counseling which was extremely beneficial for me. In these meeting I had the pleasure to work with Lily Greene who gave me the confidence and guidance to help put me in a four-year college. I never found a counselor who was more supportive and knowledgeable on the path towards success. All in all I think EOPS is a great program and it was a pleasure to be apart of it.

Aaron Joseph Seno

Transferred to San Jose State University

Chemical Engineering major

YES, the services that I received from EOPS contributed heavily to my success as a student at De Anza College. EOPS really helped me so much in reaching my goals, and the services that it provided me were extraordinary. EOPS provided me beneficial services such as academic advising/counseling, early registration opportunities, book vouchers for purchasing books for my classes, and different volunteering opportunities. EOPS had given me wonderful things that I know many college students out there can't even qualify for. EOPS was the only program at De Anza College that was really dedicated on establishing a starting point towards my goal as a college student and was the one who introduced me to a school environment that was very welcoming and engaging. I love EOPS for many reasons, and one of them is that the people working for EOPS didn't just treat me as a regular college student who was just there to ask for help all the time; they treated me as a true person and as a part of their family. Everyone in EOPS had impacted me so positively on how I see things and all the privileges that I acquired from both the program itself and from the people behind it that it really shaped me to become a better college student. Even though I'm already graduating and leaving De Anza College next school year to move on to the next chapter of my education, all the lessons I learned and all the things I was given under the supervision of EOPS will always be in my heart and I will always appreciate all the good deeds they've done to me. Thanks EOPS!

Anh Mai

Transferred to University of California, San Diego

Electrical Engineering major

Words cannot describe how much I appreciate the benefits that EOPS gave to me over the past three years. I remember the first day that I tried to register for my classes at De Anza. It was an awful experience; I was in the waitlisted position for all of my classes. I finally got into two of my classes and got dropped from the other one. I thought that I would never be able to transfer within two to three years if this happened again and again every quarter. Luckily, I was introduced to EOPS by one of my friends, who was also in the program. From there, EOPS has transformed my college life.

I still remember the first orientation when George and Chuong introduced us to useful information. I learned many things from the workshop, and one piece of advice that I still appreciate is, "Whenever you want to communicate with a UC or CSU, you want it to be in written form!"

I was offered a couple of notebooks, pens and folders. I was really happy when I was informed that I could have a chance to register for my class before anybody else. Not just the early registration mattered; I had my personal counselor, Dr. Truly. I could talk to my counselor and discuss my transfer plans. She planned my schedule, and that made it much easier. I could also ask her any questions that I was concerned about.

Thanks to Ms. Virginia for her extension on my book vouchers and her awesome notebooks. It's very important to me as a student to get that additional support. Also she is an awesome person to talk to. She is down to earth and willing to help. I have a special thanks to George; he is a very knowledgeable and helpful guy. Whenever I have a question, he is always there and helps me to resolve the problem.

Thanks for all the EOPS staff; without you, I couldn't make it. Thank you so much!

Cindy Rodriguez

Transferred to San Francisco State University

Journalism major

The support and services from counselors and the rest of the staff contributed to my success. I met with Roxana for almost all of my counseling appointments, and she has always been very helpful. The rest of the EOPS staff always did their best to help too. As a broke student, the book voucher was the best thing ever and had it not been for that, I would probably be eating more ramen instead of a healthier meal from across campus, because sadly most of my money goes to bills and rent. More importantly, though, I got all the books and materials I ever needed during my time at De Anza. Overall, I think EOPS is important and the services EOPS provides are good and essential.

Giang Ho

Transferred to University of California, San Diego

Biochemistry & Cell Biology major

The support and services I received from EOPS definitely contributed to my success. Thanks to the early priority registration, I was always able to register for the classes that I needed on time, given that most of my major classes were very competitive to get (chemistry, biology, etc.). Also, the book voucher granted by the program saved me a big sum of book budget every quarter. And most of all, the counseling services were beyond awesome. I had the privilege to work with Ms. Greene, who has helped me a lot with my academic planning and transferring. Unlike the counselors I had previously received counseling from, Ms. Greene helped me without judgments and harsh words (which I experienced from other counselors, in high school and early days in college). When I struggled in my classes, she helped me find a solution to the problem rather than giving me a hard time for having the problem, which I appreciate the most. Also, everyone who worked at the office were very nice and welcoming; every trip I made to the office was a pleasant one. Overall, the experience with the EOPS program has been wonderful, and I cannot express how grateful I am to be in the program and receiving the support. THANK YOU!

Meron Asfaw

Transferred to California State University, Los Angeles

Public Health major

I always ask myself, "What would I do without the help of EOPS counselors and the benefits I got from the program?" I really don't have an answer for that because EOPS has helped me in so many ways. Some of the benefits I got from EOPS are: early registration, book vouchers, counseling, free printing, book loans, free scantrons, the opportunity to work in EOPS, and so much more. The most important privilege I had was early registration. Since De Anza is a community college, many general education classes fill up very fast and it is almost impossible to enroll in the class that one has to take. However, thanks to EOPS, because of the early registration, I was able to enroll in the classes that I wanted. The other important benefit is the opportunity to be guided by the best counselors. My counselor Truly has helped me with transfer assisting and general academic advising. Because of the help I got from her, I did not have to take any extra classes that weren't required for my major.

As a student, it is hard to buy expensive books and so the book vouchers really helped lessen my financial burden. Moreover, the free computer usage and printing services were also blessings which took the extra financial burden off of my shoulders.

I was a full time student at De Anza and I had to work on weekends to support myself. It was very hard to be focused on my classes while struggling with a part-time job. However, I remembered during the EOPS orientation where George said "Feel free to ask EOPS staff anything if you have a problem!" Later, I came to George's office and asked him to find me a job, and he offered me a job in EOPS. George is an amazing person who really cares for every student's success. After I started working in EOPS, not only was I able to be focused on school, but I started to get to know the dedicated and caring staff. For example, when I filled out my application, I asked help from Lily and she never hesitated to answer my questions, and she also worked extra hours just to give me the recommendation letters that I needed for my applications. Thank you Lily! Additionally, Melinda always talked to me and encouraged me to choose what I really wanted to do. For example, when I was accepted to multiple universities, I was confused where I should go. Talking to her helped me to gain the confidence I needed to make the right decision. On the other hand, Lan, made me laugh by telling me humorous stories that made the working environment really enjoyable and fun.

In the future, I am planning to get my undergraduate degree and continue with my Masters in order to get a well-paid job so that I can use it to help underprivileged communities. I would like to thank EOPS again for all the help, support, and encouragement given to me over the past couple of years. Without this program, I would not have been able to finish college and transfer to a four-year university within two years.

Ileana Mendez

Transferred to San Francisco State University

Political Science major

EOPS, thank you so much for everything. I am a struggling student trying to balance school, work, and my social life. There were many times where I just wanted to give up and EOPS would become concerned when I would miss appointments and check ups. However, with the help of my counselors and everyone in this program I was given the strength to continue school with your positive advice. Not only do I thank EOPS for their services but I thank you so much for never giving up on me and always welcoming me with open hands. I thank you so much for your words of encouragement and for keeping me sane. I always seem to set myself for failure but your positive energy made me move forward and with the help of EOPS I can now say I graduated from De Anza College and am heading off to San Francisco State University. I can't thank you enough and I wouldn't improve anything because EOPS is just that awesome!

Phuong Ly

Transferred to San Jose State University

Nursing major

I have been at De Anza College for three years, and I strongly believe that the support and services that I received from the Extended Opportunities Programs and Services (EOPS) definitely contributed to my success. I did not know about this program until I was told by my older sister who was also in EOPS, so that I applied and was accepted in the program in Summer 2012, and I received many helpful benefits since then. It was a difficult time when my sister and I started going to De Anza because both of us are the first generation to attend college and did not have experience with college life. Thanks to the EOPS workshop, I started getting the idea of college and classes that I should take. The personal and career counseling did an especially great job of helping me determine my education plan so I could keep on track of my educational path. There are many professional counselors that EOPS offers, but one of my favorite counselors is Lily Greene because she is very knowledgeable and patiently answers every question that I have. Not only being an academic counselor, she is also willing to help me get through my personal concerns so I can focus on my education goal. Another service that I find very beneficial is the book funding. While the book prices are not very affordable, I think the $200 book voucher for every quarter is very helpful to college students. When I could not find the required textbook in the book store, Virginia Marquez helped me buy the book online, and I am so thankful for that. Lastly, as classes are harder to register for due to an excessive amount of students, I was still able to progress my required classes on time according to my educational plan because of the early registration that I received. There are many more beneficial services that EOPS offers, and they all contributed to my education success until now. EOPS thus has made a huge difference in my academic pursuit and my ultimate goal.

Since I am transferring to San Jose State University this Fall 2015, I would like to express my appreciation by saying thank you to all friendly staffs, professional counselors, and Associate Coordinator George Robles for dedicatedly helping low-income college students. I will strongly recommend EOPS to people who are in need.

Beniam Ayele

Transferred to San Jose State University

Mechanical Engineering major

As an immigrant student and a first generation college student, I had no idea about what I had to do to be successful in my college journey. But after I joined EOPS, I had a lot of help from EOPS staff and counselors, which contributed a lot to my success. I have a lot of friends who are not in the EOPS program. Because of that, I know how hard it is to get the classes you want to take. Thanks to EOPS early registration, I haven't had that problem, and that helped me to transfer on time. Another thing that helped me a lot is the counseling and the book vouchers. The counselor helped me with what classes I needed to transfer and provided me with guidance.

Juan Hernandez Lopez

Associate Degree for Transfer

Communication Studies major

EOPS has helped me to achieve my education at De Anza College. I am a first generation Latino student who is attending a higher level of education. Attending college is a big accomplishment for me and my family because my mom wants to see one of her kids to graduate from higher level of education. I am the youngest, so providing EOPS services to me has made my journey easier. Truly, Virginia, and George have helped with classes, books and to know what my major to be. Without them I don't know how my journey at De Anza would have been. I am staying one more year because I want to apply for UCs, and Truly strongly supports me. Hopefully, I can give back to EOPS by helping other EOPS students because they will know early what they want to study. I am glad that EOPS provides early registration, and the $200 book voucher because they have helped me to have a more balance schedule and I'm saving more money.

Thank you EOPS, you guys ROCK!!

Raeiti Fouladi Chami

Transferred to San Jose State University

Biological Science major

I got into EOPS program the summer of 2012, right after I graduated high school. It was my second year living in the U.S. and the concept of college was completely foreign to me. I didn't know if I could get through this; however, EOPS programs and services opened a door full of good possibilities and encouragement for me. The best thing that happened to me in those first panicked weeks was talking and getting academic advice from my counselor, Lily Greene. With her great advice throughout the upcoming quarters, I planned my academic journey, aiming for transferring and graduating from De Anza College with an associate degree. She was always there whenever I hit an obstacle in my academic journey in De Anza College, such as university and scholarship applications. Apart from Lily's non-ending help, EOPS's other services, such as book funds, computer/printer use, early registration, and workshops, have helped me a great deal to do better in my classes, especially in moments of need. Working part-time and still having financial problems, receiving the book voucher each quarter was like lifting a huge weight off my shoulders, and it reduced my stress by having one less bill for myself. With early registration, I got to get in mandatory courses that filled up very fast, which made it possible for me to complete my course requirements in a timely manner. With all the help from EOPS, both academically and financially, I had a smooth and straightforward college experience and will transfer to San Jose State University

Khoa Vu

Transferred to University of California, Irvine

Mechanical Engineering major


Thank you for being a part of EOPS in general. I think I may have had a harder time in my second year in De Anza without help from EOPS.

One of the services that I value the most is the counseling. All of the staffs here are very helpful, friendly and they all care for the success of the students no matter what the students pursue. They are kind and understanding. Everyone here has the common goal of helping students reach the highest potential they could possibly go for.

I started the second year in De Anza being EOPS students and I was somewhat annoyed by the policy of meeting counselor at least 2 times a quarter. But once I met my counselor for the first time, I felt the connection and the liability that I can't find from anywhere else in the school to help me on planning courses and someone to help clarify all my confusions about the system, transfer, etc. Since then I came to see counselors whenever I needed and ended up seeing them way more than that 2-time policy. I wasn't forced to go but the counselors were just so good to come talk to and I wondered why would I find help somewhere else if the counseling service EOPS offered already had me covered. So thank you for helping me throughout the 2014-2015 school year to allow me to transfer this year as I wish.

The book fund is also very good if the students know how to use it wisely. Thanks for that I did get 2 free Math textbooks that worked a lot better for me than the e-book version.

So all in all, thanks for the help from EOPS. I wish EOPS best luck and keep assisting students in reaching their goals.