Books We Love and Events Sponsored by the English Department

Book reviews: 187 Reasons Mexicanos Can't Cross the Border and Half of the World in Light <http://www.nytimes.com/2008/08/11/arts/11iht-bookmon.1.15114934.html?emc=eta1>
---
Prof. Marilyn Patton suggests Chef by Jaspreet Singh because it has a great plot, great characters, and the main action takes place in an area we should all know more about: the India-Pakistan border. Singh's complex characters range from devout Muslim to Hindu to Sikh and his narrative style keeps the reader thinking.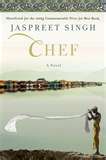 Even the cover gives us a clue about the plot.
E. Prof Emily Breunig recommends The Vagrants by Yiyun Li. This book is a moving encapsulation of a small Chinese town in a country on the brink--or then again, maybe not--of major political change.