DASG Senate Home
Student Election Results!
The 2021 Student Election Results are now available in Ballot Number Order and Vote Count Order.
Congratulations to Anahi Ruvalcaba and Sarah Morales our new President and Vice President for 2021-2022.
Also, say hello to the De Anza Student Government (DASG). The name change and merging of the bylaws and constitution were both approved.
DASG Senate Meetings
Wednesdays at 4:00 pm
Zoom Meeting Link for Spring 2021 DASG Senate Meetings
(April 14, 2021 - June 9, 2021; except June 2, 2021 which is the date of the 2021 Student Leadership Recognition Gala)
The DASG Senate and its committees generally meet the second week of each quarter through the tenth week of each quarter Fall - Spring.
Student Concerns
Submit Student Concerns on this Form
Mission Statement
As elected representatives of the De Anza Student Government, we strive to:

Be a safe, equitable, and inclusive body that reflects the diversity of the student population. We are committed to serving our fellow students, amplifying their voices, and advocating for their needs in an accountable and transparent manner.

- DASG Senate Mission Statement
Welcome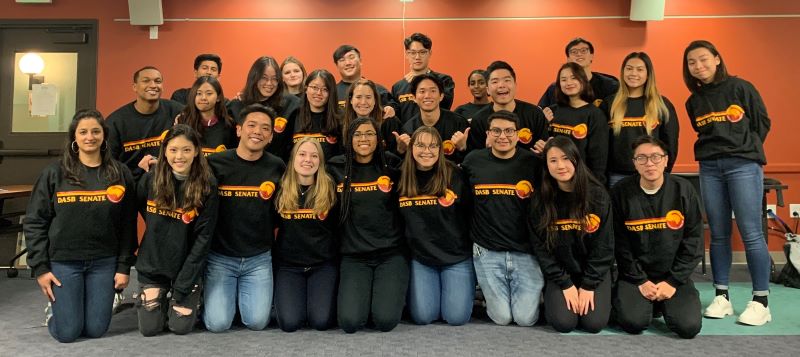 Each year, a group of diverse and passionate students come together under the DASG umbrella to represent student interests on college and district committees that develop college policies.
The De Anza Student Government (DASG) Senate composed of one President, one Vice President, eight other Executive Officers, and twenty Senators. Together, these thirty individuals give voice to and fight for the students of De Anza on campus, in the district, and at the Statewide level.
Each Senate member is elected by the students in winter, sworn in at the end of spring, and are in office until the end of the next next spring. Senate seats may become available during the academic year for those who want to become senators mid-term.
Stay current on DASG events & news.
Like Us on Facebook
College Life Job Opportunities for Students
Senate Meetings
The DASG Senate generally meets Wednesdays at 4:00 PM in the Student Council Chambers on the lower level of the Hinson Campus Center.
The DASG Senate does not normally meet the first week of the quarter, the week before finals, finals week, during quarter breaks, or during the summer.
Click for Online Senate Agendas, Minutes, and Attachments
Agendas are also posted on the bulletin board on the lower level of the Hinson Campus Center across from the DASB Senate Office.
Senate and Committee Meetings and Agendas
Join a committee and make a difference!
Senate
Finance
Student Rights and Services
Marketing and Communications
Diversity and Events
Environmental Sustainability
Legislative Affairs
Flea Market
Student Feedback
Elections
Executive Advisory